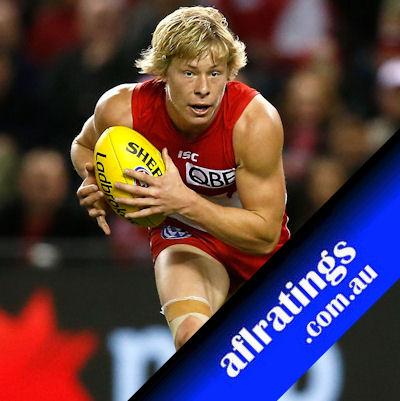 Identifying players that are hurting your team is quite critical at this time of the year, the Forward line has provided many areas of concern this year and is one area to find improvement in over the final 3 weeks.
Here is a brief look at 5 players you might consider trading out this week:
Toby McLean
McLean has averaged 87.3pts since being injured in Round 13 at the Adelaide Oval, he has scored 100pts or more in 2 of 7 games over the same period. Prior to Round 13 McLean averaged 105.6pts, the emergence of Josh Dunkley has also hurt the numbers for McLean.
Isaac Heeney
Since returning from concussion in Round 17 Heeney has averaged 81.0pts including 73.7pts from his last 3 games, Dan Hannebery has missed each game since Round 17 & is set to return this week. Heeney averaged 98.4pts prior to being injured in Round 15.
Tom Rockliff
Prior to scoring 69pts in Round 20 against Adelaide Rockliff averaged 98.8pts in his previous 5 games, Rocky has averaged 1.5 Marks from his last 2 games & recorded 3 Tackles against the Crows.
Chad Wingard
Wingard has averaged 92.3pts from his last 4 games, Port Adelaide have lost 3 of their last 4 games and he averaged 88.0pts in those games. Wingard has averaged 87.0pts from winning games & 80.5pts from losing games this season, Port Adelaide play West Coast (H), Collingwood (A) & Essendon (H) to finish off the year.
Justin Westhoff
Westhoff has averaged 91.0pts from his last 4 games well down from the 102.5pt average from his opening 15 games of the season, his lowest score over the last 4 weeks has been 87pts.
Click here to subscribe on iTunes. (You will get the Monday and Thursday night podcast by subscribing to this feed).
Round 20 High Team Disposals
426 Melbourne
424 Western Bulldogs
422 St Kilda
Melbourne have recorded 400+ Disposals in 8 games this season (Rank 2)
Round 20 Low Team Disposals
302 Gold Coast
306 Carlton
312 Fremantle
Gold Coast have averaged 319.3 Disposals from their last 4 games (Rank 18)
Season High Team Disposals
404.8 Collingwood
392.3 Melbourne
391.1 St Kilda
St Kilda have averaged 405.0 Disposals from their last 4 games (Rank 2)
Season Low Team Disposals
336.2 Gold Coast
345.9 Carlton
356.4 West Coast
West Coast have averaged 376.7 Disposals from their last 3 games
Round 20 High Team Points
1963 Melbourne
1774 GWS Giants
1728 Hawthorn
Melbourne have averaged 1721.2pts from their last 5 games (Rank 2)
Round 20 Low Team Points
1282 Fremantle
1307 Gold Coast
1326 Carlton
Fremantle have averaged 1349.3pts from their last 3 games (Rank 18)
Season High Team Points
1678.8 Collingwood
1653.3 Melbourne
1635.7 Hawthorn
Hawthorn have averaged 1751.0pts from their last 3 games (Rank 1)
Season Low Team Points
1448.2 Gold Coast
1467.3 Carlton
1510.5 Richmond
Gold Coast have averaged 1342.5pts from their last 2 games (Rank 18)
Good Luck for Round 21