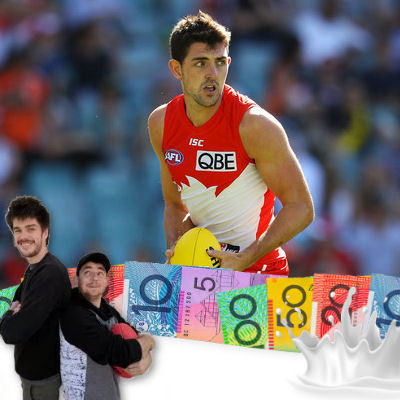 Hi Community,
It's safe to say this will be one of our last articles of the year but thought we'd check in none the less. First of all, we want to give credit where credit is due and acknowledge the great end to the year that Tim Kelly is having. Seems like only yesterday we were discussing where he would go in our Top Ten and now it's clear we should've said pick one!
Secondly and probably more importantly for coaches who are still reading this article, here's a quick review of fresher rookies that had a run on the weekend.
Those That Played
Cameron Polson ($187,000 MID/FWD BE 15)  – Finally showed something outside of great pace, with 15 disposals and 1 goal. 54 points to show for it and Carlton have way too many problems then worrying about dropping the kids.
Jacob Heron ($209,000 DEF BE 13) – Probably too expensive to be talking about at this stage of the year but lack of other options has bought about this sentence. Amazingly played in defence and still managed one goal and three behinds. A score of 57 is definitely overs but an option if you need to downgrade in defence.

Jarrod Lienert ($199,00 DEF BE -8) – The most impressive of the rookies getting a run in Round 18. Was solid across half back and his 20 disposals went at 90% disposals efficiency. Had five inside 50s to go with it all and most importantly had 79 points. Should be number one priority for those who aren't sideways trading this week.
Colin O'Riordan ($248,000 DEF BE -16) – Too many other options down back now to bother getting this expensive cash cow, but good to see him making the most of his chance as we were always a fan. Ripe for the picking for any RDT players out there.
Darcy Cameron ($170,000 RUC BE 25) – Unfortunately couldn't convert that dominating form from the NEAFL and was barely sighted. In Camerons' defence he was barely on the ground but when he was, he had only three touches, nine hitouts and 27 points. If you've held him this long there's no point in not continuing.
Those that Might Play
Really don't have much for any readers here. Nathan Freeman has already been ruled out for this week and we can keep our fingers crossed that the Saints wait until next year to release him. Rumour mill says that Harley Bennell ($249,000 FWD) may get a gig this week, but it surely would only be on limited game time. One can hope that we see either Fergus Greene ($170,000 FWD), Ryan Abbott ($170,000 RUC) or Corey Lyons ($170,000 MID) get a run this week. However, nothing to get excited about even if they do. However, you know what to do if any of them are named and you need a downgrade. There's a bit of buzz about William Frampton ($170,000 RUC/FWD BE 27) potentially getting a debut this week. Just for a bit of an update he has been averaging 80 in the SANFL this year and has gone 119, 72 and 73 in his last three. It's not like there are many other options in the ruck department let's be honest.
(FOLLOW US ON TWITTER:@TheMilkmenDT specialising in cash cow selections but still here to talk all things AFL fantasy.