Moneyball's $4K Saturday Special – Rd. 17
There's a $4K kitty available today and Calvin has the best picks for the big four games that start at 1:45pm AEDT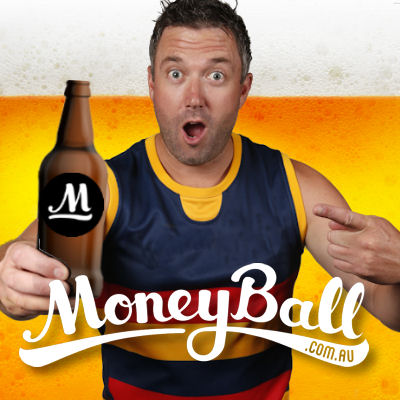 It's a sensational Saturday for some cash so reach into your pocket and find $15 to enter this contest to win $525 from the $4K kitty that is available.
Hawthorn v Brisbane 1:45pm AEDT
Melbourne v Bulldogs
GWS v Richmond 7:25pm AEDT
Gold Coast v Essendon 7:25pm AEDT
FREE CONTEST TO WIN AFL GRAND FINAL TICKETS/EXPERIENCE
Exclusive to ONLY DT Talk users, be sure to enter this free contest tomorrow. If you have the highest score for the day, not only will you have $20 added to your account but if your score is the highest for the year… then the tickets are yours. JOIN HERE
Now for my best and sneaky best options for today…
Jonathon Ceglar (RUC, $5,900)
He's cheap and will be rucking solo today in the absence of McEvoy who busted his cheek bone and will sit this one out.
Ceglar has averaged 84 over a six-week period when McEvoy missed a few years back and although his top score is only 69 this year, with more time in the middle taking every hit out available, he's worth a shot at this price… $3,900 less than Max Gawn who should be awesome as well.
Dusty Martin (MID, $8,300)
You may not want Dusty in you Fantasy side yet, but in Moneyball… it's a risk you can certainly take.
Coming off scores of 114 and 90, the chatter is starting to happen around the circles that Dusty is back.
With previous scores of 88, 116, 122, 112 and 132 in his last five against the Giants, the writing is on the wall for this one and at a juicy price.
Luke Breust (FWD, $7,600)
We sorta have too… don't we?
Breust has had an amazing month of footy with scores of 151 (WBD), 105 (GWS), 108 (GCS) and 95 (ADE). Most of those teams rank as 'easy' of Cal's Scale of Hardness and this week, the Lions on their day certainly rank within that range as well.
Although they have been rather restrictive of late, this one is at UTas, a ground Breust scored 108 and a 95 at this year from his three visits.
Jayden Short (DEF, $7,300)
"Keep whipping him".
We've been riding on the Short-Wave for several weeks now and I know for a fact that Roy has been cashing up with this guy on board thanks to his most recent scores of 108, 95, 74, 100, 104 and 88.
Half-backs who have played against the Giants recently haven't struggled too much with Hurn (94), Harbrow (108) and Hodgey (140) cashing in the most.
Click here to subscribe on iTunes.
Matt Guelfi (FWD, $5,500)
Forwards are hard to come by today so by looking for some value, we might strike a bit of gold.
Guelfi makes my list today because he plays the Suns. The easiest team to play against unless you a superstar that might attract a tag.
A top score of 92 sits next to his name this year along with 4×70+ games. His form has been down, which will make him unique here, in a game he should find plenty of it.
Angus Brayshaw (DEF, $8,500)
Firstly, Gus is mega cheap today based on what he can produce.
I'll list his last six scores for you right here… 113, 116, 103, 47*, 133, 166.
Now that * game was when he did a 'tagging' role on Tom Phillips so I'm happy to disregard that if you are. Taking that out of the equation, Brayshaw has averaged 126 in five weeks and today he is up against the Bulldogs.
This year they rank second to the Suns or giving up the most 100+ scores and first over the last four games. Last week, eight Hawks cracked the ton against the Dogs… and amazingly Tom Mitchell wasn't one of them.
Today Gus will be huge and with a ceiling of 166 this year, anything is possible.