Moneyball's $4K Saturday Special – Rd. 16
Two ruckman? In the same game? Has Calvin lost his mind again? Check out his best picks for today!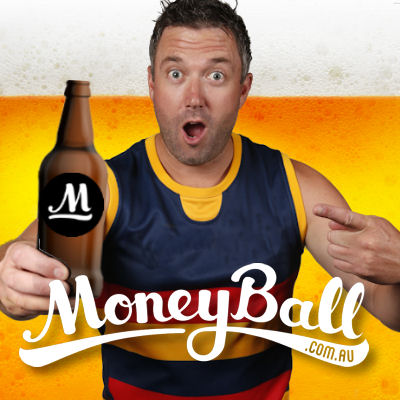 It's Saturday so reach into your pocket and find $15 to enter this bad bot.
It's the big $4,000 with the winner taking $525 for a huge Saturday night.
Brisbane v Carlton 1:45pm AEDT
Port Adelaide v St Kilda
Bulldogs v Hawthorn
Melbourne v Fremantle 7:40pm AEDT
FREE CONTEST TO WIN AFL GRAND FINAL TICKETS/EXPERIENCE
Exclusive to ONLY DT Talk users, be sure to enter this free contest tomorrow. If you have the highest score for the day, not only will you have $20 added to your account but if your score is the highest for the year… then the tickets are yours. PLAY HERE
Now for my best and sneaky best options for today…
Max Gawn (RUC, $9,800)
Do not beat around the bush. Max sits ahead of Grundy in my captains top 5 this week and second to the pig for this reason.
He plays the Dockers and although Sean Darcy comes in to combat him, it won't matter. Max has been running hot with scores of 135 and 110 in recent weeks and stands as the second player (behind Mitchell) to hit 135+ five times this year. Fear the beard.
Robbie Gray ($7,600 FWD)
Will be a unique pick this week and rite-fully so…. Who wants to pay up for a guy that can't score over 60 at the moment?! Well, maybe me based on his remarkable numbers in this match up, examine the following and proceed with extreme caution.
124 – 25 touches, 4 goals, FWD, 2 Brownlow Votes
121 – 37 touches, 1 goal,   MID,  3 Brownlow Votes
125 – 26 touches, 4 goals, FWD, 3 Brownlow Votes
 98 – 27 touches, 1 goal,   FWD, 3 Brownlow Votes
So even if he plays up forward this week… He's proven he can score on the Saints in any role.
Click here to subscribe on iTunes.
Michael Hibberd (DEF, $6,600)
It hurts me to say it… but bloody Hibberd is an option today.
He had 88 this week and has been terrible this year. The thing is… Freo give up the second most points to small defenders in the games and this means Hibberd could have a day out. Cutler (101) and Roberton (98) did there thing last week and now it's Hibbo's turn.
Brayshaw was the first name that popped into my little mind here, but he doesn't spend much time down back anymore… whereas Hibbo does.
He had 76 and 92 in his last two games against the Dockers and last year in Darwin he had 105. He'll be very unique today.
Jaeger O'Meara (MID, $8,400)
With all the attention being focused on Tom Mitchell and his 50 touches (and rightfully so), the Jaeger-Bomb has quietly been going about his business scoring as he pleases.
His last five games if you please: 106, 121, 114, 80 and 112.
At $8,400, he's up against the Bulldogs today and has torn them apart in the past with scores of 101 and 116.
Sean Darcy (RUC, $4,300)
Did you know in Moneyball you can play with two rucks?
Yes, you can. With the flex option that is available, you might has well run with Darcy today for his first game of the year against Gawn. Yeah yeah it's a tough ask, but this kid can play and comes rookie-priced.
He spotted for Sandilands last year for 6 games at an average of 84 and never once dropped under 72 (and we take that). He scored a huge 114 against the Saints and even posted a solid 82 against the experienced Goldstein.
He's better than most of the other rookies floating around today, and at this price… snap him up.
Dayne Beams (MID, $9,000)

I am so confident here it's not funny.
Beams has been in solid form of late scoring 112 and 113, and last year against the Blues he posted a massive 147.
He will avoid the Curnow tag as that will most likely go to Zorko which means our mate Beamer will be running free all day on the ground he loves… the GABBA.
At the GABBA in his last 5 games, Beams has reached the 110+ mark on four occasions.
The other thing we love about Beams in Moneyball is his amazing ceiling. He can hit height of 140+, which he did at the GABBA four times last year.
Honestly people… My confidence levels are sky high for him today. Enjoy and thank me later.