Calvin's Captains – Rd. 16
Calvin goes out on a limb and picks the bloke who scored 195 last week as his No. 1.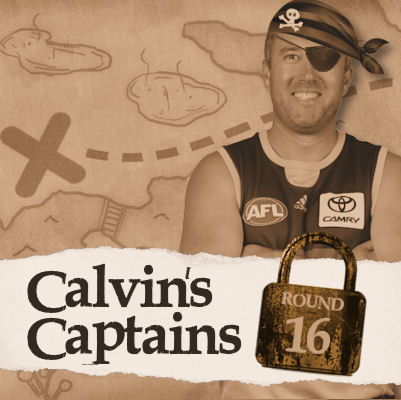 THE LOOP HOLE
Here we go again, with a Thursday night game (Sydney v Geelong) we have the option to VC Loop our captain.
1 – Place your VC on a player who is playing on Thursday night (Ablett).
2 – Make sure you C is locked away as well (Mitchell), not on player in this game.
3 – If Ablett (for example) scores 125+, lock this score in by moving a player who isn't playing onto your field and give them the C. This will get you a zero and activate the VC scores x2.
4 – If you don't like the score, keep the C on your next best option as you normally would.
LINE FOR ROUND 15…. Is 125+
BEST VC OPTIONS
Once again, this could go either way like last week with many jumping on the VC score on Thursday and subsequently missed out on Mitchell's massive 195. In the way the game is played: YOU DID THE RIGHT THING. These things can happen so let's see what I have found for you this week.
Gary Ablett is the front runner to cop a tag from Hewett who has been one of the best taggers this year. He had 126 against the Swans back in 2016, but the risk of a tag here is enough for me to say no. Joel Selwood could be the man who cops the attention with the form he has been in. He scored 98 against Sydney when they met earlier this year.
Last time he played the Swans, Dangerfield had his worst score for the year (70). Before that though he was amazing against them (140, 139) and thing here is… if he sits forward it might be a good thing, for once. Last week Riewoldt (136) and Lambert (114) slotted six goals between them, which means maybe.. just maybe… Danger over 110? Who knows with him.
After previous scores of 105, 160 and 120, maybe Mitch Duncan could be the guy who stands up. He had his second best score for the year last week of 111 and could be slowly heating up. I like him for this one.
For the Swans, Josh Kennedy scored 111 against the Cats in round six and Jake Lloyd pumped out a game-high 120. Luke Parker had just 80 that day but is coming off a solid 106 last week.
At the end of the day – it's a free hit. Good luck.
CALVIN'S TOP 5
#1 – Tom Mitchell v Bulldogs @ Etihad
After 195 last week it's going to be hard to turn our back on the pig this week. He scored 120 and 141 in his last two games against the Dogs and should be awesome again.
At Etihad he has scored 135, 83, 120 and 143 spanning over the last two years.
#2 – Max Gawn v Fremantle @ TIO 
No Sandilands by the looks of it, which means Max will go head to head with Apeness. Stef Martin scored 110 (46h/o) last week against him and should be huge here.
He last played these guys back in 2016, when scored 110 and 125 against them. His form is hot with scores of 135 and 110… and with all this, Max Gawn looks like a ripping option here.
#3 – Brodie Grundy v Essendon @ the MCG
Tough for a guy coming off 151 and not going under 100 since round one to be sitting at #3, but I have Pig and Max slightly ahead.
Grundy scored 110 earlier this year against the Bombers and will be awesome again… as he has been all year.
#4 – Dayne Beams v Carlton @ GABBA
142 last year against the Blues but this one is at the GABBA. There, he has scored 120+ in four of his last five games and after his most recent scores of 112 and 113, you'd think he'd be great again.
Carlton = easy. GABBA = gold. Form = solid
#5 – Patrick Cripps v Brisbane @ GABBA
The kid is a bull and has averaged 120 in his last three. He has a great ceiling and has hit the heights of 140 on two occasions and over 130 on four occasions.
Brisbane aren't much chop and a bloke like Cripps will not be tagged here and should be in bull-mode again.BE CAUTIOUS
I hate this section, cause sometimes (most likely) things like this can come back to bite me. So I'm worried about Andrew Gaff this week. His form has been ripping hot but over the last two years, GWS are his worst team to score against with 0x100+ scores coming in his last three games.
Kade Simpson also has been awesome but hasn't cracked triple figures against the Lions in his last four but his form also suggest he should ton-up easily against the Lions. Lachie Neale will be solo without Fyfe, and against Melbourne this will be tougher than ever before. They are very restrictive and only gave St Kilda 2×100+ scores last week and might even have to tackle a tag from Viney who ran with Jack Steven last week.
Speaking of tags, watch out for old mate Hutchings who is back doing his thing and he may run with Josh Kelly. He ran with Sloane last week, but hasn't gone near Kelly in their last three games with scores of 119, 130 and 11. Awesome numbers… but I am a little concerned, when I say little I mean 21% worried.
Finally, we have Shaun Higgins who has a great run home over the next 8 games. This week, he could be tagged by Touk Miller. He's averaging 109 in his last three games and with form like that, you do tend to attract attention.
Big peri tonight. So join me for all the best #AFLFantasy advice in the land. Plus a sneaky dog winner… TBC https://t.co/lkOKmxKJ4f

— Calvin (@CalvinDT) July 4, 2018
COULD BE SPECIAL
Just missing the top 5, these lads come with an element of risk.
Dayne Zorko loves playing Carlton where he has scored 119, 125 and 104 against them in his last three games. Maybe he cops a Curnow tag here? Maybe he doesn't?
Next we have Bryce Gibbs who is coming off just 93 but his record against the Tigers is pretty bloody good with scores of 113, 104, 105 and 127. Only one score though is "captain worthy" but still he looks set for a good day along with Matt Crouch. He scored 33 (inj), 124 and 122 in his last few against the Tigers and is fresh off a very nice 120 last week.
Rory Laird had 141 earlier this year on Richmond and even had 91 and 113 before that. He returned last week from a hand injury and looked solid for his 102.
An interesting one is Zach Merrett. Although he's a long way off the captaincy radar, his record on the Pies is impressive with score of 109, 105 and 137. Last week, Collingwood allowed the Suns to have 6×110+ scores which is what they can give up on their day.
Will Kruezer be back or will Stef Martin ruck solo like he did this week for his 110 (46 h/o). He hasn't scored over 100 in his last three against the Blues but is Special K doesn't play… that will change.