Moneyball's $4K Saturday Special – Rd. 15
A BIG DAY for Kade is on the cards today and Calvin has him locked and loaded.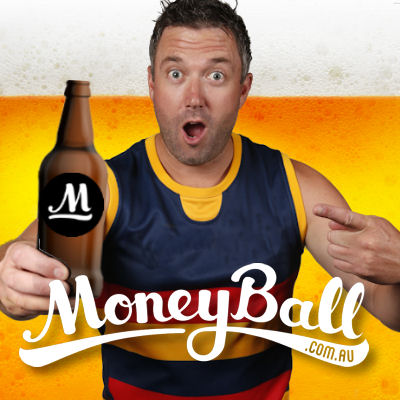 It's Saturday so reach into your pocket and find $15 to enter this bad bot.
It's the big $4,000 with the winner taking $525 for a huge Saturday night.
Carlton v Port Adelaide 1:45pm AEDT
Adelaide v West Coast
GWS v Hawthorn
Gold Coast v Collingwood 7:25pm AEDT
FREE CONTEST TO WIN AFL GRAND FINAL TICKETS/EXPERIENCE
Exclusive to ONLY DT Talk users, be sure to enter this free contest tomorrow. If you have the highest score for the day, not only will you have $20 added to your account but if your score is the highest for the year… then the tickets are yours. JOIN HERE
Now for my best and sneaky best options for today…
Andrew Phillips (RUC, $5,000)
A cheap ruck and a solid/popular option today with Kreuzer on the sidelines for the Blues.
When Phillips rucks in the absence of Special K, he scores well averaging 71.
It's not an exciting pick, but at $5K, Phillips will free you up a fair amount of cash to buy some of the big boys.
Click here to subscribe on iTunes.
Matt Scharenberg (DEF, $6,700)
If Salam (119), Witherden (123) and Darcy Byrne-Jones (106) can cash in on the Gold Coast in the backline, then Scharenberg can too.
He's a huge sneaky option today and will be under the radar of even the most experienced Moneyball players.
With only one blemish in his scores of 85, 48, 89, 91, 98, 132 in his last six games. You can select this Pie with confidence today.
Tom Phillips (MID, $9,100)
Oh yeah… I like this one.
Not only do I own the legend in my Fantasy Classic team, I know exactly what he will do to the Suns today.
Phillips can go massive and has scored over 120 in three of his last 5 games.
The thing is with Phillips, he is so far behind the other Collingwood boys at getting a tag and with Treloar out, he can move up the ground more freely than he usually does.
Lock him in for a nice 130+ today.
Jack Martin (FWD, $7,200)
With forwards hard to come by today, Martin will top my list here.
Firstly, his form has been rock solid with scores of 87 and 89 in his last two games and today he's only up against the Pies at home. He has a ceiling of 115 which he reached a few weeks back and is averaging a very respectable 82 for the year.
He scored 91 against Collingwood last year and with Tom Lynch on the sidelines, he will be targeted a lot more by his midfielders.
Jordan De Goey (MID, $7,300)
The Suns suck. Treloar is out. De Goey is a jet.
91 and 117 are his last two scores as a result of Jordan spending more time in the midfield.
With Treloar out… his time in the middle only increases and he's only up against the Suns, the easiest team to score points against at the moment.
Load up with the Pies today and you can't go wrong.
Kade Simpson (DEF, $9,000)
BIG DAY for Kade is on the cards.
Why? We'll its his 300th game and this means huge numbers. We hope.
He scored 102 and 116 in his last two games against the Power who can give up points to defenders on their day.
Coming off his bye, Kade is fresh as an old bloke can be and his scores of 127 and 111 reflect this.
At the MCG this year, Kade has scored 125+ on three occasions from his six games.
The thing is… those kids at Carlton will be looking for the master today. Every possible +6 will be heading his way. He's good for 10 marks and 30 touches here, so make sure you're on board.