Calvin's Captains – Rd. 15
It was a dark day with the pig scoring 84. However, I have been working overtime to get it right this week.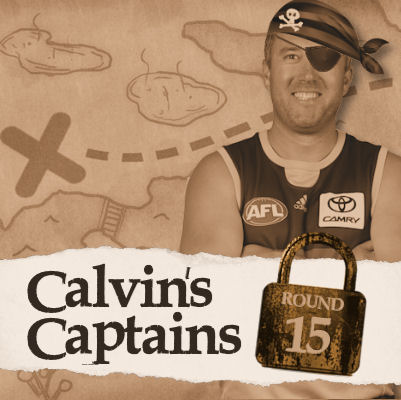 The LOOP HOLE
Here we go again, with a Thursday night game (Richmond v Sydney) we have the option to LOOP our captain.
1 – Place your VC on a player who is playing on Thursday night (Buddy).
2 – Make sure you C is locked away as well (Mitchell), not on player in this game.
3 – If Buddy (for example) scores 120+, lock this score in by moving a player who has the bye or not playing onto your field and give them the C. This will get you a zero and activate the VC scores x2.
4 – If you don't like the score, keep the C on your next best option as you normally would.
FYI – MY LINE FOR ROUND 15…. Is 120+
Round 15. Join me for an #AFL Fantasy chat and much more as you know. #4 for the punters out there. https://t.co/7VZbofVHUu

— Calvin (@CalvinDT) June 27, 2018
BEST VC OPTIONS
Basically, this game could be anything. Not much is indicating that there will be a huge stand-out player so let's look at who we have.
I like Lance Franklin here, because of his ability to go BANG. However, it's unlikely to happen. He scored 61 against the Tigers last year but did have 140 before that. Coming off scores of 91 and 118, he might give it a shake, but at the end of the day… it's a double chance anyway.
Luke Parker sits down my list as he has failed to ton-up in his last three games against Richmond, but with that said, he can be big on his day if he has a big enough crack.
Amazingly, Isaac Heeney is the most inform player in this game averaging 106 in his last three (see what I mean here, not much on offer). With Richmond being the 4th easiest team for MIDs to score on at the moment, I got a little excited with Heeney as my VC. But then I realised, over his career… Heeney has only scored over 120 twice. Yep, twice… that's at 3% of games (not 0.03%)… well bugger me.
Whereas, Jake Lloyd has hit the 120 mark three times this year with a huge 166 in that as well.
Dusty Martin has been down on numbers this year but with scores of 100, 114 and 123 in his last three against the Swans, maybe he'll bounce back here and if you think he can, then the VC could be his.
Sitting at #2 on my list is Josh Kennedy. In his last four games against the Tigers he has scored 102, 131, 114 and 107. However, only one of those is a worthy VC score though.
At the end of the day – it's a free hit. Good luck.
THE TOP TEN
#1 – Tom Mitchell v GWS @ SPO
The pig didn't oink last week for his 84, and I looked very long and hard here to push him down the order. But I can't find a good enough reason.
Surely the 84 would be enough to get angry, but this is a man who has scored 140+ on 5 occasions this year at 38%.
Last year against the Giants he scored another 140+ score (143) and will not be tagged this week. GWS had a chance to tag Zorko or Beams last week and decided not to. They have Matty de Boer who could have done the job, but they chose not too.
Another reason he gets the tick here for me is because of what the GWS guys are giving up, and who they are giving points up to… MIDFIELDERS.
Beams (113) took 10 marks last week to be the second highest scorer for the Lions and Zorko managed 99. The week before that they played the Suns and in round 12 Bryce Gibbs (142) and Crouch (116) both top scored for the Crows. The week before that, the four top scorers were midfielders for the Bombers with Zaharakis (143), Smith (113), Heppell (103) and Merrett (98) going well well.
#2 – Dayne Beams v Fremantle @ Optus Stadium
Boy… I like Beamer this week.
Firstly, although he hasn't played at the new ground, his recent trips to Perth have resulted in scores of 144, 133 and 125.
Add to this his record against the Dockers and you'll start to see what I'm excited about. 145, 133, 122, 113, 128, 100 and 102 are his entire scores over his career against them. Obviously making them his favourite team to score against.
He had 113 last week and with 4% ownership, this could be a move to remember.
#3 – Max Gawn v St Kilda @ the MCG
Max v Hickey – we like this.
He scored 111 against him earlier this year but that one was under the roof. Max prefers playing at the MCG where he has averaged 125 this year before stuffing up with an 82 a few weeks back.
Previous rucks against Hickey have averaged 105. Max is a little better than these guys…
Witts 81
Sinclair 110
Nic Nat 95
Nankervis 101
Grundy 135
Sandilands 96
Gawn 111
McEvoy 107
#4 – Josh Kelly v Hawthorn @ SPO
The #1 man on form sits quite low this week, but don't be too alarmed. The Hawks are the hardest for opposition midfielders to score against, only conceding 4×120+ score this year. Yep, all year.
Kelly is coming off scores of 138 and 166 though and he had 136 against the Hawks in 2017.
He'll be fine, but the Hawks can be very tough on their day.
#5 – Patrick Cripps v Port Adelaide @ the MCG
Cripps won't cop a tag in this one, unless he fires early and Rocky is sent to quieten him down. He has scored 121, 115 and 128 in his last three against the Power and after coming off a wicked 146 last week, he's a one man army (along with Simmo) at the moment for the Blues.
#6 – Tom Phillips v Gold Coast @ Metricon Stadium
For the same reasons as Steele, Phillips will avoid everything this week and have a field day against the Suns. He has gone over 120 in four of his last eight games and is set to do it again this week.
He is NO chance to cop any attention this week, just like Shiels and O'Meara did last week for their scores of 124 and 121. He does go up the order though, but won't get anything.
#7 – Steele Sidebottom v Gold Coast @ Metricon Stadium
Steele ranks at #3 on form coming off scores of 111 and 121. He will most likely get the a tag from Touk (with Treloar out). He was sitting at #4 until Treloar acted up.
He loves playing these guys though who give up the most points to midfielders at the moment. Steele had 110, 104 and 118 against them in his last three games and will be awesome again.
#8 – Bryce Gibbs v West Coast @ Adelaide Oval
Gibbs has 6×100+ scores against his name playing at Adelaide Oval this year from 7 games and front a team he has scored 101, 100, 125 and 121 against in his last four games.
Four Bombers scored 100+ last week in that upset, and that makes me think that a 110+ is on the cards here.
#9 – Brodie Grundy v Gold Coast @ Metricon Stadium
Only had 86 on Witts last year but hasn't dropped under 100 since round two. I don't need to say anymore. Freaking jet!
#10 – Dayne Zorko v Fremantle @ Optus Stadium
131, 100, 108 and 132 are Zorko's last four scores against the Dockers and he has averaged 110 in his last three games this year.
Might be tagged by Banfield, but he's a different player after a slow start and should be great here for anything between 110 and 135.
QUICKLY, WHO MISSED THE CUT?
Toby McLean v Geelong @ Etihad Stadium: Never played against the Cats in his three and half year career. Amazing.
Matt Crouch v West Coast @ Adelaide Oval: 150 and 128 are his last scores against the Eagles and he had 106 in his last game in rd. 13.
Tom Rockliff v Carlton @ the MCG: 73 last week, hard to pick what his role is from week to week.
Gary Ablett v Bulldogs @ Etihad Stadium: Surprisingly, the Dogs are the 3rd hardest for MIDs to score on and Gaz hasn't played these guys since 2015. Still should be Gaz-good.
Ollie Wines v Carlton @ the MCG: 0x100+ scores in his last four games against the Blues and has just 1×100+ score at the MCG in his career 7 games. Might even cop some Curnow attention too.
Patrick Dangerfield v Bulldogs @ Etihad Stadium: 156, 135, 143 are his last scores against the Dogs, let's just hope the rest has made him remember how to score Fantasy points.
Ed Curnow v Port Adelaide @ the MCG: 77 and 90 in his last two games, bit quiet.
Rory Laird v West Coast @ Adelaide Oval: No game in 3 weeks, pass. Too risky for the big C.
Lachie Neale v Brisbane @ Optus Stadium: Like him a lot this week. Coming off his most recent 127, he had 108 on the Lions last year, a team people aren't struggling to score against at the moment.
Elliot Yeo v Adelaide @ Adelaide Oval: Hot form of 117 and 136, but the Crows are his worst team to score against with just 1×100+
score in his career 7 games.
Joel Selwood v Bulldogs @ Etihad Stadium: Has 7×100+ scores this year from 13 games and had 116 against the Dogs last year.
Andrew Gaff v Adelaide @ the Adelaide Oval: Adelaide are the 2nd easiest for MIDs and Gaff has had 112 and 116 in his last two games against them.
Stephen Coniglio v Hawthorn @ SPO: 71 last week and 119 in his most recent game against the Hawks back in 2016.
Clayton Oliver v St Kilda @ the MCG: 107 against the Saints last year and averages 108 against them in his career three games. Going nicely the ginger, but don't be surprised if Ross runs with him a little.
Zach Merrett v Kangaroos @ Etihad Stadium: North are the 2nd hardest to score against and he might be tagged by Ben Jacobs. Pass, pass pass.
Nat Fyfe v Brisbane @ Optus Stadium: Had 82 on the Lions last year and 125 in his last game in round 13. Should be great here, but we do have better options.
Scott Pendlebury v Gold Coast @ Metricon Stadium: Will he get tagged by Touk? Highly doubt it. He had 101 against the Suns last year and huge 145 and 141 prior to that. He's been great.. without being awesome scoring between 110 – 100 on seven occasions.
Melbourne – Thursday 19 July , 2018
Main Hall, Bells Hotel
Level 1, 50 Tope Street, South Melbourne
Click to buy tickets