Moneyball's $5K Saturday Special – Rd. 14
Moneyball is here and there is some serious coin up for grabs today. Check out Cal's best tips for the day,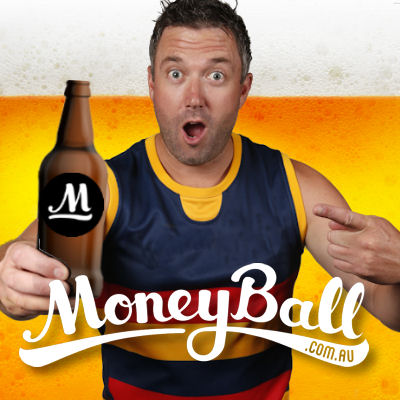 It's Saturday and today we have only 3 games on the cards, it's a little trickier than normal. I love a challenge and have hunted down some rippers for you today.
It's the big $5,000 with the winner taking $650 in their pocket
Hawthorn v Gold  Coast 1:45pm AEDT
Brisbane v GWS
Bulldogs v Kangaroos 7:25pm AEDT
FREE CONTEST TO WIN AFL GRAND FINAL TICKETS/EXPERIENCE
Exclusive to ONLY DT Talk users, be sure to enter this free contest tomorrow. If you have the highest score for the day, not only will you have $20 added to your account but if your score is the highest for the year… then the tickets are yours.
Now for my best and sneaky best options for today…
Zac Langdon (FWD, $4,200)
He's cheap and my only change of scoring well in this one today. So… I'm backing the spud in here mainly because he's against the Lions. I think he can bag 3/4 and pump his score up to 80+. I hope anyway ha ha. Wishful thinking, maybe… but at the end of the day, he's mega rookie-priced and could be ok on a day where picking a forward is pretty tough.
Stef Martin (RUC, $9,700)
Who does he ruck against today? Oh yeah… Dawson Simpson.
Do I need to day anymore? We all need a ruck and from the list proved, I'm saying spend up and grab the big fella.
He had 96 against the Giants earlier this year but this time it will be much different, expect the unit to have field day.
Daniel Howe (MID, $6,700)
Awkwardly priced but unique today.
Off the back of 93 and 91, this guy could be something special against a team that bleeds points.
He scored 93 in his last game in Tassie and will reap the benefits of the large open spaces that UTas offers.
Ryan Burton (DEF, $6,100)
Ignore his last score of 66 and see the ones before when he went 93 and 92.
He's cheap and only against the Suns today at a Fantasy friendly ground. If he doesn't go 100+ today, I'll eat my beanie… after my snow cone, cause it's bloody cold in Tassie today.
Jacob Dawson (MID, $3,500)
You might as well. At this price, you might as well.
There isn't many cheap guys on offer today so you will need someone and this guy on debut offers plenty. He averaged 90+ in the NEAFL and could be a solid 70+ today against the Hawks.
Tom Mitchell (MID, $11,200)
Go and raid you kids piggy bank or even kick over an old lady in the street. I don't care. Do want ever you need to, because you if won't be in the cash unless you have the pig locked and loaded today.
One… he plays the Suns. A team that gives up the most points to midfielders and a team he averages 136 against in his last five game.
Two… UTas Stadium. A ground he had 147 earlier this year and currently carries a lowest score of 118 in his last five games.
Three.. he's a pig. A massive dirty pig who will be pigging this one up with a score of 180+. Yep, you heard that correctly… 180+.
A must have today if you're a serious player.