Calvin's Captains – Rd. 14
Another loop hole and another huge line I've set at 130 for them to reach. Who can get the job done in Perth on Thursday night?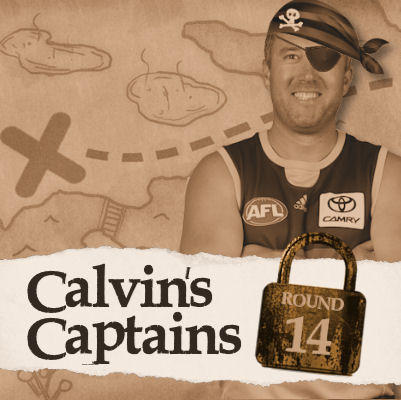 The LOOP HOLE
Here we go again, it's the silly season and with a Thursday night game (Port v Bulldogs) we have the option to LOOP our captain.
1 – Place your VC on a player who is playing on Thursday night (Gaff).
2 – Make sure you C is locked away as well (Mitchell), not on player in this game.
3 – If Gaff (for example) scores 130+, lock this score in by moving a player who has the bye or not playing onto your field and give them the C. This will get you a zero and activate the VC scores x2.
4 – If you don't like the score, keep the C on your next best option as you normally would.
BEST VC OPTIONS
Basically, you have three options. The issue is, I can't see any of them reaching my line of 130 this week. My mate Elliot Yeo has cracked 130 on two occasions and could push it here. He had a nice 136 last week but has never cracked 100+ against the Bombers in a career four games, he comes in for me this week, but not as my VC.
His team mate Andrew Gaff has a huge ceiling and on his day, he can be one that pushes the mark. His best game of 154 this year would be ideal but he's coming off a dirty 82, which is his worst effort for the year. He has scored 95 and 131 in his most recent games against the Bombers and if you have him, he might repay you here.
Finally, we have Zach Merrett. Before researching, I had Zach at #3 on my list behind these guys. But his record against the Eagles puts him on top after scores of 126, 123 and 137 in his last three. He hasn't hit the 130 mark this year, but is coming off a solid 126 (season high) from round 12. He will carry the VC for me.
Let's get this going. #AFLFabtasy with yours truly. https://t.co/jzBkeH3o8m

— Calvin (@CalvinDT) June 20, 2018
THE BEST OF THE REST
#1 – Tom Mitchell v Gold Coast @ UTas Stadium
Easiest thing you'll do all week and here is why. The Suns are easy as to score on, giving up the MOST points to midfielders. Last week, Ross (137) saw this first hand with his 33d and 10m as did Steven (110) and even bloody Billings (104).
He may get tagged by Miller who has been running with some players this year like Steven last week, but honestly are we even slightly concerned?
He also plays at UTas, a ground he has scored 147 at this year and carries a lowest score of 118 there in his last 5 games.
If this wasn't enough, the Suns are his absolute favourite team to score against with 141, 115, 132, 163 and 131 coming against them in his career 5 games at an average of 136. That's 136 – OINK
If you don't mind!
#2 – Brodie Grundy v Carlton @ the MCG
Grundy pumped out a huge 141 on the Blues earlier this year and in that game, Kreuzer even played (120). Grundy has scored 101 and 131 in his last two games and looks the goods once again.
#3 – Josh Kelly v Brisbane @ the GABBA
Kelly is back and running hot. He had a monster 166 in round 12 ad although he didn't play the Lions last year, he did have 125 on them in 2016. The Lions rank at #4 for giving up points to midfielder and I'm expecting all the Giant boys to have a field day here… but Kelly as the standout.
#4 – Ed Curnow v Collingwood @ the MCG
The Pies are the third easiest to score against for midfielders at the moment and I'll be tipping Curnow to bounce back from his 90 last week and have a ton with ease here… because he's done it plenty of times against the Pies before.
103, 110, 121 and 109 are his last four efforts against Collingwood, so you can now see what I mean.
Definitely a trade target for myself as I look to replace Macrae that's for sure.
#5 – Scott Pendlebury v Carlton @ the MCG
A 114 is against his name when he played the Blues earlier this year and that's nothing new for this guy. In fact, he goes for his 8th straight ton against Carlton and should get it once again.
Fresh off his bye, only 3% of coaches are enjoying his season that consists of nine triple figure scores.
QUICKLY, WHO MISSED THE CUT?
Stephen Coniglio v Brisbane @ the GABBA: 127 on these guys back in 2016. Should have a day out after two weeks rest.
Toby McLean v Kangaroos @ Etihad Stadium: North are too hard at the moment to score on and how will he recover from his shoulder knock, and with Macrae out. Scored 100 and 74 on them last year.
Clayton Oliver v Port Adelaide @ Adelaide Oval: #3 player based on form after averaging 120 in his last three games. Had 96 last year
against the Power.
Tom Rockliff v Melbourne @ Adelaide Oval: 128 in round 12, his best score this season. Had 80 on the Dees last year who are tough to score on at the moment.
Dayne Zorko v GWS @ the GABBA: Back at the GABBA, but he copped lot of attention when he played the GWS earlier this year for only 43. He had only 45 on them last year and carries just 1×100+ score against them in his career 7 games. Avoid at all costs.
Adam Treloar v Carlton @ the MCG: Horrible record against the Blues with scores of 84, 82, 75 and 96 in his last four games. He should be good against the struggling Blues, but his record suggests otherwise.
Dayne Beams v GWS @ the GABBA: 113 this year against the Giants, his worst score in a career 4 games against them, if you ignore the 5 he had when he got injured. Loves playing these guys!
Ollie Wines v Melbourne @ Adelaide Oval: 137 and 138 are his last two scores and he had 104 and 107 in his last two against Melbourne.
Steele Sidebottom v Carlton @ the MCG: 121 and 131 are his last two games and he even had 130 on Carlton earlier this year. He's the kind of guy who will have a day out again.
Max Gawn v Port Adelaide @ Adelaide Oval: Only managed 83 on Ryder last year, he's playing better than that though, but not enough for the 'C'.
Stef Martin v GWS @ the GABBA: Average 105 on these guys in his last 5 games and should ton-up again you'd think.
Tom Phillips v Carlton @ the MCG: 0x100+ scores against Carlton but he's a man on a mission this year scoring over 120 on five occasions.
GET YOUR TICKETS MELBOURNE!