Moneyballin' – Round 13
We've only got 5 games this week, so let's make them count! If you've got a spare 9 minutes, make sure you're soaking up the Match Committee Podcast while you're following our numbers for Round 13. Good luck!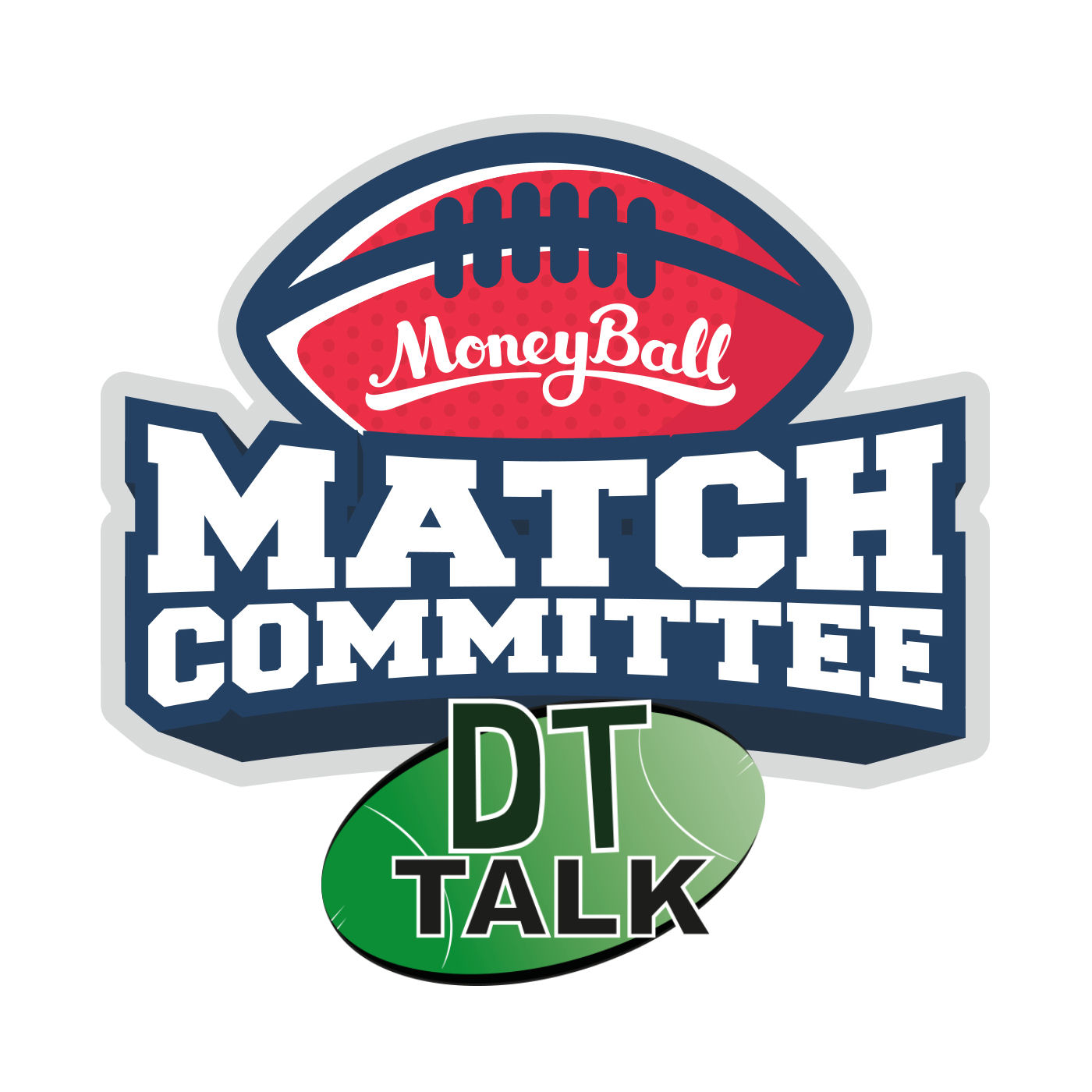 Tbetta here, and welcome to the self-proclaimed top resource for keen Aussie rules Moneyball punters! DFS (Daily Fantasy Sports) is taking off around the world and Moneyball have the perfect platform for you to turn your AFL Fantasy prowess into cold hard cash. Signing up is easy – head to moneyball.com.au and you could be ballin' within minutes.
If you're unsure how DFS works, be sure to head to the 'Help' section for all the info you need to start cashing in on your AFL Fantasy knowledge.
Click here to subscribe on iTunes.
Sydney vs West Coast
BEST PICK: Lance Franklin ($8,500 FWD)
Buddy was huge in his last meeting with the Eagles, a 151-point monster that included 8 goals back in Round 1 this year – their only loss for 2018. For those who watched that game, it was clear that West Coast were powerless to halt his influence and are now faced with heading over east without Barrass due to injury. He's easily one of their best one-on-one defenders, so can we expect a few more marks for Buddy tonight? Franklin's scores when hitting 9 marks this year reads 151, 102, 100, 112 and 118. He simply has to be in your player pool for GPP's.
BEST STAT: Callum Sinclair ($7,800 RU)
I recommended Sinclair last week based on his scores against the 9 "easiest" teams for ruckmen to score against, and it paid off with a juicy ton. He's one of the best DFS plays going around at the moment, because he hugs the DVP trends very closely – if he's allowed to score well, he will. If he comes up against tough opposition, he likely won't, and that's what we're facing this week:
No ruckman scoring over 87 against West Coast this year – which was actually achieved by Sinclair himself in Round 1 – means that the Sydney solo will have to pull out something special to return value here.
BEST VALUE: Josh J Kennedy ($6,500 FWD)
There's a fair bit of overlap between the skillsets of JJK and Darling, so it's no coincidence that when Darling was injured early against the Saints, Kennedy saw a big scoring boost. He finished with 6 goals and 111 in that game, a big improvement on his previous high score of 81 from what has been a lean 2018. Sydney are a much more serious defensive threat than the Saints, so a "bag" isn't guaranteed; but without Darling's firepower alongside him, West Coast with be relying on Kennedy heavily as a Forward 50 target. Expect his marks – and Moneyball score – to reflect the sharpening focus on the dual Coleman Medallist this week.
BEST RETHINK: Luke Shuey ($8,200 MID) or Andrew Gaff ($10,000 MID)?
Who does Hewett try and blanket to this week? The stopper has taken down Cripps (17 touches, 57 AF) and Steven (13 touches, 49 AF) in the last fortnight, to go with a whole bunch of high-profile scalps earlier in the season that I won't mention for the umpteenth week in a row.
Historically, it's been a coin-flip. Sydney opted to tag Shuey in Round 1 this year (102 MB), but do they bother with him coming back fresh from an injury? They tagged Gaff last year after a fast start and the wingman certainly is the Eagle with both the numbers and the momentum heading into Round 13. Tread carefully here.
Carlton vs Fremantle
BEST PICK: Ed Curnow ($10,100 MID)
Only two players have produced more 130+ scores for their DFS investors than Curnow this year, who has 4 such games to be the midfield surprise packet of 2018. Unsurprisingly, these scores are all tied very closely to his excellent tackling numbers – when Ed's reach 10 tackles this year, his scores read 160, 132, 137 and 142. Curnow's last few meetings with the Dockers have resulted in totals of 139, 109 and 116, so we should be in the sweet spot this Saturday.
BEST STAT: Luke Ryan ($7,400 DEF)
"The Role" is back in Freo, and Ryan is the man with the badge. After a slow start to 2018 where he struggled to build on his momentum from last season, Ryan's last 5 games look like:
10 marks, 114 AF
10 marks, 104 AF
10 marks, 124 AF
8 marks, 74 AF
9 marks, 107 AF
Fremantle is all about structure, and we've seen repeatedly over this year that their backline players (Blakely, Ryan and Wilson chiefly) mould themselves very closely to the prevalent scoring trends. I can't see Carlton disrupting their system back there, so Ryan is a strong play.
BEST VALUE: Tommy Sheridan ($5,700 DEF)
Speaking of Fremantle backmen, Sheridan has pumped out 100 and 82 over the past fortnight, playing a very fantasy-friendly role as the loose off half-back or occasionally pushing up on a wing. The question is, when the Dockers enacted their aggressive youth policy a couple of weeks ago, was he brought in to replace the veterans Michael Johnson and Danyle Pearce in the backline? Or was he seen as a direct replacement for the free-wheeling Stephen Hill, who find himself injured that week? With Hill back into the side this week, I'll be watching closely to see what happens with Sheridan.
BEST RETHINK: Matthew Kreuzer ($9,100 RU)
Sandilands is back, which cuts into Kreuzer's value dramatically – we're not going to see him bully someone like Scott Jones as Grundy and Jacobs were able to do this past fortnight.
Conceded per game with Sandi: 20 hitouts, 70 MB
Conceded per game without Sandi: 45 hitouts, 103 MB
Gold Coast vs St Kilda
BEST PICK: Jack Steven ($8,800 MID) and Seb Ross ($9,300 MID)
Over their last 6 games this year, Gold Coast have averaged a monstrous 6 tons conceded per game, and the vast majority of those juicy scores are going to opposition MID's. Even just looking at it anecdotally, why wouldn't you want to benefit from a team that let Kelly (166), Ward (129), De Boer (128), Whitfield (120), and Shiel (118) – all midfielders – score at ease last weekend?
With the Saints midfield, it essentially comes down to two players: Jack Steven has scores of 133 and 104 when the Saints don't lose this year, and averages 110 when untagged (vs 69 tagged) against a team that can't afford to worry about the midfields of other teams. Seb Ross also scores strongly when the Saints play well, scoring of 123 and 118 in non-losses. He'll he huge if he can get his outside game going, scoring 123, 132, 118, 121 and 133 in games where he's notched at least 6 marks this year.
BEST STAT: Jarrod Harbrow ($7,300 DEF)
St Kilda are conceding astronomical numbers to small/medium defenders this year, particularly in the recent past.You only need to go back and see what Fremantle and Collingwood defenders were able to do against them to have you scanning the Suns for a possible beneficiary. Harbrow has been one of the few shining lights for Gold Coast this year, averaging 102 over his last few starts. If Harbrow can get involved in the cheap touches down back he'll be a bargain, as he's produced scores of 94, 97, 129 and 108 in games where he's exceeded 20 touches this year.
BEST VALUE: Ben Ainsworth ($5,800 FWD)
There were concerns over his hand to end last week, but they seem to have evaporated with the young bull named in the ruck-rover position. Ainsworth boasts a lowest score of 70 since he moved into Gold Coast's midfield full-time, giving him an velocity of 83 in his last five starts. He's way too cheap to miss here, especially against a similarly soft St Kilda onball division.
BEST RETHINK: Logan Austin ($4,500 DEF)
What does his role look like with both St Kilda's main key defenders back? Here's what we know about Austin so far:
8 marks, 97 MB – Nathan Brown out injured.
14 marks, 112 MB – Nathan Brown out injured, Carlisle suspended
9 marks, 84 MB – Nathan Brown injured at half time, Carlisle suspended.
In fact, Austin's scoring saw a massive bump last week once Brown was out with concussion. After totalling just 1 mark and 14 MB points in the first half alongside the low-volume backman, Logan went on to notch 8 marks and 70 MB points in the second half without him. Very curious.
Hawthorn vs Adelaide
BEST PICK: Liam Shiels ($9,000 MID) & Tom Mitchell ($11,100 MID)
Adelaide concede the 3rd-most fantasy points to MID's this year with a huge slab of that being the contested numbers they allow, as they also concede the most tackles of any team this year. That puts a couple of inside Hawks into the value zone.
Liam Shiels becomes relevant at some point every year, and with most recent scores of 122, 111 and 105, that time is now. Like other two-way midfielders in the league (Curnow, Ebert, etc) Shiels goes big when he's able to supplement his solid disposal numbers with a swathe of man-hugs. When he's hit 7+ tackles this year, he's produced scores of 114, 137, 99, 96, 122 and 111, and he'll definitely add to that this weekend.
Do I even need to try and convince you to pick Tom Mitchell after scores of 149, 135 and 145? We all know Titch can find the pigskin, but sometimes we don't respect his ability to lay a tackle when required too. When he's reached 8 tackles this year, he's scored 148, 119, 135 and 145. So delicious.
BEST VALUE: Sam Gibson ($7,500 MID)
Adelaide has serious midfield problems with Laird, Crouch and Sloane all missing, but Gibson is filling the void admirably. 84, 85, 93 and 94 are what he's produced in his first month as a Crow, to little fanfare. You won't see him in highlight reels, but you'll see him amongst the leading teams in Saturday's DFS contests.
BEST RETHINK: Paul Seedsman ($7,800 MID)
It seems the opposition has finally figured out Seedsman's game, as we've seen with many flashy rebounders in the past – Shaw and Johannisen spring to immediately and painfully to mind. While he was running hot with 27 touches and 103 MB over the first 6 rounds, that's dropped dramatically to 20 touches and 76 MB since. With scores of 63 and 68 since that late withdrawal with an adductor injury, he's more danger than he's worth at the minute.
Geelong vs Richmond
BEST PICK: Patrick Dangerfield ($9,900 MID)
Danger is now cheap enough for us to dabble at him so that we're on board for his inevitable upswing, and that could easily be against the Tigers this week. Danger has been extremely consistent this year, cruising along at 106 ever since he started upping his midfield time. Patty pumped out 130 and 114 against the Tigers last year, and with a basement of 96 over the last 6 weeks, this is your classic low-risk, high-reward scenario.
BEST STAT: Tom Stewart ($7,500 DEF)
Richmond concedes the 4th-most points to defenders this year, which puts Stewart in a favourable spot DVP-wise – not that he needs it. He's become the linchpin in Geelong's switches this year, entrusted with swinging it out to better users (such as Tuohy) to launch the forward thrust. Stewart's scored 103, 110, 118 and 103 in games where he's taken 9-plus marks this year, so I'm fully expecting another effort in that upper echelon today.
BEST VALUE: Jayden Short ($6,600 DEF)
Crisis creates opportunity, and Richmond's loss of a veteran rebounder like Houli gives us a DFS bargain in Short, who's picking up the slack admirably with scores of 88, 104 and 100 since Bachar went down. Geelong concedes the 4th-most points to small and medium defenders this year, so Short will rub of the green in his attempt to hit triple figures for the third week in a row.
Always remember to gamble responsibly. If you're having problems with your betting, you can get help at Lifeline or talk to someone at Gambling Help Online.