Calvin's Captains – Rd. 13
LOOP HOLE ACTI-VATED – Yep it's the silly season so check out who Calvin has as his best for round 13.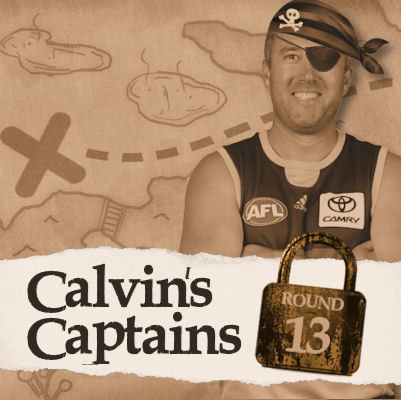 The Loop Hole
Here we go again, it's the silly season and with a Thursday night game (Port v Bulldogs) we have the option to LOOP our captain.
1 – Place your VC on a player who is playing on Thursday night (Macrae).
2 – Make sure you C is locked away as well (Mitchell), not on player in this game.
3 – If Macrae scores 120+, lock this score in by moving a player who has the bye or not playing onto your field and give them the C. This will get you a zero and activate the VC scores x2.
4 – If you don't like the score, keep the C on your next best option as you normally would.
BEST VC OPTIONS
Obviously it's Jack Macrae. He loves playing at Adelaide Oval and carries a lowest score there of 97 in his last 5 games. He pumped out a season-best score of 149 against the Power last year and even had 144 at Adelaide Oval earlier this year. The only issue I have here is the fact that the Tigers only managed 2×90+ scores against the Power last week, but that's a minor concern.
The thing is, you need a player capable of blowing the line out of the water. Toby McLean is that guy as he has scored 143 and a huge 152 already this year. Tom Rockliff is another guy who has a thumping ceiling and got his score up to 92 last week. He had 93 and 124 on the Dogs last year.
After having 78pts at half time, Justin Westhoff slowed down in the second half ending with 106. He too has the ability to pump out nice numbers but his record on the Dogs is ugly with scores of 66, 69 and 68 coming in his last three games.
At the end of the day – it's a free chance at a captain. My line will be 120 though, because I think that Tom Mitchell will get that with ease. My VC will be Macrae and even if he scores 119, I'll be chasing the pig.
THE BEST OF THE REST
#1 – Tom Mitchell v Adelaide @ the MCG
Another easy option. Backing in a guy coming off 145, 135 and 149 is a little easy. He had 117 and 125 on the Crows last year who happen to be the 2nd easiest team for MIDs to score on at the moment.
Fremantle scored 6×100+ against Adelaide last week, hence my line of 120 is a very fair one this week, could even be more.
#2 – Ed Curnow v Fremantle @ Etihad Stadium
After averaging 116 this year, Curnow's record here is amazing against the Dockers. Although he may run with Fyfe he has scored 116, 109 and 136 in his most recent games against them. They are the 5th easiest to score on in the game and he'll be a very unique pick if you are looking for someone like that this week.
#3 – Gary Ablett v Richmond @ the MCG
137 and 119 are his last two games and little master is slowly heating up. He scored 120 and 141 against the Tigers in his last two and although he only managed 47 in his last game at the MCG, his record prior to that was like no other.
#4 – Bryce Gibbs v Hawthorn @ the MCG
Plays one of his favourite teams this week and goes for his 7th straight 100+ score against them. Gibbs had 105 last week and although the Crows are sucking at the moment, Gibbs is getting it done.
#5 – Andrew Gaff v Sydney @ the SCG
Under-rated and killing it at the moment. He scored 96 on the Swans last year, which happened to be his lowest score against them in his last 6 games. The kicker here is… Sydney are the hardest team to score against at the moment for MIDs but I still thing Gaff can get the job done.
QUICKLY, WHO MISSED THE CUT?
Joel Selwood v Richmond @ the MCG: 63 last year against them and averaging 106 in his last three this year.
Lance Franklin v West Coast @ the SCG: Smokey alert. Had 151 on the Eagles earlier this year and 118 last week.
Dusty Martin v Geelong @ the MCG: Pfffthhh.
Nat Fyfe v Carlton @ Etihad Stadium: Might be tagged coming off his suspension and hasn't scored a ton on the Blues in his last three runs.
Rory Laird v Hawthorn @ the MCG: Busted hand? He had 82 and 83 on the Hawks last year.
Patrick Dangerfield v Richmond @ the MCG: Another mediocre 103 last week, and had 114 and 130 on the Tigers last year, when he was good.
Luke Parker v West Coast @ the SCG: 127 on the Eagles earlier this year, his best score this year. Is he back to his very best?
Mitch Duncan v Richmond @ the MCG: 131, 66 and 133 are his last scores against the Tigers, but he's like Danger and cant get over another big at the moment coming off 105 and 102 in his last two games.
Lachie Neale v Carlton @ Etihad Stadium: 101 and 117 in his last two games and on the Blues in his last three he has scored 106, 130 and 105.
Periscope BOOM. Join me for the best (maybe 3rd best) #AFLFantasy advice in town. Plus… we'll go over the Loop Ho… https://t.co/e68UiaELwk

— Calvin (@CalvinDT) June 13, 2018