Mid-season re-Draft – Ep. 206
PODCAST: The boys wrap up round 12 and discuss the re-Draft from last night.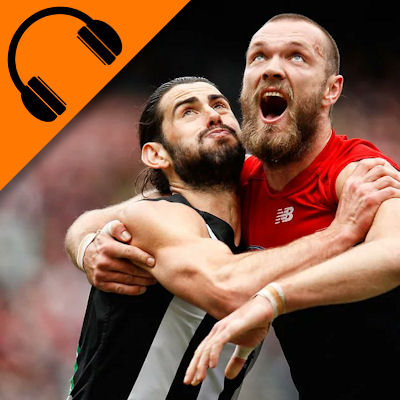 Click here to subscribe on iTunes. (Please leave a rating and review to help us move up the charts).
Below are the results of the mid-season re-draft we conducted on Sunday night. 10 teams, 3-4-1-3/4 squad structure. Big thanks to all involved, including Steve from the Draft Doctors (check out their podcast!). See more about this later this week on AFL.com.au.
| PICK | PLAYER | CLUB | POSITION | TAKEN BY | ADP | DIFF |
| --- | --- | --- | --- | --- | --- | --- |
| 1 | Brodie Grundy | COLL | RUC | MJ | 13 | 12 |
| 2 | Jack Macrae | WB | MID | Roy | 39 | 37 |
| 3 | Tom Mitchell | HAW | MID | Tbetta | 1 | -2 |
| 4 | Max Gawn | MELB | RUC | Stu | 14 | 10 |
| 5 | Adam Treloar | COLL | MID | Warnie | 11 | 6 |
| 6 | Ed Curnow | CARL | MID | Chris | 111 | 105 |
| 7 | Stefan Martin | BL | RUC | Calvin | 27 | 20 |
| 8 | Rory Laird | ADE | DEF | Selby | 9 | 1 |
| 9 | Elliot Yeo | WCE | DEF/MID | SteveFizz | 22 | 13 |
| 10 | Matthew Kreuzer | CARL | RUC | BearHawk | 19 | 9 |
| 11 | Patrick Dangerfield | GEEL | MID | BearHawk | 2 | -9 |
| 12 | Josh Kelly | GWS | MID | SteveFizz | 6 | -6 |
| 13 | Toby McLean | WB | MID/FWD | Selby | 65 | 52 |
| 14 | Gary Ablett | GEEL | MID | Calvin | 7 | -7 |
| 15 | Stephen Coniglio | GWS | MID | Chris | 56 | 41 |
| 16 | Jake Lloyd | SYD | DEF | Warnie | 32 | 16 |
| 17 | Angus Brayshaw | MELB | DEF/MID | Stu | 131 | 114 |
| 18 | Tom Rockliff | PA | MID/FWD | Tbetta | 10 | -8 |
| 19 | Tom Phillips | COLL | MID | Roy | 170 | 151 |
| 20 | Nat Fyfe | FRE | MID | MJ | 36 | 16 |
| 21 | Isaac Heeney | SYD | MID/FWD | MJ | 30 | 9 |
| 22 | Sam Menegola | GEEL | MID/FWD | Roy | 17 | -5 |
| 23 | Lachie Whitfield | GWS | DEF/MID | Tbetta | 66 | 43 |
| 24 | Dayne Zorko | BL | MID | Stu | 5 | -19 |
| 25 | Devon Smith | ESS | MID/FWD | Warnie | 79 | 54 |
| 26 | Jarrod Witts | GC | RUC | Chris | 54 | 28 |
| 27 | Lance Franklin | SYD | FWD | Calvin | 12 | -15 |
| 28 | Bryce Gibbs | ADE | MID | Selby | 16 | -12 |
| 29 | Kade Simpson | CARL | DEF | SteveFizz | 21 | -8 |
| 30 | Brendon Goddard | ESS | DEF/MID | BearHawk | 63 | 33 |
| 31 | Jack Ziebell | NM | MID/FWD | BearHawk | 103 | 72 |
| 32 | Mitch Duncan | GEEL | MID | SteveFizz | 15 | -17 |
| 33 | Steele Sidebottom | COLL | MID | Selby | 34 | 1 |
| 34 | Zach Merrett | ESS | MID | Calvin | 3 | -31 |
| 35 | Justin Westhoff | PA | MID/FWD | Chris | 110 | 75 |
| 36 | Andrew Gaff | WCE | MID | Warnie | 60 | 24 |
| 37 | Clayton Oliver | MELB | MID | Stu | 51 | 14 |
| 38 | Jack Crisp | COLL | DEF | Tbetta | 62 | 24 |
| 39 | Scott Pendlebury | COLL | MID | Roy | 18 | -21 |
| 40 | James Sicily | HAW | DEF/FWD | MJ | 102 | 62 |
| 41 | Matt Crouch | ADE | MID | MJ | 20 | -21 |
| 42 | Tom McDonald | MELB | DEF/FWD | Roy | 145 | 103 |
| 43 | Dayne Beams | BL | MID | Tbetta | 37 | -6 |
| 44 | Marc Murphy | CARL | MID | Stu | 25 | -19 |
| 45 | Connor Blakely | FRE | DEF/MID | Warnie | 93 | 48 |
| 46 | Shannon Hurn | WCE | DEF | Chris | 183 | 137 |
| 47 | Michael Hurley | ESS | DEF | Calvin | 33 | -14 |
| 48 | Jesse Hogan | MELB | FWD | Selby | 180 | 132 |
| 49 | Lachie Neale | FRE | MID | SteveFizz | 29 | -20 |
| 50 | Michael Hibberd | MELB | DEF | BearHawk | 35 | -15 |
| 51 | Taylor Adams | COLL | MID | BearHawk | 8 | -43 |
| 52 | Heath Shaw | GWS | DEF | SteveFizz | 61 | 9 |
| 53 | Joel Selwood | GEEL | MID | Selby | 49 | -4 |
| 54 | Travis Boak | PA | MID/FWD | Calvin | 44 | -10 |
| 55 | Robbie Gray | PA | MID/FWD | Chris | 82 | 27 |
| 56 | Lachie Hunter | WB | MID | Warnie | 108 | 52 |
| 57 | Michael Walters | FRE | MID/FWD | Stu | 100 | 43 |
| 58 | Jeremy Howe | COLL | DEF | Tbetta | 48 | -10 |
| 59 | Chad Wingard | PA | MID/FWD | Roy | 52 | -7 |
| 60 | Ed Langdon | FRE | MID/FWD | MJ | N/A | N/A |
| 61 | Dustin Martin | RICH | MID | MJ | 4 | -57 |
| 62 | Callum Sinclair | SYD | RUC | Roy | 188 | 126 |
| 63 | Patrick Cripps | CARL | MID | Tbetta | 41 | -22 |
| 64 | Alex Witherden | BL | DEF | Stu | 59 | -5 |
| 65 | Mitch Robinson | BL | MID/FWD | Warnie | 92 | 27 |
| 66 | Paul Seedsman | ADE | DEF/MID | Chris | 132 | 66 |
| 67 | Sebastian Ross | STK | MID | Calvin | 43 | -24 |
| 68 | Nic Naitanui | WCE | RUC | Selby | 83 | 15 |
| 69 | Ollie Wines | PA | MID | SteveFizz | 70 | 1 |
| 70 | Nathan Jones | MELB | MID | BearHawk | 50 | -20 |
| 71 | Jack Gunston | HAW | FWD | BearHawk | 75 | 4 |
| 72 | David Mundy | FRE | MID/FWD | SteveFizz | 97 | 25 |
| 73 | Luke Ryan | FRE | DEF | Selby | 161 | 88 |
| 74 | Luke Parker | SYD | MID | Calvin | 46 | -28 |
| 75 | Shaun Higgins | NM | MID | Chris | 109 | 34 |
| 76 | Tim Taranto | GWS | MID/FWD | Warnie | 211 | 135 |
| 77 | Jeremy Cameron | GWS | FWD | Stu | 76 | -1 |
| 78 | Alex Neal-Bullen | MELB | FWD | Tbetta | 138 | 60 |
| 79 | Tom Stewart | GEEL | DEF | Roy | N/A | N/A |
| 80 | Shane Savage | STK | DEF | MJ | 105 | 25 |
| 81 | Jimmy Webster | STK | DEF | MJ | 282 | 201 |
| 82 | Marcus Bontempelli | WB | MID | Roy | 55 | -27 |
| 83 | Toby Nankervis | RICH | RUC | Tbetta | 58 | -25 |
| 84 | Matthew Suckling | WB | DEF | Stu | 160 | 76 |
| 85 | Sam Jacobs | ADE | RUC | Warnie | 26 | -59 |
| 86 | Dyson Heppell | ESS | MID | Chris | 57 | -29 |
| 87 | Matt Scharenberg | COLL | DEF | Calvin | 156 | 69 |
| 88 | Josh Caddy | RICH | MID/FWD | Selby | 144 | 56 |
| 89 | Luke Dahlhaus | WB | MID/FWD | SteveFizz | 47 | -42 |
| 90 | Josh P Kennedy | SYD | MID | BearHawk | 68 | -22 |
| 91 | Jordan Lewis | MELB | DEF/MID | BearHawk | 127 | 36 |
| 92 | Blake Acres | STK | MID/FWD | SteveFizz | 134 | 42 |
| 93 | Luke McDonald | NM | DEF/MID | Selby | 145 | 52 |
| 94 | Bachar Houli | RICH | DEF | Calvin | 45 | -49 |
| 95 | Jarrad Waite | NM | FWD | Chris | 208 | 113 |
| 96 | Callan Ward | GWS | MID | Warnie | 106 | 10 |
| 97 | Isaac Smith | HAW | MID | Stu | 116 | 19 |
| 98 | Tom Lynch | ADE | FWD | Tbetta | 42 | -56 |
| 99 | Darcy Byrne-Jones | PA | DEF | Roy | 298 | 199 |
| 100 | Jack Steven | STK | MID | MJ | 77 | -23 |
| 101 | Dale Thomas | CARL | MID/FWD | MJ | 253 | 152 |
| 102 | Toby Greene | GWS | FWD | Roy | 38 | -64 |
| 103 | Luke Shuey | WCE | MID | Tbetta | 78 | -25 |
| 104 | Bayley Fritsch | MELB | MID/FWD | Stu | N/A | N/A |
| 105 | Ryan Burton | HAW | DEF | Warnie | 80 | -25 |
| 106 | Zach Tuohy | GEEL | DEF | Chris | 73 | -33 |
| 107 | Jack Newnes | STK | MID/FWD | Calvin | 133 | 26 |
| 108 | Brad Ebert | PA | MID | Selby | 69 | -39 |
| 109 | Patrick Ryder | PA | RUC | SteveFizz | 40 | -69 |
| 110 | Will Hoskin-Elliott | COLL | MID/FWD | BearHawk | 151 | 41 |
| 111 | Ben McEvoy | HAW | RUC | BearHawk | 71 | -40 |
| 112 | Rory Sloane | ADE | MID | SteveFizz | 24 | -88 |
| 113 | Jack Billings | STK | FWD | Selby | 23 | -90 |
| 114 | Jarryd Roughead | HAW | FWD | Calvin | 98 | -16 |
| 115 | Jared Polec | PA | MID | Chris | 174 | 59 |
| 116 | Liam Shiels | HAW | MID | Warnie | 130 | 14 |
| 117 | Michael Barlow | GC | MID/FWD | Stu | 31 | -86 |
| 118 | Kane Lambert | RICH | MID/FWD | Tbetta | 97 | -21 |
| 119 | Jake Stringer | ESS | FWD | Roy | 224 | 105 |
| 120 | Jordan de Goey | COLL | MID/FWD | MJ | 167 | 47 |
| 121 | Jack Redden | WCE | MID | MJ | 155 | 34 |
| 122 | Christian Petracca | MELB | MID/FWD | Roy | 114 | -8 |
| 123 | Christian Salem | MELB | DEF/MID | Tbetta | 122 | -1 |
| 124 | Luke Hodge | BL | DEF | Stu | 85 | -39 |
| 125 | Brandon Ellis | RICH | DEF | Warnie | 84 | -41 |
| 126 | Brandan Parfitt | GEEL | MID/FWD | Chris | N/A | N/A |
| 127 | Jack Viney | MELB | MID | Calvin | 101 | -26 |
| 128 | Dan Hannebery | SYD | MID | Selby | 95 | -33 |
| 129 | Josh J Kennedy | WCE | FWD | SteveFizz | 68 | -61 |
| 130 | Sam Gray | PA | FWD | BearHawk | 82 | -48 |
| 131 | Mark Blicavs | GEEL | DEF/MID | BearHawk | 219 | 88 |
| 132 | Rory Lobb | GWS | RUC/FWD | SteveFizz | 158 | 26 |
| 133 | Scott Lycett | WCE | RUC | Selby | 228 | 95 |
| 134 | Jarrod Harbrow | GC | DEF | Calvin | 120 | -14 |
| 135 | Logan Austin | STK | DEF | Chris | N/A | N/A |
| 136 | Todd Goldstein | NM | RUC | Warnie | 72 | -64 |
| 137 | Luke Dunstan | STK | MID | Stu | 139 | 2 |
| 138 | Jake Melksham | MELB | FWD | Tbetta | 256 | 118 |
| 139 | David Zaharakis | ESS | MID | Roy | 74 | -65 |
| 140 | Daniel Rich | BL | MID | MJ | 178 | 38 |
| 141 | Dylan Shiel | GWS | MID | MJ | 88 | -53 |
| 142 | Jayden Short | RICH | DEF | Roy | N/A | N/A |
| 143 | Aaron Sandilands | FRE | RUC | Tbetta | 153 | 10 |
| 144 | Allen Christensen | BL | MID/FWD | Stu | 187 | 43 |
| 145 | Ben Ainsworth | GC | FWD | Warnie | N/A | N/A |
| 146 | Rhys Stanley | GEEL | RUC/FWD | Chris | 231 | 85 |
| 147 | Tom Bellchambers | ESS | RUC | Calvin | 113 | -34 |
| 148 | Jack Darling | WCE | FWD | Selby | 259 | 111 |
| 149 | Adam Cerra | FRE | MID/FWD | SteveFizz | N/A | N/A |
| 150 | Tom Lynch | GC | FWD | BearHawk | 124 | -26 |