Moneyball's $5K Saturday Special – Rd. 12
With only three games on the cards, why not Moneyball them? Cal has your best tips right here! Good luck!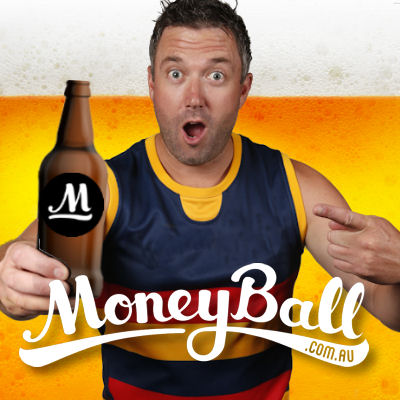 It's Saturday and with only 4 games on the cards, it's a little trickier than normal. I love a challenge and have hunted down some rippers for you today.
It's the big $5,000 with the winner taking $650 in their pocket
Geelong v Kangaroos 1:45pm AEDT
GWS v Gold Coast
St Kilda v Sydney 7:25pm AEDT
FREE CONTEST TO WIN AFL GRAND FINAL TICKETS/EXPERIENCE
Exclusive to ONLY DT Talk users, be sure to enter this free contest tomorrow. If you have the highest score for the day, not only will you have $20 added to your account but if your score is the highest for the year… then the tickets are yours. JOIN HERE
Now for my best and sneaky best options for today…
Ben Ainsworth (FWD, $5,400)
With the Suns on the slide, they have turned to one of their up and coming stars to carry more load in the midfield. For us this means more points for our Moneyball teams.
He has averaged 84 and 92 in recent weeks and not only is he cheap, he can be selected as a forward. Get on!
Callum Sinclair (RUC, $7,600)
You will need a ruck today, and in my expert opinion, Sinclair is one of the best options to roll with.  ST Kilda give up the MOST points to opposition rucks with the lowest scoring 95 against them in the last 6 games.
Fresh off a nice 117 himself, this guy will be hot property today.
Paul Ahern (MID, $3,800)
The most selected player today will be this man, coming off the back of his debut 92 points last week. He's at the Cattery though, but if you saw him play, you'll know that he is worth the very little coin you'll need to pick him up today.
Obvious I know, so I'll chuck you another cheap MID by the name of Nick Holman ($5,200). Just when we thought he was cooked, he's come out and scored 88 and 108. With Hall on the sidelines, expect him to be great again today.
Click here to subscribe on iTunes
St Kilda Defenders
How can we not include Logan Austin ($3,800) after averaging over 100 in his two games with the Saints. He's a new man with his new team and after averaging just 30 odd with the Power, he is a must-have today.
Rice ($4,100) is the other to consider. Got an injury last week for 64 but can be better than that. Logan is the man ahead of him though but there is no reason why you could rock with both of them here.
Jake Lloyd (DEF, $9,100)
Lloyd will be the most expensive player in my team today and this is why.
St Kilda give up the most points to small defenders and in the past, Lloyd has cashed in on this with huge numbers. 63, 122, 119 and 121 are all the four games he has played against the Saints in his career and that 63, was when they were experimenting with him up the ground when McVeigh dominated the back half for them.
This is not the case anymore and this game is even under the Etihad roof where he has scored 67, 122, 106, 113 and 119 in his most recent games.
Lachie Whitfield (MID, $8,200)
Every time this year, Whitters has gone over 24 disposals, his scores go to a whole new level.
114, 123, 126, 94, 98, 101, 106.
Now, against the Suns, I see this as a sure thing. He nearly averages 110 at SPO this year from his three games.
The Suns at the moment are junk. Let's call it as it is. They are giving up 4.5×100+ scores in the last few weeks and for midfield players like Whitters, they give them the most points out of everyone in the game.
He never played them last year, but in 2016 he had a moderate 98.
If I don't see a 120+ next to his name by the end of this one, I'll be a disappointed punter that's for sure.