Moneyballin' – Round 12
The dreaded Multi-Bye Rounds are finally upon us! Ease the pain of less footy and painfully complicated trading with some Moneyball action – we've got the facts and figures to give you the edge in Round 12.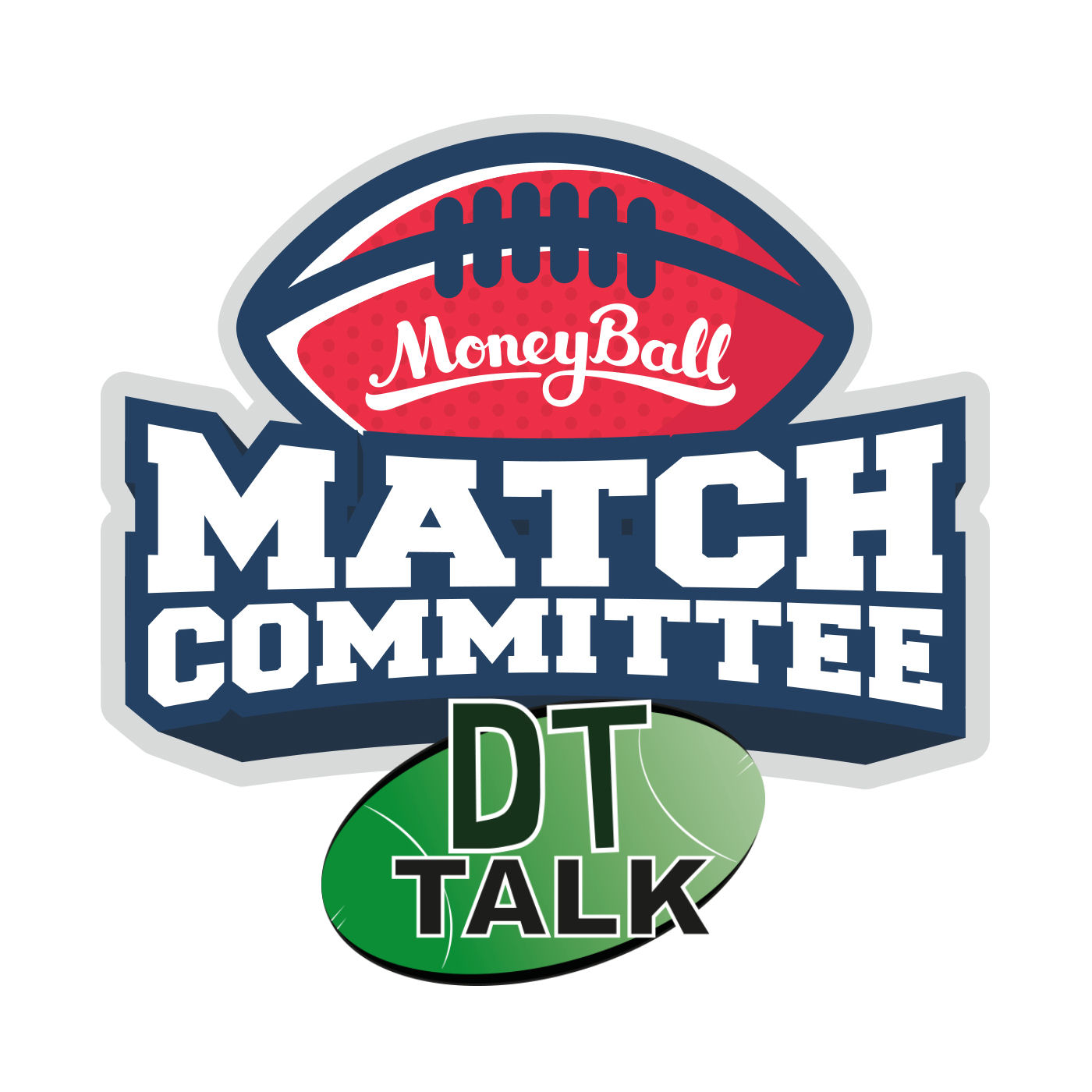 Tbetta here, and welcome to the self-proclaimed top resource for keen Aussie rules Moneyball punters! DFS (Daily Fantasy Sports) is taking off around the world and Moneyball have the perfect platform for you to turn your AFL Fantasy prowess into cold hard cash. Signing up is easy – head to moneyball.com.au and you could be ballin' within minutes.
If you're unsure how DFS works, be sure to head to the 'Help' section for all the info you need to start cashing in on your AFL Fantasy knowledge.
Click here to subscribe on iTunes.
Port Adelaide vs Richmond
BEST PICK: Toby Nankervis ($7,900 RU)
Despite being the most restrictive ruckman in 2017, Ryder has been bleeding points lately as he carries an ongoing Achilles issue. Witts (125) and McEvoy (97) are the recent benefactors against him, and Nank should join in on the fun as he's averaging a clean ton over his last 6 this year. In their only meeting last season, Toby scored 108 against Ryder and that was when the Port aerialist was flying.
BEST STAT: Josh Caddy ($8,100 MID)
Over the past 6 weeks, Caddy hasn't exactly "reinvented" himself as a scoreboard threat; more accurately, he's abandoned his goal of being a full-time midfielder and he's embracing his considerable skills as a medium-sized forward. Over that stretch, he's kicked the 2nd-most goals in the League (3.3 per game), boasts 4 games of 4-plus goals and has produced a lowest score of 81. Port is Caddy's favourite team to play against over his career (averaging 98 against them in his last 3) and with Dusty on the sidelines, Richmond will be relying on Caddy's goal-kicking prowess to supplement their limited traditional forward threats.
BEST VALUE: Jayden Short ($6,200 DEF)
It's "next man up" in Richmond's backline, as Short has seemingly taken over Houli's role since he's been out injured, pumping out 88 and 104 in that capacity. Port has conceded the most points to small and medium defenders over the past three rounds, so there's a couple of really solid reasons to pony up for Short here.
BEST RETHINK: Justin Westhoff ($8,600 FWD)
We now have enough data to confidently comment on the effect that Ryder has had on Westhoff's scoring, and the stats says that he's taken a small hit to his ceiling – as we suspected. He was ticking along at a 105-point average without the Port thoroughbred alongside him, but that has dropped to 94 with only the single ton in his past 4 since Patty's return. The reason for the drop off is less time in the midfield and therefore less proximity to the footy, recording 6 fewer hitouts and 2 fewer disposals per meeting.
Geelong vs North Melbourne
BEST PICK: Joel Selwood ($9,000 MID)
North's "shinboner spirit" manifests itself into a very contested, gritty style of play, so it's no surprise to learn that the brick-headed Selwood has an excellent record them. On top of scores of 119 and 132 in his last two against the Roos, Joel has produced a lowest score of just 90 in his last 15 games against them! Incredible streak. He might not be getting the same headlines are the drama-queen Dangerfield or the highly-credentialed Ablett, but he's outperforming both in fantasy this year – Selwood is ticking along at 111 in his last 5 with a ceiling to match, thumping out 6 scores of 110+ this year.
BEST STAT: Todd Goldstein ($7,700 RU)
Geelong concedes the 2nd most ruck points this year, with a large slab of that being the hitouts they allow at 44 per game. That suits Goldstein perfectly, being your traditional monolith in the air rather than around the ground. In games with at least 38 hitouts this year, Goldy averages a healthy 93 Moneyball points.
BEST VALUE: Ben Jacobs ($6,800 MID)
We talk about Jacobs as a stopper, but he's also put up some big scores this year, such as 107, 119 and 114. The trick is trying to find a pattern to when this happens – and it appears there's a strong correlation between when Jacobs' opponent breaks the tag and when Jacobs himself racks up the fantasy goodness:
Tag target scores below 90: 15 touches, 61 MB
Tag target scores above 90: 24 touches, 97 MB
So the question is, do you think Ablett/Selwood/Dangerfield/Duncan will break his tag this week? If you do, pick both Jacobs and his target. If not, leave them both out. Simples!
GWS vs Gold Coast
BEST PICK: Jeremy Cameron ($7,100 FWD)
Gold Coast is the 4th-easiest team for forwards to run train on, and Cameron loves playing his expansion brothers at the Suns. Check out his last three against them:
7 goals, 113 MB
4 goals, 80 MB
6 goals, 117 MB
Cameron has been struggling to reach his potential lately, but this is the biggest opportunity he'll have to kick-start his scoring this year – and the Giants as a club in the process.
BEST STAT: Lachie Whitfield ($8,200 MID)
As we highlight every week, Gold Coast concedes the most points to MID's this season and that won't improve with all of Hall, Barlow, Lyons, Hanley, Fiorini and Rosa on the sidelines. So it's no surprise to learn that Gold Coast concedes the most disposals of any team this season, throwing out a 2nd-tier on-ball division each week. Whitfield scales excellently with that stat, scoring 114, 123, 126, 94, 98, 101, and 106 in games where he's reached at least 24 touches this year. Of course, guys like Ward, Kelly, Taranto and Hopper all need to be looked at also, but Whitfield as an outside bully excites me the most.
BEST VALUE: Ben Ainsworth ($5,400 FWD)
Ainsworth has apparently as served his forward-line apprenticeship, having been recently injected into Gold Coast's barren midfield to undisputed success. He averaged just 11 touches and 46 MB as he languished up forward, but he's bumped that up to 21 touches and a huge 84 MB since putting his big-boy pants on. Best value pick for the day, by far.
St Kilda vs Sydney
BEST PICK: Seb Ross ($9,300 MID)
Like Selwood against the Shinboners, Ross' contested-footy acumen holds him in good stead against the scrappy Swans. He pumped out 135 and 113 against them last year (top-scoring for Saints in both games), recording 37 touches in both games. Ross' scores this year when hitting 30+ disposals are 123, 132, 118, 121, 133 and 95, so you have to ask yourself – with Steven likely to be tagged, who's going to rack up much-needed touches for the Saints this week?
BEST STAT: Callum Sinclair ($7,600 RU)
St Kilda are now the #1 team for RUC's to score against this year, and Sinclair always performs well against the "softer" opponents. In fact, Sinclair's scores against teams in the Top 9 easiest ruck opponents are as follows:
STK: –
GEEL: 108
PORT: 93
WBD: 98
RICH: –
GWS: 123
CARL: 117
SYD: –
HAW: 98
This is a no-brainer coming at it from both angles, so make sure Sinclair's in your player pool this Saturday.
BEST VALUE: Logan Austin ($3,800 DEF)
With 97 and 112 in first two games for St Kilda, Austin will be very popular… So much so that fading him could be a very profitable strategy given the 34 points he averaged over 13 games in Power colours.
A massive reason for his scoring boost at his new club is his extremely fantasy-friendly role as the linchpin in St Kilda's many (failed) switches. Austin in basically running circle-work out there, which is reflected in his contested footy numbers; only 1 of his 22 marks has been contested, as well as just 8 of his 50 possessions. If he keeps playing this role for the Saints (who still have Carlisle out), the scores will follow.
BEST AVOID: Jack Steven ($9,000 MID)
The Hewett tag been extremely effective at times this year, taking scalps such as Hunter (48) Gibbs (65), and Titch (58), on top of the juggernaut Cripps (57) just last weekend. Steven has been tagged thrice this year and struggled each time, succumbing to Scooter (65), Banfield (90), and Hutchings (71). The speedster averages just 80 in his last three against the Swans, so it's really difficult to even mount a case for his selection this weekend.
Brisbane vs Essendon
BEST PICK: Dayne Beams ($9,000 MID)
He's one of just 5 players to have scored 113+ in 5 of the past 6 weeks (alongside Grundy, Macrae, Titch, Phillips, but he and Phillips are the only ones you can get find on the market for under $10,700. 113 must be the magic number for Beams this week, as he coincidentally scored that exact figure against the Bombers last year.
BEST STAT: Dayne Zorko ($9,600 MID)
We all know he's a gun when he's allowed to run free this year (eyebrow-raising scores of 176 and 134) but it's Zorko's new-found ability to handle a tag that excites me:
First 4 tagged games: 13 touches, 0.75 goals, 66 AF
Last 3 tagged games: 22 touches, 2 goals, 118 AF
Essentially, if the Bombers buck their own trend of not tagging this year by sending someone to Zorko, at least you can be confident of getting a strong return regardless. Zorko averages 117 at the Gabba compared to 70 away from home, as well as a strong history against Essendon where he posted 108 and 124 on them last year, so all signs point to another belter for the masked midfielder.
BEST AVOID: Shaun McKernan ($6,600 RU)
Brisbane are the hardest team for key forwards to score against this year, and with Daniher out, McKernan is the main man up front now so there's a fair chance he'll get Harris Andrews-ed. Andrews leads the league in one-percenters (which includes spoils) this year and is a very big reason why Brisbane clamp down so hard on the sharpshooters – McKernan will be up against it.
Fremantle vs Adelaide
BEST PICK: Michael Walters ($8,100 MID)
Walters is only priced only this low due to that 11-point score rotting away his rotation; take that outlier out, and he's cruising at 105 over his last 4 games. Adelaide concedes the most tackles of any team this year and while Walters is hardly a hugging machine, his scores when reaching 6 tackles reads 92, 120, 106 and 125.
BEST STAT: Lachie Neale ($9,600 MID)
Neale seems to score better without his Captain in the side and the numbers I've dug up since 2015 reflect that;
With Fyfe: 56 games, 100 MB
Without Fyfe: 22 games, 111 MB
Adelaide concedes the 2nd most fantasy points to MID's over the past 5 rounds as they struggle with some key personnel missing, so I expect Neale to capitalise as he shoulders a larger burden in his own side.
BEST VALUE: Sam Gibson ($7,400 MID)
The former Roo is just your highly-consistent, no-frills customer, notching scores of 84, 85 and 93 first up for his new club. I like him here on a needs basis; he'll have plenty of work to do again this week with Laird's 30-40 touches missing on top of the absentees in B. Crouch and Sloane from that midfield.
Coming Soon.
Always remember to gamble responsibly. If you're having problems with your betting, you can get help at Lifeline or talk to someone at Gambling Help Online.