Calvin's Captains – Rd. 12
No Mitchell… no Macrae… no Fyfe…. NO WORRIES. In a time of need, Calvin has crunched the numbers extra hard for you this week.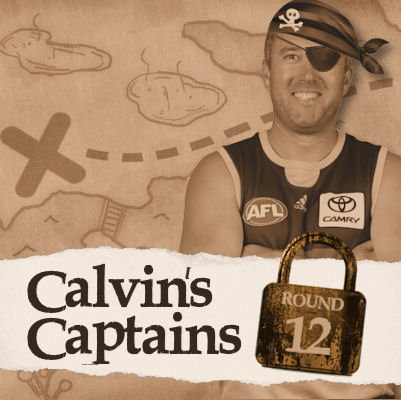 #1 – Dayne Zorko v Essendon @ the GABBA
FYI – Fyfe was my #1 before he got rubbed out, but let's soldier on.
Zorko is averaging 124 in his last three games this year and will not be tagged in this one.
At the GABBA this year he is averaging 117 from 5 games (which even included a 55) where he returns this week. This is a huge factor for Zorko who currently averages just 70 when playing away.
Then look at the numbers he has had against the Bombers in the past with scores of 124, 108 and 104.
Tick this one off with confidence. He's back and firing and returns home. Get on!
#2 – Max Gawn v Collingwood

@ the MCG
In his last three games against Grundy, Max Gawn has scored 70, 146 and 107. In every game, he has won the hit out count… and he's coming off a huge 141 (57 hit outs last week).
Rucks against Grundy haven't struggled this year. The big name guys such as Nankervis (131), Stefan (130) and Kreuzer (120) all found it quiet easy. Over the last 3 weeks, the lesser name players (Apeness 81, Trengove 62, Ratuguola 52) have struggled… but we'd expect that to be the case. But even saying that, Apeness still scored 81 with 17d and 17 hit outs.
Max loves playing at the MCG, a ground he has played at 5 times this year for an average of 125.
Its the biggest week of my life. With no Macrae or Mitchell and Grundy sitting at #3. Join my chat #AFLFantasy chat https://t.co/dYEouPFymT

— Calvin (@CalvinDT) June 6, 2018
#3 – Stephen Coniglio v Suns @ SPO
Not sure how he'll pull up after his head knock or even if he'll play, cause he did sit out heaps of the 4th term in Adelaide so let's cross our fingers, because if he's ok… he'll be great.
The Suns are the easiest team for midfielders to score on at the moment giving up 4.5×100+ scores a game in recent weeks.
They are also his favourite team to get points against and after not playing them in 2017, he has scored 5×100+ scores against them in his career 8 games.
He's back at SPO, a place where he has scored 123, 111 and 102 this year. If he plays and doesn't have a head ache, he'll be a ripper.
#4 – Brodie Grundy v Melbourne
@ the MCG
Controversially sits at #4, but hear me out!
His form is amazing. He has been on fire all year and continues to get the job done, and has been my #1 option for the last two weeks. He has scored 131, 124 and 135 in his last three and averages 125 in his last five games this year… But this time he's up against Max Gawn.
As I said, Max has beaten him in hitouts for the last three games and that will be the case again. In his last two games against the Pies, Grundy has scored 100 (against Max) and 158 (No Max).
Rucks against Max Gawn have struggled this year. Hickey has been the best with just 89 and even the big name rucks such as Jacobs (49), Kreuzer (78), Witts (80), Stefan (68) and Goldy (60) have all found the going very tough.
Add to this, Melbourne are on fire. They're mega hard to score against at the moment. I can totally understand why you'd want to roll with Grundy once again here based off his form alone. But you have been warned and the numbers don't lie.
#5 – Dayne Beams v Essendon @ the GABBA
137 and 127 are his last two scores and he returns home to a ground he averages 122 at in his last three games. Beamer scored 113 against the Bombers last year and after a slow start… he looks fit and firing once again.
#6 – Jake Lloyd v St Kilda @ Etihad
I know he has scored 88 and 90 in recent weeks, but Lloydy will be huge.
Firstly, the Saints give up the most points to small defenders and at the moment, they rank as the 4th easiest overall in the game.
St Kilda are Jake's favourite team to score against (by a mile) with numbers of 63 (played lots of midtime), 122, 119 and 121 in his career 4 games against them.
Then add into the equation the venue… Etihad.
He's been to Etihad once this year and managed just 67, but before that he had 122, 106 and 113.
#7 – Angus Brayshaw v Collingwood @ the MCG
Based on form alone, and that he's up against the Pies, we must consider Angus here.
Coming off scores of 133 and 166 he sits as the #1 man in the game based on form with Titch out this week. He scored 86 on the Pies last year and is worth a thought against the 3rd easiest team for midfielders to score against in the game.
#8 – Bryce Gibbs v Fremantle @ Optus Stadium
A nice 142 last week from Gibbsy is exactly what we want to see and then this week he heads over to WA to take on the Dockers who have given up 15×100+ scores in the last three weeks.
Maybe a tag from Banfield, but I can see Gibbs having a big one here after having 133 and 110 on them in 2017.
#9 – Stef Martin v Essendon @
the GABBA
Recognised ruckman have dominated Essendon this year. Gawn (135), Kreuzer (129), Grundy (110) and Witts (75) are the four big names who have had a crack and as you can see, most of them came out with a solid number.
Stef had 74 and 121 against them last year and just 95 last week. He's a sure thing for 110+ in my eyes.
#10 – Devon Smith v Brisbane @ the GABBA
Made the top 10 this week after scores of 129 and 113 (and Fyfe missing). He scored 110 and 109 in his last two against the Lions, who gave the Roos 3×109+ scores last week. Sits a little low after looking at these numbers and could be a sneaky option in a tricky week.
QUICKLY, WHO MISSED THE CUT?
Mitch Duncan v Kangaroos @ GMHBA Stadium: 106 and 111 in his last two against North but only averaging 101 in his last three this year.
Dusty Martin v Port Adelaide @ Adelaide Oval: 93 last week was his top score in five weeks. Good record on the Power though with a nice 131 last year and a lowest score of 96 against them in his last 5.
Patrick Dangerfield v Kangaroos @ GMHBA Stadium: Scored a massive 139 and 187 on the Roos in his most recent games, but has
only scored over 110 twice this year. Roos are the most restrictive to opposition midfielders despite Beams 137 and Zorko 128 firing against them last week.
Scott Pendlebury v Melbourne @ the MCG: 126 on the Dees last year and has scored 10×100+ in 11 games. You want a 100? This is your man without going massive.
Sam Menegola v Kangaroos @ GMHBA Stadium: Amazingly he has never played the Roos in 3 years and is coming off nice scores of 125 and 120.
Zach Merrett v Brisbane @ the GABBA: After scoring 20pts in the first half against the Lions last year, Zach finished with 78. Before that though he has scored 140 and 130. Averaging just 91 in his last 5 though.
Lachie Neale v Adelaide @ Optus Stadium: 2×100+ scores in his career 8 games against the Crows isn't pretty. Had 60 on them last year.
Adam Treloar v Melbourne @ the MCG: Melbourne are 2nd hardest to score on at the moment, in fact, Cripps (140) is the only midfielder in the last three weeks to score over 110 against them. Treloar had 103 on them last year and is in decent form with 112 and 130 in his last two.
Lance Franklin v St Kilda @ Etihad Stadium: Kennedy kicked 6 goals (111) on the Saints last week but Buddy only managed 90 and 90 last year. Pass.
Gary Ablett v Kangaroos @ GMHBA Stadium: He's warming up with scores of 119 and 107, even had 127 and 162 on the Roos last year. Jacobs tag coming? Possibly… or it might even be Selwood.