Roy's Trade Talk: Rd 12
Roy helps you navigate the first round of the byes. Use the comments section to discuss your plans with the community.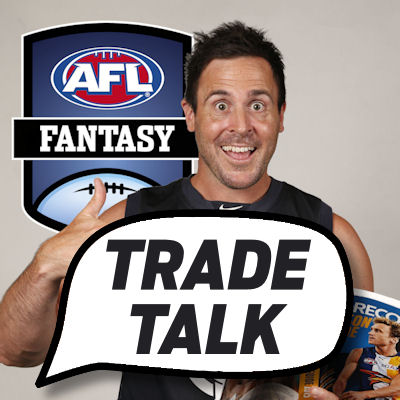 Ok, whole new ball game. We have a challenge ahead over the next three weeks navigating the byes, but remember, we have three trades each week to assist and our scores comes from the best 18 players on our fields. Minimising doughnuts and ensuring that our teams are better at the end of the byes than when it began is essential. To make that happen, resisting the temptation to straight swap premiums each week will be important.
Obviously, not all the players mentioned today will be relevant depending on bye structure, so trade carefully.
Cash Cows: Price, BE, Score
Logan Austin (DEF, $294,000) -39, 112. Increased by a last 72K last week after he pumped out another massive score of 112. He is playing loose man and is currently the go to guy back there, evident by the 14 marks he took. He is now averaging 105, a far cry from the 30 he averaged at Port Adelaide. Yes, we have missed the boat to some extent, but the price rises and scoring ceiling over the byes would be very handy.
Paul Ahern (FWD/MID, $207,000) -15, 92 made his long awaited debut and didn't let anyone down with an outstanding performance that made the wait worthwhile. Unfortunately, many of our teams are heavy in the round 13 bye and that's when the Roos are having the week off… But having said that, he looks like a must have in the long run, I just hope it wouldn't cause a 0.
Trade Targets
Justin Westhoff (MID/FWD, $659,000) 115, 96. Based purely on BE, you may be wondering why the Hoff is a headline act here, but he looks to be the most consistent option from the Power and Suns who can serve as an anchor over the next three weeks. He has handy DPP between the mid and forwards and is averaging 101 for the season. I like his form in Adelaide where he has 132, 75, 118 and 115 this year and it just so happens he plays the next three games there.
Angus Brayshaw (MID/DEF, $655,000) 39, 133 is a must have in the back line… The question is when? Obviously he is not getting any cheaper than this, but with teams loaded in the round 13 byes it really could put the pressure on for a doughnut. If that isn't an issue for you, the time is right. He has a three round average of 133 which includes four hundreds from his last five games
Michael Waters (FWD/MID, $575,000) 66, 102 is going under the radar, currently only owned by five percent of the competition despite enjoying a career year. He has a three round average of 109 and only remains this cheap due to an injury on 11 in round six which broke up a run of hot scores including 92, 99, 125 and 102. He has the round 14 bye, so will be very handy in round 13 especially.
Darcy Byrne Jones (DEF, $568,000) 79, 73 had his worst score for five weeks since embracing the increased responsibility without Hamish Hartlett. His 73 followed two scores of triple figures and although he is no Brayshaw… he will be there for the next three weeks, all of which are in Adelaide where he has scores of 104 and 95 in his last two.
Touk Miller (MID, $625,000) I have had many questions come through about Touk as an answer through the byes, given the fact he will be there every week. Trades like this have merit, but are fraught with danger. His form is solid with scores of 106, 105, 107, 88 and 99 in his last five so his price is fair and he should be a solid contributor over the byes but you would want to be able to move him on pretty fast after the byes as he clogs a midfield spot. I wouldn't do it.
Click here to subscribe on iTunes. (Please leave a rating and review to help us move up the charts).
Rolling 22
Defenders:
Rory Laird
Elliot Yeo
Sic Dawg
Kade Simpson
Jake Lloyd
Angus Brayshaw
Midfielders:

Tom Mitchell
Stephen Coniglio
Ed Curnow
Jack Macrae
Adam Treloar
Dayne Beams 128 last three
Tom Phillips 128 last three
Dayne Zorko 128 last three
OUT: Danger, Pendles, Fyfe
Ruck:
Max Gawn
Brodie Grundy
Forward:

Isaac Heeney
Toby Mclean
Mitch Robinson
Devon Smith
Sam Menegola back to back 120
Michael Walters 109 last three
OUT: Gray, Rocky,
Knocking: Tom McDonald, Josh Caddy, Alex Neal-Bullen, Justin Westhoff
My trades at this stage:
Kelly to Ahern
Cumming to Austin
Brayshaw to Brayshaw
Cheers,
@RoyDT