Round 12 DPPs – Ep. 204
PODCAST: The new DPPs are in and the byes are here. It's a busy time!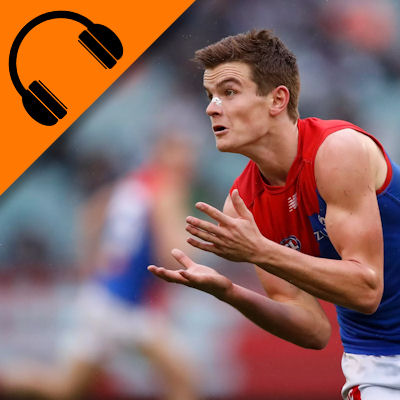 Click here to subscribe on iTunes. (Please leave a rating and review to help us move up the charts).
As we hit the half-way mark of season 2017, the second rollout of the dual position additions for AFL Fantasy Classic and Draft landed on Sunday evening.
With 11 rounds of statistics, the team at Champion Data have highlighted 16 players to gain DPP (dual position player) status based on their role for their team which differs from their initial Fantasy classification.
These may help coaches manoeuvre the bye rounds with the added flexibility they bring.
On this week's episode of the Official AFL Fantasy podcast, Roy, Calvin and Warnie look at each of the DPP additions and strategy over the next three rounds to best use our three trades and get the best score possible from our 18 players.
New DEF status
Although initially listed as a forward, Essendon utility Cale Hooker has been used primarily in defence and is now able to be selected as a DEF/FWD swingman. He is capable of scoring in the 90s, but he is only relevant to deep draft leagues as a bench player that you may stream against opposition that may allow him to score freely.
Hayden Crozier has been playing the half-back role for the Dogs that was touted since his switch from the Dockers while Eagle Lewis Jetta has been used in defence this season. Neither are scoring anywhere near their potential.
Although he's coming off a season low of 26, first year Cat Jack Henry has been a profitable cash cow earning $183,000 in his 10 games. He has been played as a defender and now has DEF/FWD status.
New MID status
Most Fantasy coaches would agree that gaining MID status is hardly relevant. However, with the bye rounds occurring over the next three weeks, they provide some much needed flexibility as we try to field the best 18 possible.
Demon Bayley Fritsch is staking his claim as the best cash cow of the year. He can safely be played on field, his 126 against the Dogs on Saturday is testament to that.  He has averaged 94 since round six and this has been due in part to his midfield role that has seen him get more of the ball in the middle of the ground.
Also providing plenty of cash generation is Bomber Matt Guelfi. He is more often than not seen out of the forward 50, lining up further up the field.
The roles of Allen Christensen for the Lions, Jed Anderson for the Roos and Elliot Yeo of the Eagles have seen them awarded MID status.
New FWD status
The most interesting player to add FWD status is St Kilda's Jack Newnes. He has played every game of the last five seasons and has averaged 82 or more points each year. Newnes' most reacent returns have been 88.4 and 88.1 in 2016 and 2017. While his season to date has been less than spectacular, the 113 against West Coast on Saturday night could be a taste of things to come. If he's on your free agent list in Draft, don't think twice about grabbing him. At under $500K in Classic, he could be worth a punt. Maybe.
Nick Holman has been magnificent in his last two matches. 108 against the Power in China followed by 88 in the Suns' return to Metricon Stadium against the Cats has dropped his breakeven. First year players Paddy Dow and Adam Cerra are now MID/FWDs.
The RUC/FWD DPP can be a handy link and Oscar McInerney now has that flexibility. The popular ruck bench option can be switched into the forward line if coaches have link.
Finally, Jason Johannisen has been damaging running out of the back line across his career, but this year it appears he is spending more time lining up as a forward for the Dogs in 2018.
The final round of DPP additions will be implemented ahead of round 18.
| Player | Club | Initial | New |
| --- | --- | --- | --- |
| Allen Christensen | | FWD | MID/FWD |
| Oscar McInerney | | RUC | RUC/FWD |
| Paddy Dow | | MID | MID/FWD |
| Zac Fisher | | FWD | MID/FWD |
| Cale Hooker | | FWD | DEF/FWD |
| Matt Guelfi | | FWD | MID/FWD |
| Adam Cerra | | MID | MID/FWD |
| Nick Holman | | MID | MID/FWD |
| Jack Henry | | FWD | DEF/FWD |
| Bayley Fritsch | | FWD | MID/FWD |
| Jed Anderson | | FWD | MID/FWD |
| Jack Newnes | | MID | MID/FWD |
| Hayden Crozier | | FWD | DEF/FWD |
| Jason Johannisen | | DEF | DEF/FWD |
| Lewis Jetta | | MID | DEF/MID |
| Elliot Yeo | | DEF | DEF/MID |