Moneyball's $5K Saturday Special – Rd. 11
Make sure you have your Moneyball teams entered today and Calvin has his best tips to help you along the way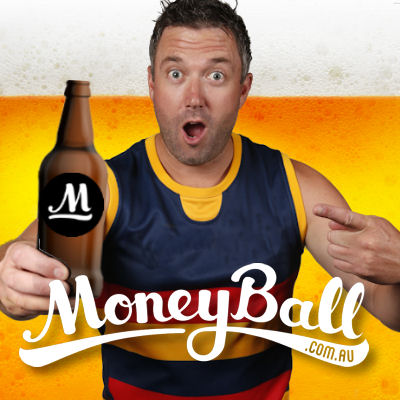 It's Saturday and there's nothing better than sitting back on the couch with a cold brew, watching the footy with you Moneyball team clocking up big numbers. With 5 games on the cards today, I have your best tips right here.
It's the big $5,000 with the winner taking $650 in their pocket
Bulldogs v Melbourne 1:45pm AEDT
Hawthorn v Port
Gold Coast v Geelong
Essendon v Richmond
West Coast v St Kilda 8:10pm AEDT
FREE CONTEST TO WIN AFL GRAND FINAL TICKETS/EXPERIENCE
Exclusive to ONLY DT Talk users, be sure to enter this free contest tomorrow. If you have the highest score for the day, not only will you have $20 added to your account but if your score is the highest for the year… then the tickets are yours. JOIN HERE
Now for my best and sneaky best options for today…
Jack Darling (FWD, $7,900)
He stunk last week (58), so hopefully that will keep his ownership low today… but I doubt it.
St Kilda seems to have a weakness to letting 3rd Talls kick bags in recent weeks.
Round 9: De Goey kicks 6 goals as a medium-sized marking forward (91)
Round 10:  Caddy kicks 6 goals as a medium-sized marking forward (139)
This is the legendary Tbetta reaching for stats for his West Coast team (I know), but I can see his point.
This one has the potential to be nasty and 150 next to the big guys name like we saw two weeks ago.
Click here to subscribe on iTunes.
Tom Stewart (DEF, $6,900)
I know… it looks very bad on paper, but when I show you his form you will think twice.
In his last four games, he has cracked a ton three times with scores of 103, 110, 55 and 118. Adding to this, he's only against the Suns and will link up for a truckload more.
All things indicate that he'll be 100+ again today and priced at under $7K, you might as well roll with him.
Patrick Dangerfield (MID, $10,000)
Today will be the day that the big guy finally stands up. He had 117 last week, his second best score for the year, and today he will be nasty.
He has scored 119, 129 and 138 in his last three games against the Suns and I'm backing him in here, even at that price tag.
Jordan Ridley (DEF, $3,500)
As you'll see when I go on about Hurley… but Ridley could be 90+ today.
He scored 89 on debut and therefore has the ability to hit high numbers when he's given the chance.
As you'll see from my Hurley spiel, Richmond gave up so many points last week to defenders, so why not run with a guy who is bargain basement today. LOCK.
Darcy Byrne-Jones (DEF, $6,800)
Lock the big fella in.
With Hartlett on the sidelines, this lad has stepped up and dominated. He's scored 106 and 104 in recent weeks and against the Hawks on the wide open Aurora Stadium, he should continue his form this week and produce something solid.
Michael Hurley (DEF, $8,500)
He's back from injury and in my eyes, he's a must have today.
Last week against Richmond, the St Kilda defenders had a ball with Geary (126), Webster (118), Carlisle (110) and even Austin who averaged 30 odd for the Power had 97.
These guys basically had 10 marks each. If anyone has seen Hurley play this year, then you would know that he demands the pill. Yelling at his team mates (more than Goddard) to set him up for easy +6's.
Honestly, if Richmond are going to allow this to happen again this week, then Hurley will be cashing in and is destined for a 120+ score without breaking a sweat.