The Friday Scramble: Round 11
The last chance to set your team up for the Byes. Mass changes at both the Pies and Dockers. Do I double down or upgrade this week? All those questions answered and more as we Scramble our way through another Friday!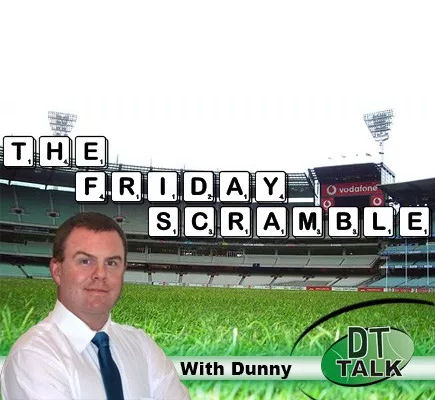 We have now had a taste test of the bye rounds for this year, but really that one didn't count. This is our last full week before we get three weeks of carnage to come. We have one week to set our teams up for this and hopefully you are in a good position. On top of all that we are in the midst of upgrading and downgrading our teams and trying to get to full premium as soon as we can. Rookies having a rest now is our biggest enemy. All that and a whole lot more as we get Scrambling!
Double Downgrading is all the rage!
Lots of coaches are pushing forward with a double downgrade this week and bringing in Rice and Smith. This will be a popular strategy this week with people looking to build a WarneChest for the upcoming bye rounds.
READ: The Milkmen's Cash Cow review
There isn't a great deal of sense bringing someone in this week that is just going to miss a game in the next four weeks. If you can build a big stack of cash you can then go bang bang bang when you get to the bye rounds and do some nice upgrading.
One thing that I would highly recommend though is to have a good long hard look at the blokes you are planning on bringing in. These are the guys that are going to need to get you through the Bye period and there is no point bringing someone in that is just as likely to get their butt kicked to the kerb over the next couple of weeks. So the thing that you need to focus on most with these downgrades is Job Security, that is the absolute key to your trades right now.

Click here to subscribe on iTunes.
Is there any point upgrading this week?
My word yes!  Have you forgotten about the original Pig!!  Tom Rockliff is one of the reasons you can do an upgrade. If you are planning to bring Rocky or one of his team-mates in like Robbie Gray then hell yes you can upgrade a player.  As you all know the Power and Suns players are going to play all three bye rounds. Over the Bye Period the Power play the Tigers, Dogs and Demons.  The game against the Dogs will be a Thursday night and hence would have a loophole available!
So I don't want a Power or Suns player what do I do now?
If you don't want one of these guys then hold your fire in the Limited Trade versions of the game and just keep downgrading in AFL Fantasy and build up that WarneChest. Your next upgrades should be happening in Round 13 and it is then that you bring in the players that have had the round 12 bye and you are dumping players from the Round 13 and Round 14 bye weeks. This way you are maximising your players on ground for the bye period. We are in a bit of a limbo period right now and it is just a bit of hold your fire.
READ: Calvin's Captains
Under Performing Premiums
We all have a spud or two in our teams (well I am probably speaking for myself here) and we would love to get rid of these guys but we are all following the rules not trading out your premiums. But there is a time to do it.  Let's say you have people like Sam Jacobs and Jack Billings in your side (yes I have them) and they are absolutely stinking it up for you. They both have the Round 14 bye.  So what you should be considering doing is trading them out around the byes. Obviously you need the cash to be able to do that but that is what this is all about. Strengthening your team for the run home to premiership glory!
Selection Table
As always, a quick look at the selections for this week and my thoughts on what to do with some of these players.
Nic Newman – He Lives! Only relevant for your draft sides however.
David Mirra and Mitch Lewis from the Hawks have both been Omitted which isn't a good sign. This is the second time for Mirra now which puts his ability to cover you on the bye rounds at serious risk.
Jarryd Lyons has been omitted from the Suns line up. Better now than after people may have brought him in to cover the bye rounds!
Will Brodie comes in for his first game of the season. A few were looking at him in the preseason as a solid mid pricer, I wouldn't be touching him now.
Dom Sheed has been dropped but once again this is only Draft relevant.
Luke Shuey comes back in this week which will please those that held him.
Michael Hurley comes back also, but the key for us is that he came in for the injured Patrick Ambrose and not one of our rookies that we seem to be accumulating from the Bombers lineup.
Paul Ahern finally makes his first appearance. Worth a punt in AFL Fantasy but wait for his second game in the other formats of the game.
Sam Murray returns as one of 7 ins for the Pies this week. He is listed second last on the extended bench and Bucks did say somewhere that he could come back later in the year so don't bank on him being in.
The Dockers have brought in 7 players also with Stefan Giro and Scott Jones named on the extended bench for their first games. Mitch Crowden joins them on that long bench.
Seedsman returns from his adductor strain along with Lachie Murphy for the Crows.
The Giants have named Sam Taylor and Brent Daniels for their first games.
Importantly though, make sure you tune in to the AFL site this afternoon around 5 AEST for those final teams as there is a heap of ins for some of these teams and it is a bit of a raffle as to who will make the final cut.
Things To Remember
Prepare for the byes with every trade now.
Suns and Power are bye free in case you missed it above so go your hardest on them.
Rookies that will play each game over the next four weeks are worth their weight in gold. We will be relying on them to help get us to that magical 18 player mark.
The byes is the time to side swap any underperformers, not this week.
Enjoy the last week with 9 games in it for a while as things will get a little thin in terms of games to watch over the next three rounds after this one. We will also have some Thursday night footy coming up too so be ready to activate those loophole options!
Best of luck this round and hopefully the scores are just as big as they were last week, I know I could do with a couple more big scoring rounds!!