Moneyballin' – Round 11
This is the last weekend of "business as usual" before we creep into the mess that is the Bye Rounds, so make sure you're cashing up with our last 9-game weekend for a month! Our numbers, and the cheeky Match Committee Podcast, will give you the edge you need. Good luck!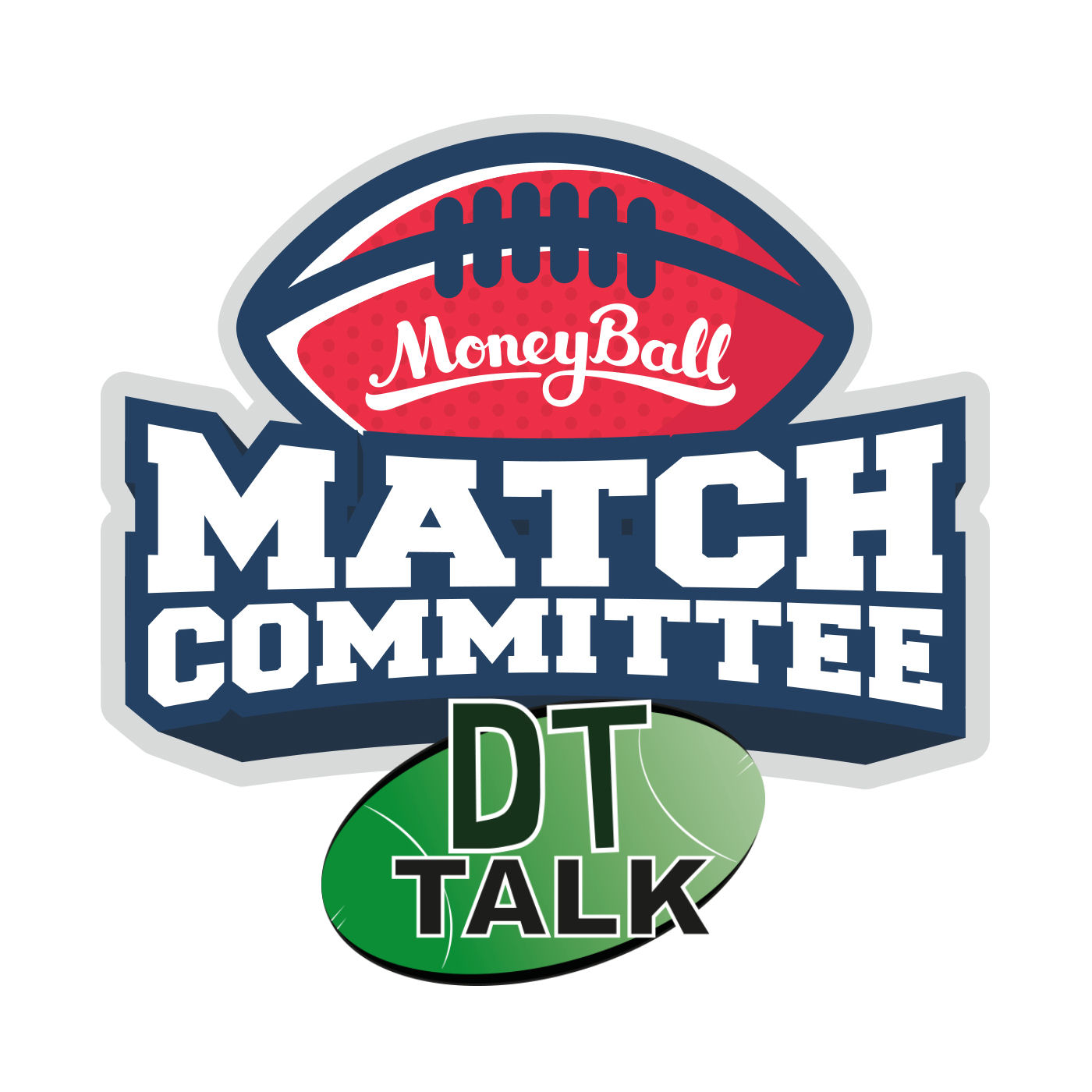 Tbetta here, and welcome to the self-proclaimed top resource for keen Aussie rules Moneyball punters! DFS (Daily Fantasy Sports) is taking off around the world and Moneyball have the perfect platform for you to turn your AFL Fantasy prowess into cold hard cash. Signing up is easy – head to moneyball.com.au and you could be ballin' within minutes.
If you're unsure how DFS works, be sure to head to the 'Help' section for all the info you need to start cashing in on your AFL Fantasy knowledge.
Click here to subscribe on iTunes.
Sydney vs Carlton
BEST PICK: Matthew Kreuzer ($9,200 RU)
Callum Sinclair is getting the job done for the Swans this year, but if we're talking specifically in the air, he's a catalyst for opposition ruckmen – Sydney concedes the 3rd-most hitouts this season at 47.4 per game. Kreuzer isn't a hitout-reliant aerialist himself, but he'll take the free points where he can get them; Kreuzer's scores this year when winning 30+ hitouts are healthy totals of 129 and 106. In fact, over the last two years, his lowest score when hitting at least 30 hitouts is 95 and he's a lock to hit that figure this Friday night. 
BEST STAT: Lance Franklin ($8,900 FWD)
I know he was ordinary last week, but in a DVP sense, we need to clear the cache and base his possible selection on the numbers. And the numbers are overwhelming; Carlton are ranked easily the #1 team for conceding points to key forwards this year, and we all remember the last time Buddy played Carlton, don't we? That fateful day was Round 23 last year, where he clinched the Coleman Medal with a big 10-goal haul and added 171 Moneyball points for good measure. Strongly consider.
BEST VALUE: Ben Ronke ($4,700 FWD)
The little nugget is still solid value here, and possibly even receives a role boost with Tom Papley rested. We were initially concerned that Franklin's presence might kill his fantasy game (given that he slotted 7 snags while Buddy put his feet up), but he's managed scores of 74 and 70 since the legend's return. Best value on this single-game slate.
BEST AVOID: Patrick Cripps ($9,400 MID)
Given the missions he's been given lately, we're projecting Cripps gets the George Hewett treatment here. And those missions were largely successful; Tom Mitchell (20 disp, 58 MB), Nat Fyfe (28 disp, 97 MB) and Dayne Zorko  (21 disp, 110 MB) have all seen a dip under Hewett's watch, with Zorko needing 12 tackles to stand as the only one to creep past the ton. Cripps believers would feel comfortable with the 117 and 140 in his last two against the Swans, but those were built on the back of having free reign. Sydney won't grant him the freedom this weekend.
Western Bulldogs vs Melbourne
BEST PICK: Toby McLean ($9,100 MID)
Like his productive teammate Macrae, tackles make up a big part of McLean's scoring, and Melbourne concedes the 4th-most tackles this year. Both will benefit from that trend, but you can get one for almost $2k cheaper! McLean's scores when reaching 10 tackles this year reads 143, 101 and 152, and the way the Demons are going at the minute, the Bulldogs will be chasing plenty of tail this Saturday.
BEST STAT: Max Gawn ($9,700 RU)
Anecdotally, we all know that with a ruck division featuring random combinations of Boyd, Roughead and Trengove, the DVP stats for the Bulldogs weren't going to be great. This is a case of common sense prevailing, with the Pups conceding the most hitouts of any team this year at a monstrous 52 per game. Witts (58 hitouts, 131 MB), Martin (49 hitouts, 113 MB), Jacobs (54 hitouts) and Grundy (38 hitouts, 124 MB) have all creamed them over the past month alone.
Coming at it from Gawn's perspective, the All-Australian has produced scores of 114, 127 and 143 in games where he's hit that magical 50-hitout mark this year. Lock it in, Eddie.
BEST VALUE: Angus Brayshaw ($7,500 DEF)
The helmet is clearly helping Brayshaw's scoring prowess, giving him "Like Mike" type of powers since moving into the midfield. The switch was seemingly flicked; in his first three games this year, he languished off a forward flank and averaged just 19 touches and 66 MB. But since he was injected into Melbourne's high-octane midfield in Round 7, Brayshaw has turbo-charged his numbers to the tune of 29 touches and 115 MB per game. Even if you take out the 166 under the pretence of it being an outlier, Angus was still averaging 98 in the three weeks prior. Brayshaw is rolled gold in DFS, at least in the short term until his price catches up to his output.
Hawthorn vs Port Adelaide
BEST PICK: Tom Rockliff ($8,300 MID)
After a shaky start, I'm confident in recommending a World Record-holder here after pumping out 127 and 106 in his last two. All the KPI's are there. His tackling is up with 16 over his past two games, compared to just 8 over the first month as a Power player. The week off will freshen him up too, with plenty of room for growth in his low TOG of 72% recently. But finally, he finds himself down at UTAS Stadium where he's pumped out 159 and 130 in his last two against Hawthorn. Oozing value.
BEST VALUE: Darcy Byrne-Jones ($6,800 DEF)
DBJ has stepped right into the Hamish Hartlett-shaped hole that opened up when the veteran injured himself at training, and Darcy's numbers have reflected his new-found role.
Rounds 1-5: 18 touches, 68 AF
Rounds 6-9: 24 touches, 97 AF
With  5-straight games of 88 or better, Byrne-Jones is low risk and high upside – the perfect recipe for DFS success.
BEST AVOID: Robbie Gray ($8,400 FWD)
Gray played his first 6 games as a full-time midfielder, averaging 28 touches and 107 MB whilst winning the gratitude and respect of everyone in the fantasy community. Unfortunately, since Rocky has come back strong from injury, Gray has been displaced from Port's engine room and finds himself back in that familiar forward-line role… and it certainly hasn't helped his scoring. Gray needed 6 goals to hit triple-digits in Round 8, before managing just 15 touches and 61 MB in the Shanghai points-fest. Do you really want to spend $8.4k on a guy who needs to kick a bag just to simply return value?
Gold Coast vs Geelong
BEST PICK: Jarrod Witts ($8,400 RU)
Geelong are the easiest team to score ruck points against this year, conceding 44 hitouts to their direct opponents on average – which suits the hitout-reliant Witts just fine. In games where he's managed even a modest 34+ hitouts this year, he produced scores of 140, 98, 131 and 125. Wow. The former Pie pumped out 121 from 43 hitouts against the Suns last year and will be Woolworths-fresh coming off the bye. Lock and load!
BEST STAT: Two Cats have career-best numbers against the Suns.
Gold Coast is the bunny team for both Patty Dangerfield ($10,000 MID) and Mitch Duncan ($9,900 MID), with both midfielders boasting career-high numbers against the Suns (not including Adelaide for Danger). On top of that, the Suns concede the most disposals and 2nd most fantasy points to opponents this year, so how can you leave them out?
Duncan is the "safer" option, owning a lowest score of 90 all year and playing all of his minutes in the guts. But if you believe in "Patty Dangerfield The Midfielder", then you can't ignore his ceiling. He's dominated with 138, 129 and 119 in his last 3 against Gold Coast, and comes off 4-straight tons this year.
BEST VALUE: Tom Stewart ($6,900 DEF)
On top of their dismal DVP numbers in the midfield, Gold Coast also concedes the most points to small/medium defenders this season. Stewart certainly fits the bill here, back at it again last week with a now-standard 12 marks. That makes it 103, 110, 55 and 118 in the last month for the sophomore, and it's about time we capitalise on his fantasy evolution in Moneyball.
Essendon vs Richmond
BEST PICK: Toby Nankervis ($7,900 RU)
Essendon are giving up the 3rd-most ruck points since Round 5, and with Nank cruising at 103 in that stretch after a slow start, how can you ignore him? Bellchambers is basically rolling out the red carpet these days, allowing Grundy (110), Gawn (135), Kreuzer (129) and even Lobb (98) to stroll towards big scores in that time.
BEST STAT: David Zaharakis ($9,500 MID)
Only Jack Macrae has scored more points than Zaharakis over the past 3 weeks, which puts his 130-point form into perspective. Zaka is never going to be a Brownlow threat, but what he does well, is that he capitalises on what the opposition allows. His scores of 133 and 143 in the last fortnight came against Geelong and GWS – teams that are both very friendly for opposition MID's.
Well guess what? Over the last 5 weeks, Tigers are actually ranked 4th for fantasy points conceded to midfielders. I mean, Jack Steven (134) and Seb Ross (133) both dominated against them just last weekend and St Kilda is a rabble. The reigning Premiers don't care how much of the footy you gather as long as they win the game, which is great news for a seagull like Zaka.
BEST VALUE: Mark Baguley ($6,000 DEF)
Baguley is a rare example of a player who scores better when moved forward, far away from the cheap +6 combos that even allow defenders serious consideration in fantasy.
Rounds 3-6 as a DEF: 11 touches, 53 MB
Rounds 7-10 as a FWD: 14 touches, 83 MB (and 1.7 goals per game)
Hurley slots back in this week as a straight swap with Ambrose, so it looks like Baguley will be deployed up forward once again. I'm very interested to see how this trend evolves.
West Coast vs St Kilda
BEST PICK: Jack Darling ($7,900 FWD)
St Kilda seems to have a weakness to letting "3rd talls" kick bags in recent weeks, and that's a tag that loosely fits Darling, sitting behind Kennedy and the resting ruckman. Over the last two weeks, the Saints have allowed De Goey (91) and Caddy (139) 6 goals apiece as medium-sized marking forwards… Guess who's a medium-sized marking forward for West Coast?
Fact: In West Coast Wins this year where Darling has kicked 3+ goals, he's hit the ton every single time. It's happened on 6 occasions already this year for an average of 115 points, and I can't see a universe where it doesn't occur a 7th – especially with the big-name personnel missing from St Kilda's backline.
BEST STAT: It's Top vs Bottom on the Fantasy Points Conceded ladder.
West Coast concedes just 1481 per game this year (ranked 18th), while the Saints concede 1643 (ranked 1st). With the Eagles playing on their home deck, I can't imagine a game more suited to stacking than this one.
While Shuey, Redden, and Hurn should all come into serious consideration, Andrew Gaff ($9,800 MID) is a must-pick here. Check out his last 5 games against St Kilda:
33 touches, 115 MB
36 touches, 125 MB
36 touches, 99 MB
36 touches, 115 MB
30 touches, 92 MB
Gaff's also coming off a casual 154-point score against another struggling midfield but doesn't seem to get the credit he deserves – capitalise on that by snatching up a POD with a huge ceiling.
BEST VALUE: Saints Rookies Galore.
While you want to focus on the Eagles elite in this game, the fresh meat from the St Kilda market is what allows you to afford them.
Ed Phillips ($3,900 MID) is your prime target after adding another 21 touches to his hauls of 24 and 19 so far in his short career. The kid simply just finds the pill. Logan Austin ($3,800 DEF) came in to replace Brown and had 97 from 23 touches and 8 marks, but beware – his VFL numbers suggest this was a flash in the pan. I prefer Bailey Rice ($3,800 DEF); he chugged along to 75 last week, and will have an even bigger role to play with Carlisle suspended.
North Melbourne vs Brisbane
BEST PICK: Dayne Beams ($8,600 MID)
Beams has a concerning record against North, tagged the last two times to just 53 and 76. However, he likely won't have to deal with again while Zorko is starring and Ben Jacobs almost a certainty to head to the new skipper instead. Tag evasion is a big reason why Beams has turned his season around, pumping out 113, 120, 69, 119, 127 over the last five weeks. I said this last week and I'll say it again – he's way too cheap for someone named Dayne/Dane.
BEST STAT: Stefan Martin ($9,600 RU)
He's being disrespected a bit this year I feel, because, without any fanfare, Stef boasts the 3rd-highest average in the league (118 per game) since Round 3. Not bad for languishing on a team sitting 1-9 halfway through the season. Curiously, Premium ruckmen have all dominated against Goldy this year, with Witts (140), Gawn (114), Sinclair (112) and Nankervis (119) getting in on the action.
BEST AVOID: Jarrad Waite ($7,300 FWD) and Ben Brown ($6,700 FWD)
Amazingly, even though Lions were miles ahead as the easiest team for key forwards to score against last year, they are now the clear hardest team for KPF's this season. Maybe they weren't taking the piss when they said Harris Andrews could be All-Aus this year? Is there a chance that Luke Hodge's expertise is as influential as advertised? Either way, the competition's best forward in Buddy managed just 51 last week, and you have to think that Waite and Brown fall in line with this puzzling trend.
Collingwood vs Fremantle
BEST PICK: Tom Phillips ($8,300 MID)
You're telling me I only have to spend $8.3k and I can get the guy that's casually posted 128, 114, 121 and 120 in his last four uninjured outings? Where do I sign? Phillips is simply a must-pick, because the only thing stopping him from hitting 110 at the moment is Tom knocking himself out while he kicks a sausage roll.
BEST STAT: Fremantle concede the 2nd-most Marks of any team this year.
So many Collingwood backmen have their scoring linked to marking, including (and especially) the injured Jeremy Howe. So with their main interceptor missing, there'll be even more tasty +6's to go around for the other backline Pies.
Matt Scharenberg ($6,200 DEF) has now put together 4 scores of 90+ in his last 5 outings. In fact, in games this year where he's reached 5+ marks, his scores read 93, 91, 132, 98 and 91. Similarly, Jack Crisp ($8,300 DEF) has stepped up in recent times, winning 30+ possessions in each of the past 3 weeks. His scores this year when hitting 7+ marks are 115, 147, 119 and 109. That's your defence sorted, right there.
BEST VALUE: Michael Walters ($7,800 MID)
Walters is mightily underpriced, thanks to that 11-point injury score bringing his average – and therefore his price – way down. He's pumping out a slither over 100 this year when you take out that game, and fitness shouldn't be a concern after producing 99 and 125 since returning from injury. With Collingwood bleeding points to midfielders, Son-Son is a no-brainer here.
Adelaide vs GWS
BEST PICK: Stephen Coniglio ($9,600 MID)
Despite all their premiership credentials, no team has conceded more points to MID's in the past 5 weeks than Adelaide. In fact, the Crows have conceded 12 scores of 110+ in that stretch, so we're looking for Giants with a ceiling. Coniglio fits the bit perfectly, reaching 110 in 7 of his 10 efforts this season. On top of that, Cogs top-scored in the Final between these two clubs last year, finishing with 134 points from a phat line of 27 disposals, 11 tackles and 2 snags. You can build your line-up around this bloke, he's as safe as houses… Pre-GFC, of course.
BEST VALUE: Hugh Greenwood ($7,700 MID)
Hugh keeps getting the job done since Sloane opened up a role for him in the midfield, churning out 102, 105, 103 and 103 in last four. Now that's consistency. Greenwood has now notched 8+ tackles in 6-straight games – the only player to have done that this year – and is seemingly a lock for another double-digit tackle haul here after Devon Smith had 13 of his against GWS last week.
BEST AVOID: Sam Jacobs ($7,800 RU)
The Big Sauce must be out of date, because he's managed just 53, 78 and 49 in his last few games. The most worrying part is that he's still getting his hitouts; so it's his around-the-ground work that's the problem, giving weight to the rumours the he's playing sore.
Rounds 1-7: 36 hitouts, 92 MB
Round 8-10: 36 hitouts, 60 MB
Always remember to gamble responsibly. If you're having problems with your betting, you can get help at Lifeline or talk to someone at Gambling Help Online.