Calvin's Captains – Rd. 11
Who will tag who this week and how will it look at the sty when Rocky (PIG) takes on Mitchell (PIG)?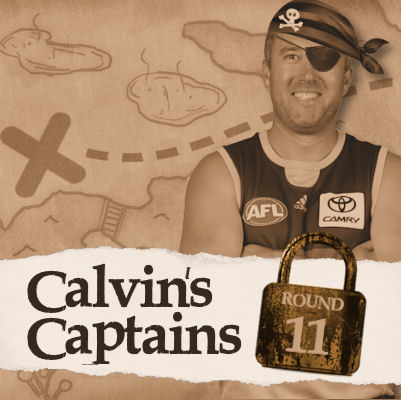 TAGGING CONCERNS
Tom Mitchell – Brad Ebert or even Tom Rockliff
Port use tags. They don't always use them, but they do and their go-to guy is Brad Ebert. He claimed Fyfe (67) earlier this year and usually has a small run with job.
Now, Port are the 4th hardest team to score against over the last three weeks. With that said, the Eagles are the hardest and he had 135 on them last week, with a slight tag in that as well (and 149 the week before).
Mitchell had 118 against port last year and this game is down in Tassie, where he had 147 earlier this year and now averages 133 there in his last five games, with a lowest score of 118.
Jack Macrae – Nathan Jones
When Tom Mitchell was owning everyone, Nath Jones put his hand up and dominated him. Jones could do the same here to a man who has averaged 142 in his last 5 with 113 last week (72 at half). Now, Jones hasn't done it since and I highly doubt he will… but he might.
Melbourne are the 2nd hardest team to score against at the moment and over the course of the year they only give up 2.4×100+ scores a game (#1 hardest). Last year when Macrae played these guys he had 84, his third worst score for the year.
In fact, Melbourne are his second worst team to score against full-stop. He is under the roof though where he averages 132 this year (6 games) and should be totally fine… if he can avoid Jones that is.
Gary Ablett – Touk Miller
They might do this … but probably not.
Miller has been tagging at times this year, and maybe in Ablett's return game back at Metricon against his old team, they might try something. Gaz is coming off 107 from last week and could get some attention this week.
Dayne Zorko – Ben Jacobs
Lock this one in, this one will be happening.
Fyfe (128) still scored well on Jacobs last week, and even Zorko himself shook off Hewett for his 110. Zorko has averaged 120 in his last three but this one comes with a huge risk on Sunday afternoon.
Adam Treloar – Bailey Banfield
Banfield is a gun tagger and Freo use him weekly to shut dudes down and this week, Treloar will get his turn. He ran with Higgins (99) last week. Treloar's numbers are bloody nuts against the Dockers with scores of 117, 127 and 127 in his last games. Coming off 130 last week, this tag will happen… if it doesn't then you can expect something massive from him again.
Patrick Cripps – George Hewett
Cripps only had 92 last week, but it won't matter… Hewett will run with him on Friday night.
Cripps had 117 and 140 on the Swans in his last two games Hewett has tagged Zorko (110) and Mitchell (58). Bad luck for Cripps but this doesn't look good.
GRUNDY VERSES… (insert name here)
SANDI IS OUT!       SANDI IS OUT!       SANDI IS OUT!
Interestingly, the last two times Grundy has played Freo, it's been without Sandilands even there. He posted 103 (Griffen) and 105 (Zac Clarke) in his last two Fremantle games but it's his form that has been truly amazing with 9 straight scores of 110+. Grundy is in a league of his own at the moment and that's when he's up against quality players… unlike this week.
If Sandi did play, Grundy was going to drop to #3.  In recent weeks, Goldy (77), Sinclair (64), Hickey (77) and Lycett (85) haven't gone that well against the big unit, but that's not the case this week so enjoy you Grundy owners.
PERISCOPE TONIGHT 8:30pm 
Small change to the time as I'll be out and about – catch ya then.
It's that time of the week again. Best Periscoping man in town covering all your #AFLFantasy needs. Plus a few grey… https://t.co/IrlOABTZqu

— Calvin (@CalvinDT) May 30, 2018
QUICK AS YOU CAN CALVIN….
Andrew Gaff v St Kilda @ Optus Stadium: Love him this week against the 3rd easiest team to score against. Coming off 154, Gaff averages 110 in his last 5 on the Saints and is averaging 113 at home this year.
Patrick Dangerfield v Gold Coast @ Metricon Stadium: 117 last week, his second best score for the year. Had 119, 129 and 138 in his last 3 against the Suns. Go big fella.
Ed Curnow v Sydney @ the SCG: 110, 119, 104 are his last games against the Swans. Impressive.
Max Gawn v Bulldogs @ Etihad Stadium: Only had 74 last week but only against the Dogs here who have given Grundy (124), Jacobs (78),
Stef (114) and Witts (131) decent scores in recent weeks.
Tom Rockliff v Hawthorn @ Aurora Stadium: 130 and 159 are his last two scores against the Hawks and they were both in Launeston. Instant reward for those bringing the pig in this week.
David Zaharakis v Richmond @ the MCG: 131 last year on the Tigers and comes off scores of 143 and 133. So stiff not to make the top 10, but Richmond scare me a little.
Stef Martin v Kangaroos @ Etihad Stadium: 137 last week, but 0x100+ scores in his last 4 games against the Roos.
Lance Franklin v Carlton @ the SCG: A rain effected 51 last week wasn't ideal for Buddy but he did bag 10 goals and 171 on the Blues last year. Riewoldt (100), Tom J Lynch (139), Ben Brown (115) and even Hooker had 97 on the Blues in recent weeks – so Bud should be fine here.
Lachie Neale v Collingwood @ the MCG: 62 and 95 in his last two games, did have 104 on the Pies last year though.
Mitch Duncan v Gold Coast @ Metricon Stadium: 128 and 109 are his last scores against the Suns, but he only managed 94 last week, 25 under what I thought he was going to have.
Stephen Coniglio v GWS @ Adelaide Oval: 134 last year on the Crows and 123 last week. Nice.
Zach Merrett v Richmond @ the MCG: 101, 152 and 115 are Zach's last scores on the Tigers but he has only averaged 96 in his last three this year.
Nat Fyfe v Collingwood @ the MCG: 128 last week, gets him to an average of 110 in his last three. Had 99 on the Pies last year.
Bryce Gibbs v GWS @ Adelaide Oval: 108 and 126 are his last scores against the Giants, but is only averaging 92 in his last three games but should bounce back here in the final game on Sunday.
Toby McLean v Melbourne @ Etihad Stadium: 152 last week and 55 on the Dees last year.
Dusty Martin v Essendon @ the MCG: 82 last year against the Bombers… only averaging 68 on his last 3 games, down $225K as well yuck.
Jack Darling v St Kilda @ Optus Stadium: A 58 last week proves why we must avoid guys like this. Should bounce back in this one though.
Rory Laird v GWS @ Adelaide Oval: Scored 63 (Q-Final) last year and 142 before that against the Giants. Had 125 last week and is still getting it done.
Sam Menegola v Gold Coast @ Metricon Stadium: 108 against the Suns last year and should dominate again you'd think after his 120 last week.
Jack Steven v West Coast @ Optus Stadium: 134 last week but this one will be tough.
WHY TOM OVER JACK?
This will be a very common question posted below so I'll sum it up as quick as I can here.
A real toss of the coin and one that can of course go either way.
Tom at Aurora is a big one (loves the place). Jack great at Etihad as well though
Port give up slightly (and I mean) slightly better numbers than the Dees.
Demons are on fire! Absolutely killing it. Giving up less 100's, 120's and points in last 3 games.
Max Gawn will give the first use of the ball to his team.
Tom more likely to be tagged than Jack, which nearly swung it back his way.
OVERALL – nothing in it. I have both and will go with Tom… scared about what Jack might do though.