Moneyball's $5K Saturday Special – Rd. 10
After a few unique players to fill your Moneyball team today? Then Calvin has you covered!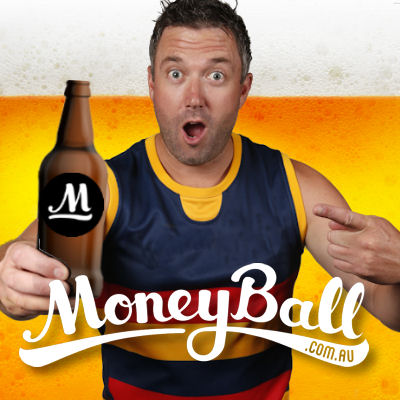 It's Saturday and with only 4 games on the cards, it's a little trickier than normal. I love a challenge and have hunted down some rippers for you today.
Richmond v St Kilda 1:45pm AEDT
Brisbane v Sydney
GWS v Essendon
Geelong v Carlton 7:25pm AEDT
FREE CONTEST TO WIN AFL GRAND FINAL TICKETS/EXPERIENCE
Exclusive to ONLY DT Talk users, be sure to enter this free contest tomorrow. If you have the highest score for the day, not only will you have $20 added to your account but if your score is the highest for the year… then the tickets are yours. JOIN HERE
Now for my best and sneaky best options for today…
Tom Hawkins (FWD, $7,100)
Carlton's defense is a rabble. In the last few weeks, forwards like Tomma-hawk have dominated them.
Riewoldt (100), Tom J Lynch (139), Ben Brown (115) and even Hooker had 97 on them in recent weeks and last year when the big Hawkins played them, he had his best ever game of 158 from 6 goals.
He has averaged 97 in the last three weeks and the writing is on the wall for this one today.
Shaun McKernan (RUC, $6,400)
Since returning to the Bomber's line-up, big Shaun Mac has been on fire scoring 100 and 102. The thing is, he is now pinch hitting in the ruck and when he's in the middle, he gets busy.
This week he is only up against Lobb and maybe the returning Patton but in round 9, Goldstein amassed 107 against the Giants. In fact, rucks have averaged 101 against these guys all year and as we all need a ruck, this guy is your man at a cheap-arse price.
Nick Vlastuin (DEF, $5,600)
Last week against the Saints, small/running defenders found a truckload of the ball. Howe (132), Langdon (116) and Scharenberg (98) all had a day out. This week, Richmond get their turn so let's turn our attention to Nick Vlastuin. He only had 50 last week (WCE) but the week before he was everywhere with 131 and a huge 12 marks.
This guy will be unique as hell today and must be considered based on his ceiling alone.
Click here to subscribe on iTunes.
Tim Kelly (MID, $5,700)
Cheap and a sure thing for 80+ when he returns home today.
His numbers have been down in recent weeks but back home he'll be better. In his last two there he had 92 and 82 and with Scooter Selwood on the sidelines, there will be way more opportunities for Kelly to be amongst the points today.
Ben Ronke (FWD, $4,100)
We thought with Buddy coming back in that little old Ronke would be sacrificed a little but it wasn't the case.
Only against the Lions today, this guy needs to be one of your first picked in the forward line after coming off scores of 74 and 121.
Lock him in for another 70+ today and potentially more if Buddy lets him snag a few goals as well.
Mitch Duncan (MID, $10,000)
I have a feeling… a big feeling that today is Duncan's day.
Firstly, the Cats return home after being upset last week and they are out for a little revenge at the expense of the Blues.
The Blue are rubbish. They currently sit as the 3rd easiest team to score Fantasy points against and this has Duncan's name all over it.
He has dominated them in the past with scores of 117 and 113 last year, and is in a little bit of form himself, but not too much just so he stays unique today averaging 109 in his last three.
Last week, Melbourne had 5×100+ scores against Carlton and I'm tipping Duncan to be in the group today with a nice 140 next to his name.