The Friday Scramble: Round 10
Our early bye round has struck, what does that mean for teams? Also who should be our first trade out targets Rookies or Underperforming Premiums? Oh, and just to really annoy all of us, we see a heap of the rookies that we are relying on dropped this week! Well I have look at all of this as we jump into the day and get Scrambling!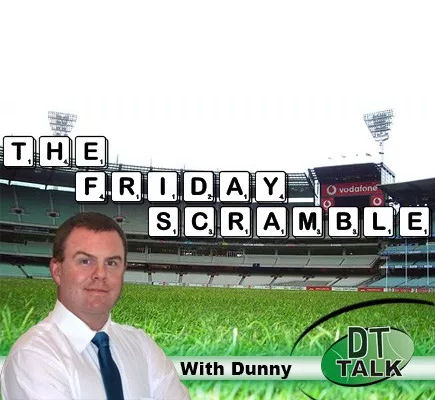 Our round numbers are now in Double Figures! Something Yeo didn't see until after quarter time last week. And thank god he did as I brought him in to my Supercoach and RDT sides last week. So the fact he hurt himself is probably all down to me. This is the first week that we face this season where a few key outs could really hurt us given we have two sides on a bye. On top of all that we have our rookies ready to be culled and fallen premiums to make decisions on. To me that sounds like the perfect recipe for some scrambling!!
The first of the Bye Rounds
This week we get our first taste of the weeks to come with two teams missing from our roster. Gold Coast and Port Adelaide players are all taking the week off to come back from China. What does this mean for us? Well just that we need to make sure we have cover. It is more the opportunity that we will have next week to pick up some players that should carry us through the multi bye rounds comfortably.
But don't get carried away with your planning. Don't make the mistake that Roy was talking about on the podcast on Monday. Don't just pick up Power and Gold Coast players because they have had their bye. Make sure that they are players that you are prepared to hold and want to have in your team. The key ones that jump to mind are Rocky and Robbie Gray. Picking up guys that you don't really need can be a disaster. But more on this next week.
One thing I wanted to address this week was that you don't have to jump to get rid of some of our Power and Suns players this week if there is no value in it. Someone like Barry or Holman doesn't have to be traded out because you haven't been playing them on your field anyway. They are permanently rooted to your bench currently and if the are missing this week (hell Barry hasn't played for ages anyway) it won't make any difference to your side. Someone like Holman should probably be held given he now has a valuable low BE.  I would suspect that anyone that has Riley Bonner has been playing him on the field and he has reached the critical point where he should probably be traded out anyway so trade away.
Where should I be focusing my trading?
Like most of you I am in numerous Facebook groups and other chat forums where I constantly see people asking who they should trade out and asking questions like why people still have Billings or Hibberd in their sides. For me this all comes down to how you play the game. If you were going to trade out Billings or Hibberd or other similar players you needed to make that decision in the first two or three weeks and commit to it then and there. This is particularly relevant in the limited trade forms of the game.
I for one have held these two 'players' so far this season and have spent my time and trades on upgrading my rookies and getting 'premium' players on to my field. If I am going to move these blokes sideways I would prefer to do that around their byes than leaving someone like a Thomas Cole or a Nick Holman on the field who can be brilliant one week and terrible the next.
So when I get people asking me these types of questions I always err on the side of upgrading rookies off my field before I look at sideways swapping a supposed premium. Having said that I certainly would love to have gotten these two blokes off my field, particularly after the steaming pile that Hibberd dished up this week.
The Selection Table
Many people have been saying we have had bad weeks at selection over the past few months, but that was nothing. Why is it that all the bloody teams decide that when some other teams are on a bye round they have to completely screw things up and rest their rookies!  Of all the weeks to do it!!
Once again my thoughts on a few of these things and what we should do with these guys.  Obviously we will all have different circumstances and some will be forced to trade whilst others will have the luxury of choosing. If you are facing a donut anywhere then clearly you must trade in that position.
Sam Murray – If you have a choice I would suggest keeping him a little bit longer. But similarly if you need to I wouldn't be concerned about trading him out, he is close to averaging his BE so not much more growth. However, with a rest this week he is a chance to play through the bye period.
Nick Coffield – I would be happy enough to trade him out without looking back.
David Armitage – He finds himself out of the side again. He has been a disappointment. If you are still holding him this is a good opportunity to move him out without regret.
Jack Higgins – This is a good sign, all we need is a few weeks out of him now to play during the bye rounds, at least until round 13.
Marc Murphy – Being back out again is a huge concern. He is out once again with this foot injury. I think if I had him I would consider moving him on as this doesn't look like it is going to heal quickly.
Lachlan Keeffe – This is a blow for those that brought him in. The only good side is that if you have him on a different line than Sicily you can swing them around. That would be the key reason to keep him.
Jeremy Finlayson – If you haven't traded yet this is the perfect excuse to do so. He has finished his growth for you now.
Isaac Cumming – With some big players back in this week he loses his spot. He may find it tough to get back in the side for now.
Josh Kelly – With the three aforementioned Giants out he comes back in finally! Not many have persisted with him this far in but if you have thankfully he returns. Don't expect too much after this long out.
Dylan Clarke – A bit harsh for him to be dropped on the back of just one game with 46 points. Hopefully he is a chance to return soon.
Mitch Crowden – Just when we need the bench cover Crowden has found his way out of the side. I don't have a good handle on his chance to return, but there were some big names put in to that side so he may be out for a little while unfortunately.
Matt Crouch returns this week but don't be too excited just yet. I am sceptical as to whether or not he is over the hammy injury fully.
I guess one of the keys here is that just because a rookie is playing now there is no certainty that they will stay in the side across the bye period when we really need them. As we progress we are more and more likely to see these guys rested.
Things To Remember
More than ever all trades need to be taking the multi bye rounds into account. Personally I am leaning towards players that have a R12 bye as only four teams are missing then and I have plenty that will be playing.
I know it is obvious but move your Power and Suns players that you are keeping to your bench.
Make sure you have options. There is plenty to occur between here and the end of the byes which can cause all sorts of trouble so keep as much flexibility in your team as you can.
With 10 rounds in the books after this weekend your team should be taking shape nicely and you shouldn't have too many more rookies on the bench that need to be upgraded. Keep working towards this and you should be in a great position post bye rounds.
Catch you all next week for Round 11, the last before the multi bye rounds start!