Moneyballin' – Round 10
The Suns & Power might be taking the week off, but the action never stops with Moneyball! Check out our facts and figures for the remaining 8 games inside, and make sure to get your quick-hit fantasy fix with the Match Committee Podcast.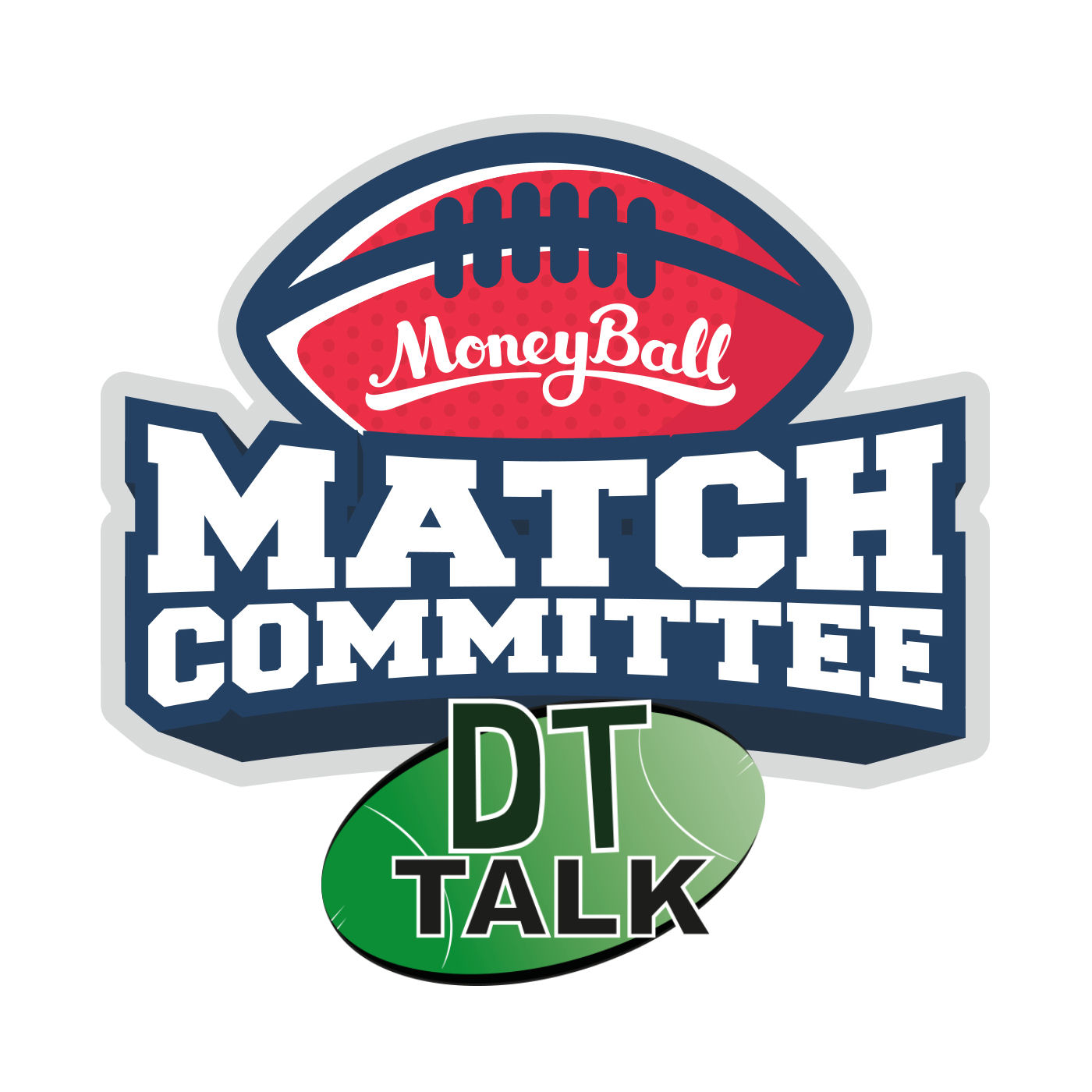 Tbetta here, and welcome to the self-proclaimed top resource for keen Aussie rules Moneyball punters! DFS (Daily Fantasy Sports) is taking off around the world and Moneyball have the perfect platform for you to turn your AFL Fantasy prowess into cold hard cash. Signing up is easy – head to moneyball.com.au and you could be ballin' within minutes.
If you're unsure how DFS works, be sure to head to the 'Help' section for all the info you need to start cashing in on your AFL Fantasy knowledge.
Click here to subscribe on iTunes.
Collingwood vs Western Bulldogs
BEST PICK: Brodie Grundy ($10,400 RU)
With a ruck division headed by Tom Boyd and reinforced by Jordan Roughead, it's no surprise that the Bulldogs have conceded the 2nd-most points to ruckmen over the past few weeks. Witts thumped out 131 against them, Stefan Martin cruised to 114 and even a sore Sam Jacobs mustered 54 hitouts on the Bulldogs in a wet and wild affair. Not that Grundy needs the favourable match-up – he now boasts 8 scores of 110-plus on the trot, all the while having notched 5 scores of 125+ this year, good enough for equal-2nd most in the league. He's worth the coin here.
BEST STAT: Jack Macrae ($10,800 MID)
So many plaudits have come Macrae's way after an insane month of footy, but surely none can truly encapsulate his current form than recognising that he's become only the 2nd player in history to average over 148 over a 4-week period. The first was our favourite Pig Tom Rockliff of course, who averaged 161.25 across a four-week stretch where he churned out 190, 110, 180 and 165 all the way back in 2014.
But enough with the history lesson, let's focus on this Friday night. The game is under the roof at the newly-crowned Marvel Stadium, where he averages a gaudy 136 this year (compared to a lowly 126 at other grounds). Although they've tightened up in the last fortnight, Collingwood's free-flowing game-style has them leading the pack in terms of fantasy points conceded to MID's this year, so expect Macrae to cash in on that.
BEST VALUE: Matt Scharenberg ($5,600 DEF)
I mentioned that Collingwood are tightening up above, and that's also has the flow-on effect of sharpening and improving their defensive patterns. As a result, their switch game is through the roof over the past fortnight; Howe (11 marks, 128 MB), Crisp (7.5 marks, 133 MB) and Langdon (6 marks, 100 MB) are all proving that with their roided-up numbers. However, Scharenberg is the best-priced of the lot, ticking over at 11.5 marks and 115 MB in the last couple of weeks.
BEST VALUE: Tom Phillips ($8,200 MID)
Phillips is a pure ball magnet, and his numbers are actually better than they appear on the surface. Totals of 128, 114, and 121 over the past month was only broken up with a 49-point score due to concussion; ignore that and you've got an absolute bargain. Phillips loves to seagull on the outside – his best scores come when he's allowed to rack up +6 combos at will. Tom averages a massive 123.5 from the 4 games where he's reached 9 marks this year, and I expect to see he and Hunter go head-to-head on a wing in a battle of the astronauts.
Richmond vs St Kilda
BEST PICK: Toby Nankervis ($7,700 RU)
St Kilda are conceding easily the most points to ruckmen over the past month, with all of McEvoy (107), Gawn (111), Sandi (96), and Grundy (135) capitalising in that stretch. This is your standard Defense Versus Position (DVP) pick, in spite of Nank's mediocre hitout numbers this year. He pumped out 119 against Saints last year, so clearly, the leg-up that the Saints give their direct opposition is not just in the air, but all around the ground.
BEST STAT: St Kilda bleeding points to opposition DEF's
Two weeks ago, Blakely (11 marks, 131 MB) and Luke Ryan (10 marks, 114 MB) identified a weakness in St Kilda's game plan. A week later, Collingwood exploited that with all of Howe (11 marks, 132 MB), Crisp (8 marks, 119 MB) and even Langdon (7 marks, 116 MB) milking the easy switch game.
Based on those numbers, we simply have to look closely at Richmond defenders, even if there's no obvious pick. Bachar Houli ($8,200 DEF) has produced only 2 tons for us this year, but it's no coincidence those were the only games where he's reached 8 marks this season. Similarly, Nick Vlastuin's ($5,600 DEF) scores when reaching 10 marks this year are some of his best with 95 and 131. He's definitely worth a punt in GPP's for mine.
BEST VALUE: Ed Phillips ($3,500 MID)
Phillips is still basement price, averaging 71 after a lesser game second-up. However, he still had 19 touches in that game after 24 on debut, and you have to feel pretty good about picking a kid who can find the pill – if nothing else – for minimum price.
BEST RETHINK: Seb Ross ($9,300 MID)
I wouldn't pay up for Ross this week, based on geography – his scores away from Etihad this year read  67, 78 and 82. Or, looking at it from another perspective, he scores 27 points less in Losses versus Wins this season. Either way, St Kilda are playing the reigning Premiers without the cover of the Etihad roof to protect them, so Ross is a strict fade for me.
Brisbane vs Sydney
BEST PICK: Dayne Beams ($8,400 MID)
This pick is topical, given that he's just given up the Captaincy for personal reasons… but the reduction in leadership responsibilities can only help his fantasy, right? Regardless, Beams is back after a slow start to the year where he averaged just 86 Moneyball points; fast forward a month and he's scored 113 or better in 3 of his past 4 games. Beams is way too cheap for his ceiling and at some point, he's going to put it all together. You want to be an owner when he does.
BEST STAT: Buddy Franklin ($9,300 FWD)
Buddy's disdain for the Lions is palpable, averaging a monstrous 5 goals and 105 MB in his last 5 games against Brisbane. That apathy was on full display last year, where he booted 8 goals for 133 in his only meeting with the Lions for the season. Franklin returned from injury last week without missing a beat, pumping out 3 goals and 9 marks for a healthy 112 MB. He's approaching must-pick territory here.
BEST RETHINK: Dayne Zorko ($9,100 MID)
I know that Zorko has appeared to flick a switch with his 142-point form line, but let me tell you a quick tale: The tale of "The Last Two Times Zorko Has Gone Untagged And The Lions Were Actually Competitive".
In Round 7, the Lions almost beat Collingwood in what would have been the upset of the year. Zorko was allowed free reign and went bonkers with 4 goals, 34 touches and a huge 176 Moneyball points. Coincidence? Perhaps.
Then, in Round 9, the Hawks crumbled to give the Lions their first win for the year, and wouldn't you know it? Zorko went untagged and dominated with 30 touches and 134 AF.
My point is: surely teams know by now that you tag Zorko and you're basically guaranteed to win the game? Hence, I'd be very concerned with Sydney's lockdown ability, having restricted Hunter (48), Gibbs (65), Mitchell (58) and Fyfe (97) in their tight tags this year.
Geelong vs Carlton
BEST PICK: Patrick Cripps ($9,300 MID)
Geelong has conceded the most points to MID's over the past 4 weeks, whilst ranking 4th for Tackles Conceded & 2nd for Clearances Conceded over the course of the year… Both clear strengths of Cripps. Patrick's scores when reaching 7 tackles this year read 130, 138, 112, 93 and 140, while his average when reaching 8 clearances is a gaudy 118. The numbers don't lie, and unless Geelong change their gamestyle drastically this weekend, Cripps will be huge.
BEST STAT: Tom Hawkins ($7,100 FWD)
While Geelong struggle in the midfield, Carlton's weakness is in the backline where they concede the most points to Key Forwards this year. Riewoldt (100), Tom J Lynch (139), Ben Brown (115) and even Hooker (97) have all gotten in on the punishment. Meanwhile, Hawkins in great form of his own with 101, 92 and 98 in his last few, slotting 3 goals a game in that stretch.
But get this – Hawkins had his career-best score against Blues last year, where he registered 6 goals, 27 touches, 12 marks for 158 MB… and 3 Brownlow Votes. KPP's are notoriously difficult to project, but in 23 of a possible 24 universes, Hawkins goes beast mode on the Blues again this Saturday.
BEST RETHINK: Zach Tuohy ($7,400 DEF)
Lamb has been locking down opposition ball-users off halfback these days, destroying the hopes and dreams of Goddard (36) and Hibberd (36) over the past fortnight. Given that Tuohy is Geelong's best weapon off half-back – leading the Cats for Metres Gained and sitting 2nd in Rebound 50's – you should be giving him a wide berth this weekend.
GWS vs Essendon
BEST PICK: Heath Shaw ($7,700 DEF)
The Shaw suggestion didn't work out last week as he flailed his way to 56, but I'm not going to get gun-shy as his numbers intrigue me again here. His last 6 scores vs Essendon read 106, 93, 125, 95, 116 and 113, but honestly, GWS are in a very different position now injury-wise that maybe those figures don't apply. But what does apply, is what opposition rebounders have managed to do again Essendon in the last fortnight, with both Simpson (102) and Tuohy (106) hitting the ton. GPP's only, but his ceiling is worth keeping in mind.
BEST STAT: Devon Smith ($8,200 FWD)
He hasn't enjoyed much fanfare, but Smith is quietly and consistently getting the job done. Since Round 4, Devon leads the league in tackles (9.2 per game) while dishing up a lowest score of 91, and those are numbers I can get around against a team that is struggling for fit blokes. I would love nothing more than to see Devon dominate against his former club – a club that couldn't find a spot for him last year and are now reaching deep into their list to even get 22 on the park.
BEST VALUE: Shaun McKernan ($6,400 RU)
The whipping boy came in to play a ruck/forward role when Daniher was ruled out due to groin injury, and hasn't that paid dividends with scores of 100 and 102 so far! He's averaging 3 goals, 16 touches, 7 marks and 10 hitouts in that time – you know, numbers that Daniher should have been posting given his inflated salary. Key Forwards have starred against GWS over the last 3 weeks (Hawkins 92, Darling 121, Waite 119), so McKernan has a big opportunity to post another ton here.
Hawthorn vs West Coast
BEST PICK: Jack Redden ($7,500 MID)
Redden's a regular in this article, and he will be until his price accurately reflects his output of 124, 138, 97 and 94 over the last month. The Hawks allowed 3 tons last week, and two of them were to inside MIDs in Zorko (134) and Beams (119). With Shuey still nursing his hamstring on the sidelines, Redden will be amongst the points again this Sunday.
BEST STAT: Jack Darling ($7,600 FWD)
It takes a decent player to make Josh J Kennedy look like the second option, but Jack Darling has gone to another level lately, boasting monster averages of 11 marks, 4.3 goals and 129 MB over the past three weeks. Not only is he sitting 2nd in the Coleman race with 28 goals, but he's also 3rd in the competition for total marks – incredibly, he is the only non-defender in the Top 20! If that doesn't sum up how much of a beast Darling's been this year, then I don't know what will.
BEST RETHINK: Tom Mitchell ($10,900 MID)
West Coast is Mitchell's worst team to play against over his career, and he's facing them at a time where they're ranking as the hardest team to score MID points against over last 3 weeks. If that isn't enough to turn you off the most expensive player on the Moneyball market, then a quick look over what tagged opponents are have been to achieve against West Coast this year should: Dangerfield (102), Fyfe (101) and Shiel (78) have all failed to have their usual impact. It's normally considered lunacy to bet against Titch but I can just see so many better (safer) spots to invest my DFS dollars this weekend.
Melbourne vs Adelaide
BEST PICK: Hugh Greenwood ($7,400 MID)
Greenwood has been a huge beneficiary of the extra inside MID time that Adelaide's injuries have afforded him in recent times. In fact, earlier this year, Hugh was stuck on a half-forward flank averaging just 4 tackles, 3.5 clearances and 75 MB. But ever since Sloane went down, those numbers have turbocharged to 10 tackles, 6.6 clearances and 93 MB as he flexes his contested game. The Demons give up the 3rd-most tackles of any team this season, so there's 40 free Moneyball points for Greenwood already.
BEST VALUE: Bayley Fritsch ($5,100 FWD)
SpiderDemon is absolutely killing it in this new wing role, where previously he was inconsistent as a stay-at-home forward. 88, 91, 89 and 96 are the most recent offerings from our friendly neighbourhood Fritsch, and he won't even clog up a MID slot. I'm calling it a must-pick.
BEST RETHINK: Clayton Oliver ($9,000 MID)
The Demons officially attain Flog Status for not reporting Oliver had finger surgery before playing last week, because a huge part of Oliver's game is tackling. The ginger ninja was averaging 8 heading into last weekend, but unfortunately, you kind of need your fingers to lay tackles… Hence, unsurprisingly, Oliver posted his lowest tackle count in 2 years (just 3) and finished with his lowest score (72 MB) since he was playing in only his 10th career game. Avoid until his finger fully heals.
Fremantle vs North Melbourne
BEST PICK: Jarrad Waite ($7,200 FWD)
Fremantle are 3rd-easiest team for Key Forwards to score against in the past month, letting all of Darling (3 goals, 101), Riewoldt (3 goals, 91), Buddy (3 goals, 112) have an influence over that stretch. I considered Ben Brown ($6,800 FWD) here, but like the ceiling of Waite better; the veteran's scored 146, 100 and 119 in games where he's reached 8 marks this year.
BEST STAT: Todd Goldstein ($7,700 RU)
Opposition rucks average just 20 hitouts against Sandilands this year, and that trend has been even more dire lately with all of Nankervis (14), Hickey (18) and Sinclair (13) having zero influence in the air against Fremantle over the past few weeks. In fact, the most hitouts anyone has managed this year against Sandi was 32 (Naitanui) which spells trouble for Goldstein – his scores this year when he gets less than 40 hitouts reads 42, 70, 75 and 66. Pass.
BEST RETHINK: Nat Fyfe ($9,700 MID)
Ben Jacobs incoming! The pest has held Dusty to 48 and Ward to 49 over the past fortnight, and common sense says he heads to the guy who's probably leading the Brownlow right now. Despite his talent, Fyfe's numbers are still capped when he's shadowed, posting scores of 67, 101 and 97 in his tagged games this year.
Always remember to gamble responsibly. If you're having problems with your betting, you can get help at Lifeline or talk to someone at Gambling Help Online.