The Next Four – Rounds 10-14
Chris is back for this year with a look at the next four.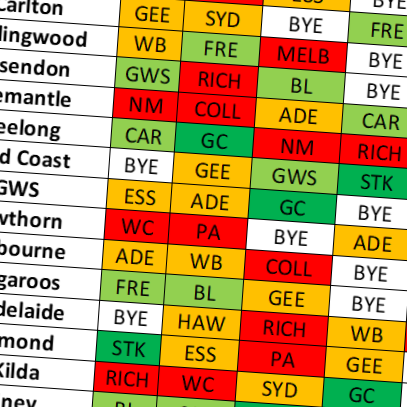 Hello. I am Back. Yes, it is me, 'that guy'. I am bringing back the next four! With byes upcoming we want to be selecting players that are going to score well. Yes? Ok let's carry on. I posted an article last year which pretty much introduces who I am, and how the magical formula works. You can find that here.
Leading into the byes we want to be picking the best players possible; both premiums and cash cows. I myself have turned my focus to league wins as I sit disgustingly just inside the top 10k at this stage. However, with the byes approaching, you can rocket up the rankings selecting a player that is about to go BANG! POW! WOW!.
Without any more fuss, let's get into the next four! Pictured to the right of this article is the overall difficultly rank table, with teams ranked from hardest to easiest to score against. This considers the total season from as well as the last four averages for points scored against. After doing my first article I realised, some teams are restrictive as a whole, however they give up a large amount to a specific position. For example, Melbourne are quite restrictive when it comes to overall fantasy scoring, but are 5th easiest to score on as a midfielder. Pictured below are the difficulty ranks for each of the three positions (Back, Centres and Forwards).
There is a common trend in these tables with Fremantle, Gold Coast and St Kilda all appearing near the bottom on all three tables. These teams are just giving up absurd amounts to everyone. Use these three tables when deciding when to captain or bring in a player.
Below are the teams next four fixtures for overall fantasy scoring (Not including their bye).
This table really shows how the next four are looking for overall fantasy scoring. Those in the deep juicy green hopefully will be giving jumbo jets full of points, whilst those in the horrid red are restricting teams to minimal amounts. As mentioned before, some of these teams are restrictive, but still give up a lot to certain positions.
For those who are lazy, or just love a table, to the right is a list of the teams who have the best run coming up over these bye periods. Now remember, this is the best run as an overall team. Plain and simple, hold those underperforming premiums near the top of the list, also look to trade in form players near the top. Trade out cash cows near the bottom of the list as their scoring looks to dry up. I would avoid trading out premiums purely because of this table, often there is more than just the opposition factor (think bonehead billings and his role/form change).
Below I will suggest some picks which may (or may) not help you!
People to Consider
Defenders
Jake Lloyd ($669,000, Avg, 100.3, Next 4: Bris, Carl, St.k, WC)
If you look up bruise free footy in the dictionary, this guys face will be next to it. Coming off a huge 163, this included 35 uncontested possessions. Thirty-Five. On paper Lloyd's next three games scream flogging and so they should. However, there is buyer beware. Last week Robinson played a forward tag role on Sicily and held him to 71 points (15 of those coming in the second half). Lloyd then goes on to play Carlton. If Jakey boy can roam free here he is in for a big one. However, Jed Lamb has been playing a forward tag role on half backs this year. Last week he kept Hibberd to 36 points, and the week before he held Goddard to 36 points. Yuck.
Lachie Whitfield ($622,000, Avg, 91.4, Next 4: Ess, Adel, GC, BYE, Bris)
Boy this man is a rollercoaster. After going through a bleak patch of 60s in round 3, 4 and 5, Whitfield has backed this up with a 5-game average of 91. Yes, it's not the huge heights of a 160, but with the lack of consistent options back there Whitfield is a potential option. What excites me the most in the return of Josh Kelly this week. I don't know whether it's the presence of handsome Josh in the side, but Whitfield can post some sexy numbers.
As we saw in preseason Whitfield posted two tonnes at 1.18 PPM. He then went on to score 114 and 123. His demise came however when a little bit of pressure was put on him. Thriving on open space, Whitfield should see that in the coming weeks as GWS look to return to their winning ways. Whitfield performance is often a barometer of how well the team is tracking. Look for Whitfield to bounce back this week as the Giants get back to winning. Can see an average of 105 for his next 4 games.
Angus Brayshaw ($526,000, Avg.82 Next 4: Adel, WB, Coll, BYE, PA)
The former number two draft pick is finally getting some more consistently into his game. He is playing predominately midfielder in an already high scoring fantasy team, what is there not to like? Having kept a keen on Brayshaw in the past two weeks, its his gut running that I like the most. Brayshaw will run back and forth all day and is constantly around the ball. Angus has seen a role change after playing as a small defender in his first few games, he has embraced his helmet, build up his fitness and has been injected into the guts which has resulted in some juicy scores. My only worry for Brayshaw is that his high scores were in games where the ball was free flowing, and very much on Melbourne's terms. I doubt this trend will continue all season, but for $526k you can't get much worse as a D6 come season end.
Others to Consider:
Elliot Yeo ($678,000, Avg, 99.8, Next 4: Haw St.k, BYE, Syd, Ess)
Jeremy Howe ($644,000, Avg, 92.2, Next 4: WB, Freo, Melb, BYE, Carl)
Smokey: Heath Shaw ($5567,000, Avg.83.7, Next 4: Ess, Adel, GC, BYE, Bris)
Midfielders
Since we want the most points out of our midfield, I have done an exclusive 'best run next 4' for centres, this is pictured on the right. Use this in conjunction with overall best run for a team to select those gun mids.
Josh Kelly ($780,000, Avg. 107, Next 4: Ess, Adel, GC, BYE, Bris)
Josh is my love child. I will be pouncing on the opportunity to get Josh in after his bye, not because of his gorgeous looks, or his silky skills combined with the most delicious kick in the league, but because he is only owned by 4.7% of teams, Realistically, this number for the top 10,000 would (should) be 0.0% ownership. Imaging having a guy in your team who has averaged 110 in the past, that no one else has! Last year saw Josh breakout into a true contender. Averaging 29 touches, 3 marks and 6 tackles a game led to Josh having a nice 112 average. He started the year well, scoring 115, 118 and 88. Not huge numbers, but he was playing injured. After returning from his 6-week holiday, Josh will be fresh and ready to go. My only concern was the low disposal numbers in those first three games, making a large chunk of his score through his 8 tackles a game (whilst only having 23 touches). If he was to return to full fitness, having 29 touches a game, combined with a huge 8 tackles and 3 marks. We could see a second half of the season around the 120 mark from Kelly. Jump on and enjoy.
Matt Crouch ($648,000 Avg. 90, Next 4: Melb, GWS, Freo, Haw)
We were all expecting Matt Crouch to come out this year and go bang, cruise with an average of 115 for the year. This guy is uber consistent, with a low score last year of 80 in round 2, he just simply brings his own footy to the game. However, season 2018 has been different, starting the year with a nice 123, Matt went down with a hamstring injury in round 2. Since then he missed 3 games, came back and averaged 98 with an average time on ground at 76% (low score of 91 in his return game) and has seen himself 'rested' last week. If Matt is to get over this hamstring injury you have a guy 100k under-priced who can easily average 105-115 from here on out. His PPM currently are amazing, and when he starts to push that 80-85% time on ground expect big scores to be produced. Let's not forget from round 14 last year the guy averaged 115 with a low of 96 and a high of 150, the kid is a jet. If he gets up this week look to bring him in after his bye and enjoy the consistent 100's each week.
Aaron Hall ($566,000, Avg. 78.8, Next 4: Bye, Geel, GWS, St.k, Haw)
I've purely put Aaron Hall in here for a word of caution more than a suggestion. I fell into the trap last year of having Hall. It all seems well and good having a player play through the three bye rounds. Wrong. He may play through the three bye rounds, but his combined score will equal that of someone who only plays the two matches. Despite Hall posting some nice numbers for someone his price, I just couldn't do it. Priced at an average of 85 odd, it has a lot of potential to do well. With some nice scores of 102 v Melb and 115 v PA in his last two it puts him firmly in the frame. If we ignore his putrid 14 v Banfield he is averaging 95. There is the issue, ignoring the important stats! Coupled with his Job security of a factory worker, I would not touch him.
Others to Consider:
Ed Curnow ($776,000, Avg. 119.8, Next 4: Geel, Syd, Bye, Freo, Coll)
Adam Treloar ($768,000, Avg.110.2, Next 4: WB, Freo, Melb, BYE, Carl)
Smokey: Dan Hannebery ($536,000, Avg. 68, Next 4: Bris, Carl, St.k, WC)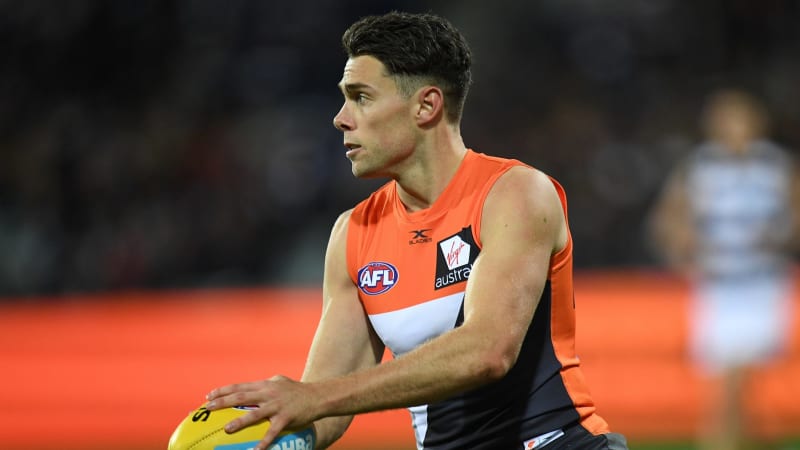 Ruck
There is not much to talk about in rucks, despite opponents, there are three rucks monstering it this season. Max Gawn, Brodie Grundy and Stefan Martin. That is the order I would rank them. So, look to have two of those three in your team come season end.
Forwards
Lance Franklin ($675,000, Avg. 101.8, Next 4 Bris, Carl, St.k, WC)
Who better to have in your team than the best forward this century? Franklin was as surprise in last week and with limited time on ground (75%) he had no trouble reaching 112. Over the coming weeks he will be eased back into it, but I can guarantee he will tone up in his next 3 games. Listen to these for past averages against his next three: 100 (Bris), 109.6 (Carl – 171 last year), 102.4 (St.k). Buddy will feature as a unique in the top 10k and should help you push up during the byes. Be wary of his round 14 bye, many of us are stacked there currently.
Jordan De Goey ($545,000, Avg. 80.8, Next 4: WB, Freo, Melb, BYE, Carl)
After spending the off season havin' a little fun Jordan returned to footy in round 4. His first three matches were nothing special but his last three that have caught my attention. With a three-round average of 98 Jordan is finally playing well and his fantasy scores are reflecting this. He is spending large stints forward, which will limit his scoring some weeks. Hopefully as the year hoes on he builds up his fitness and we see him run through the mids some more. The only negative I see with Jordan is last week he kicked 6 goals straight to set him a score of 91.
Patrick Dangerfield ($695,000, Avg. 101.5, Next 4: Carl, GC, North, Rich)
I'm going to jump the gun two rounds early here and recommend a player that WILL get forward DPP come round 12. Dangerfield has been playing mainly forward this year, and still consistently scoring around the 100 mark. As a midfielder, he is taking up a spot of someone who can go 115+, but him sitting pretty at F1 is all but a special sight. Fingers crossed by then Geelong get their fingers out of their asses and realise they are playing a Brownlow medallist at CHF. When the day comes that he kicks back into form we will have a forward priced at ~700k averaging 115.
Smokey: Toby Greene ($643,000, Avg. 86.7, Next 4: Ess, Adel, GC, BYE, Bris)
Thanks for reading guys! If you have an questions as all hit me up on twitter @hedge59 or in the comments below!