Moneyball's $5K Saturday Special – Rd. 9
Needs some cash on a Saturday? Or maybe your team is rubbish like mine and you want to be involved in another way. I've got you covered either way.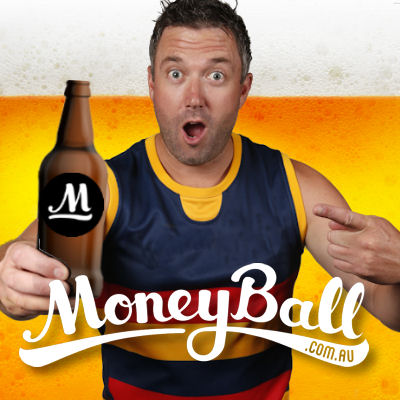 It's Saturday and once again, there is some serious coin that can be won today thanks to our old buddies over there at Moneyball.
It's the big $5,000 with the winner taking $650 in their pocket.
Kangaroos v GWS 1:45pm AEDT
Gold Coast v Port Adelaide
Essendon v Geelong
St Kilda v Collingwood
Sydney v Fremantle 7:25pm AEDT
FREE CONTEST TO WIN AFL GRAND FINAL TICKETS/EXPERIENCE
Exclusive to ONLY DT Talk users, be sure to enter this free contest tomorrow. If you have the highest score for the day, not only will you have $20 added to your account but if your score is the highest for the year… then the tickets are yours. LINK RIGHT HERE
Now for my best and sneaky best options for today…
Tom Rockliff (MID, $8,300)
After attending a season-high 19 centre bounces last week, it's safe to say that finally the pig is ready to pig, and that the Power have finally put the pig back into the middle where he belongs.
Rocky scored 127 last week, his first ton for the year and this week, he's in China and ready to fire on one of the Fantasy friendliest grounds in the world.
MID Rookies (MID, $3,500)
Headlining the brigade has to be Ed Phillips who scored 86 last week. Up against the Pies, it doesn't get much easier than this for the rookie who looked right at home for the Saints last week. This kid can play and can score and is a must in any team you have today.
Then we come to Dylan Clarke who is having his first run for the Bombers today and it's safe to say it's long over-due. He is averaging 33 touches in the VFL this year and is coming off scores of 134, 101, 126, 153 and 115. Serious numbers!
Brodie Grundy (RUC, $10,300)
We all need a ruck and today I'm saying… don't stuff around with the others, take the best.
Firstly, Grundy is the only guy in the game who has scored 100+ in the last 7 weeks and here, he is up against Hickey. Previous rucks against the Saint have scored well with Sandi (96), Gawn (111) and McEvoy (107) all producing good numbers.
The thing is… Grundy is a little better than this lot (equal to Max) at the moment and is set for a huge day under the roof.
Click here to subscribe on iTunes.
Shane Savage (DEF, $7,200)
Small/running defenders have had an amazing record against the Bombers this year, and therefore it's worth a punt on old mate Savage today. He can score well on his day with 114 coming in round 3 but previous history here suggests he should have a day out on the Bombers at the MCG.
Last year when he played Essendon, he had his second highest score for the year (106) and today, I strongly believe, he might just top that.
Ben Brown (FWD, $6,800)
Key forwards dominate GWS. They have done in recent weeks with spuds like Darling (121), Jack Henry (96) and even Hawkins (94) cashing in.
Last time he played in Hobart, he had his second highest score in his career of 115 and that was in windy-arse conditions. Tim Mohr comes in for the Giants to sit with the big unit, but honestly, I love Mohry but at the end of the day, he's no match for Brown. Expect him to kick a bag again today.
Zach Merrett (MID, $9,500)
I know….
But honestly, without Scooter Selwood in the team for the Cats today, no one will tag the man.
Geelong are the easiest team in the game for midfielders to score on at the moment with 6 Collingwood players scoring 120 against them last week.
Zach can be rubbish, let be honest for a second, but he can also be amazing. Hitting heights around the 150 mark and if thats the case today, you be in the cash for sure.
Zach even had 150 on the Cats last year and is destined for something big today.
He's my pick of the day and seriously must be considered today.