The Friday Scramble: Round 9
Its China time! The Suns and Power are over in China for their annual game and we have an extraordinary amount of changes involving rookies this week! On top of that we are all trying to upgrade. A massive week now let's get in and Scramble!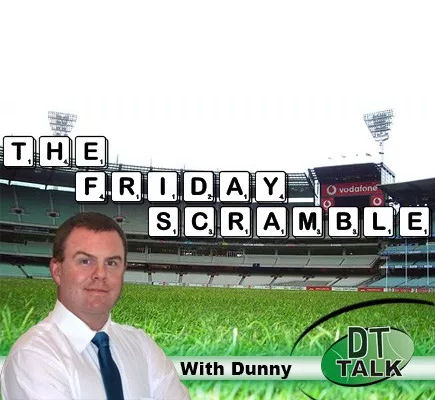 Nǐ hǎo or for those of us not in China, Hello! That's right the annual game in China is on this weekend between the Gold Coast and Port Adelaide. The importance of this for us Fantasy Coaches is that the all important Round 10 bye is just around the corner and this is the last game these players will play before their bye. But before we get there we have plenty of other things to worry about.
The Jack Macrae Conundrum
Jack has been the hottest topic over the last couple of weeks. The concern here is that if you bring him in this week he will be fully priced. Yes he may still have a good score (however, I am concerned he may not given he is playing Adelaide at home), but you will be playing top dollar.  It is only Calvin that likes to do this, and it isn't the ideal strategy.
For me, I wouldn't be bringing him in at this point. I think there is far better value out there that you can use your valuable dollars on. Odds are that he won't be scoring like this every week and in a week or two his price will come down…. hmm. that seems as though it could coincide with his bye round! For me, I wait for his price to normalise a little and then I go for him after he has had his bye.

Click here to subscribe on iTunes.
Upgrade Decisions
There are a few players that a lot of people are targeting this week including Dangerfield, Yeo and McLean. For me these are all guys that we should be looking at for our teams this season. The question is when to bring them in. There are a few things that I will be considering in my upgrades and it doesn't just apply to these three guys.
Firstly I will be considering the break even of the players.  Danger has 120 AF, Yeo has 104 and McLean has 84. If we look at this McLean is the obvious choice as he is set to rise the most this week. On top of that he also has dual position status and is a forward, he is valuable to us there.
Secondly, at this stage of the season I am seriously considering my bye structure. Whether you do it on a spreadsheet or use the app, it is important to look to the byes. If I was to bring in a premium at this stage I would be looking at one from the Round 12 bye which means they are here for the two bye rounds that have 6 teams out and will cause us most problems. That first bye has the Blues, Hawks, Eagles and Dogs. Many of us should still be fairly strong in round 12 with plenty of players available so taking a player like McLean or Yeo shouldn't hurt you too much.
Lastly my on field structure. As we upgrade we need to be making sure that we are reducing our exposure to rookies on the field. I am fairly sure I have mentioned it before, but when trading you should be looking at reducing the number of rookies on your field. Sideways trading isn't what we want to do, it is by upgrading the rookies on the field that will help you improve your team in the longer term.
Many of us have a fairly stacked midfield and based on that I would be looking at going McLean, Yeo then Danger in that order if I was to upgrade to one of these guys.
I was asked about going a double downgrade or a down and up this week. To be honest I wouldn't be adverse to either of these decisions. It really depends on what you can do. If you are struggling for cash then you may want to do the double downgrade this week. I would look to improve my team first but if I didn't have the cash to do the upgrades then I would be looking to double down ready for next week.
Quickfire Answers
Jacobs – For now I say hold. He is underperforming but if you are going to trade him then I would look to do it around his bye unless he is a late out.
Buddy – He is back. So for those that traded I would reverse that. He is hopefully ok for us now.
Billings – As an owner, it pains me to say I am still holding. As with Jacobs, if you are going to trade him out I would do it around his bye round.
Doedee – If you are trading him out I would be going for Yeo over Simpson. I think he has a higher ceiling and plays more through the midfield so should be more consistent. They both have that R12 bye though which is helpful.
Rocky – I wait til round 11. Not only do I want to see one more game out of him I also want to wait until after his bye.

Click here to subscribe on iTunes
Rookie Movement
It was a massive week at the selection table for the Rookies this week. Here is a bit of a run down and my thoughts on them…..
Darcy Fogarty – He returns as Walker is out of the team. Walker is set for a few weeks out so Fogarty should be a solid option for a few weeks.
Lachie Murphy – Another Crow rookie comes back in to cover the many injuries that the Crows have. His job security is shaky, but with the number of injuries at Adelaide he should be ok.
Aaron Naughton – Trade him out. Simple as that. No ifs buts or maybes about it.
Matt Guelfi – He is back!!  Just what we needed! We all know he can play, it is just a matter of the coach understanding this!
Dylan Clarke – He makes his debut this week. He is an option to bring in in AF and he is cheap.
Jordan Ridley – Probably not at this stage.
Kobe Mutch – Has been rested. Not ideal. But thankfully Guelfi came back in. Given it is a 'rest' he should hopefully be back and good to go by the time we need him for bye rounds.
Esava Ratugolea – Injured and our first official victim of the General! General Soreness has hit and he should only be out for one week.
Taylin Duman – Omitted. Not sure on his likelihood of getting back in at this stage.
Pat Ker – Debut for Carlton. I wouldn't jump on him, I prefer Clarke.
Mitch Lewis – Debut for Hawthorn. As with Ker I wouldn't be relying on him just yet.
Things to Remember
With all that Rookie movement double and triple check your teams this week.
Something tells me the Crows aren't finished with changes, keep an eye on late outs tonight. Nothing official, just a feeling I have.
Beware the tagger. Taggers seem to keep ruining our captains. Check out what Calvin has to say and then make sure your choice doesn't play a tagger this week.
Heaps going on at the moment and it is only getting harder as we are heading to the bye rounds. Make sure you have done your research on your players this week and back them in. As I said earlier, trade the underperforming premiums around the byes and keep improving your team and removing rookies from the field.
Have a great weekend and hopefully you have a great score too!  Catch you all next Friday as the Suns and Power prepare for a week off and our teams face their first test of depth.