Moneyballin' – Round 9
Last week's tips were absolute fire, so milk them with us again in Round 9! Make sure you're pumping your ears full of the quick-hit Match Committee podcast while you're perusing our exclusive facts and figures. Good luck!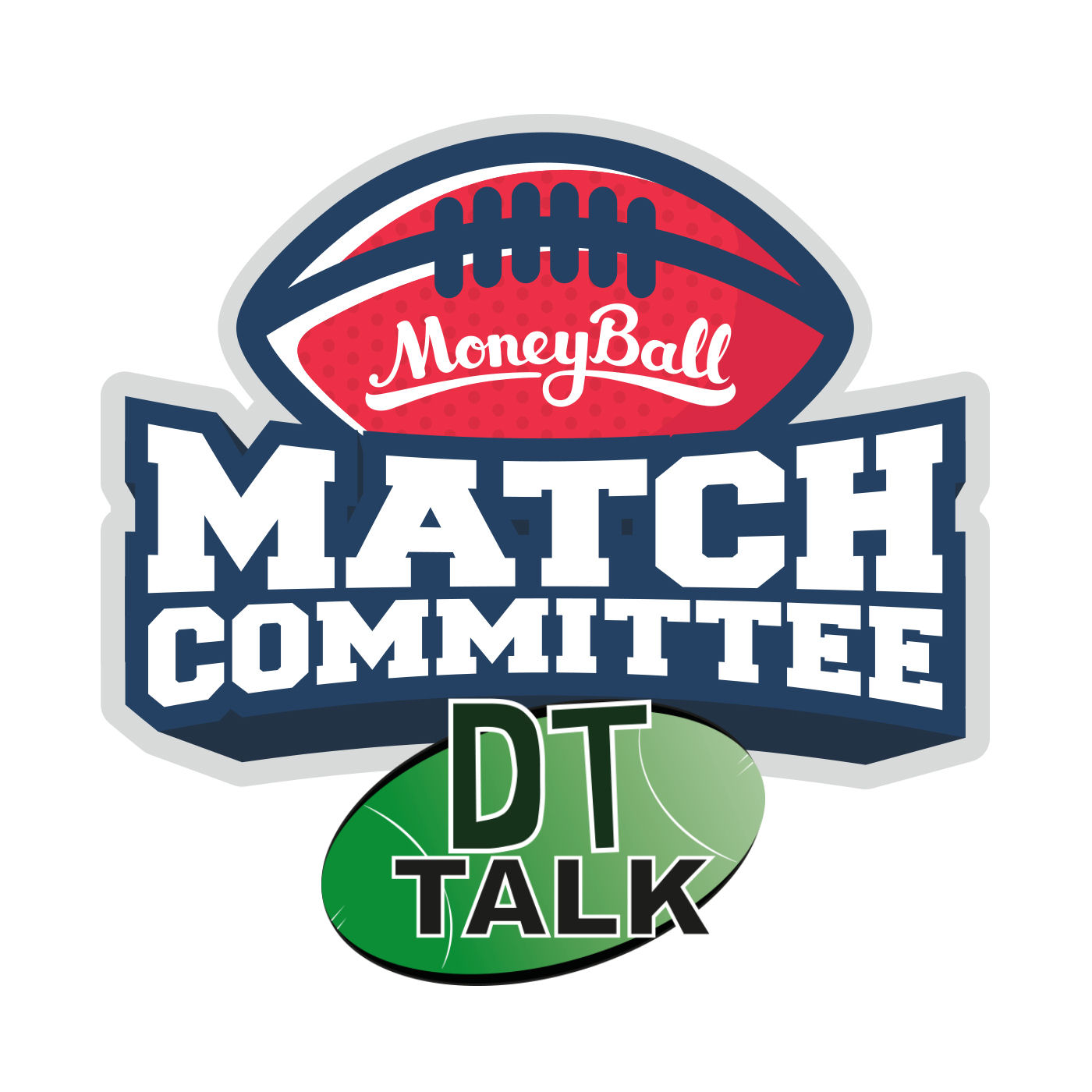 Tbetta here, and welcome to the self-proclaimed top resource for keen Aussie rules Moneyball punters! DFS (Daily Fantasy Sports) is taking off around the world and Moneyball have the perfect platform for you to turn your AFL Fantasy prowess into cold hard cash. Signing up is easy – head to moneyball.com.au and you could be ballin' within minutes.
If you're unsure how DFS works, be sure to head to the 'Help' section for all the info you need to start cashing in on your AFL Fantasy knowledge.
Click here to subscribe on iTunes.
BEST PICK: Lachie Hunter ($8,800 MID)
I'm really big on Hunter in all forms of fantasy this week. With his teammate Macrae in this kind of form, there's no chance of the seagull being locked down over him – if you remember, Hunter's only blemish this year was a 48-point turd where he was tagged while Macrae missed through suspension. Removing that outlier from calculations, Hunter's lowest score is 104 amongst a hefty 119-point average. You want a piece of that for $8.8k here.
BEST STAT: Jack Macrae ($10,300 MID)
Adelaide have conceded more points to MIDs over the past 3 weeks than any other club and now they've lost one of their prime movers in Matt Crouch through another niggle. That's all you should really need to hear to snap up Macrae, who is now the only player in the competition averaging both 30 touches and 6 tackles this season.
BEST VALUE: Hugh Greenwood ($7,000 MID)
One man's pain is another man's pleasure, and while the Sloane injury is upsetting for Adelaide fans and his fantasy owners, the silver lining is what it's done to Greenwood's statistical trajectory. Cruising along at a modest 75 MB and 4 tackles per game over the first month in a forward flank rotation, Greenwood was first cab off the rank to replace Sloane's inside grunt. Since then, he's flourished with 91 MB and almost 10 tackles per game, even topping the ton with scores of 102 and 105 in the past fortnight.
BEST RETHINK: Bryce Gibbs ($10,200 MID)
The downfall of Gibbs has been sharp in both clarity and direction this year. After posting a lowest score of 113 over the first month, the former Blue has now managed a highest score of 102 in the 4 games since. It's no surprise these numbers match-up with Sloane being out, for whatever reason. Less help at stoppages? Lower quality midfielders around him to effectively share the ball? More opposition attention with the oft-tagged Sloane absent? Either way, Matt Crouch's additional omission should be a huge red flag for prospective Gibbs buyers at that exorbitant price.
North Melbourne vs GWS
BEST PICK: Heath Shaw ($7,900 DEF)
Now I know Shaw's name is mud with many fantasy punters, but hear me out. Last week, Vlastuin notched a Round-high 15 intercept possessions against the Roos, finishing with 12 marks for his career-high-equalling 131. According to the stats, Shaw is GWS' best interceptor with Davis out and it's not a stretch to think that he could benefit from the same structural quirk that gave Vlastuin his opportunity. Something to think about – Shaw's scores this year when reaching 6 marks reads 98, 90, 100 and 91.
BEST VALUE: Rory Lobb ($5,900 RU)
Scored 82 in his first game back last week, mustering 32 hitouts while GWS managed just 35 over the previous two weeks without him combined. His rule is assured, and he comes up against Goldstein; which sounds scary, but really isn't. The former stud is leaking ruck points of late, allowing Sinclair to reach 112, and even let a sore Nankervis hit 119 over the past fortnight.
BEST RETHINK: Dylan Shiel ($8,400 MID)
All things considered, you have to expect that there's a nice tight Ben Jacobs tag incoming. A regular lockdown fixture over his career, Shiel was tagged for the first time this year by Hutchings in Round 8, restricting him to a season-low 78. Meanwhile, Jacobs is fresh off giving the reigning Brownlow medallist a bath, holding Dusty to just 48 MB from 16 disposals. That's no small feat, given it was Dusty's lowest disposal tally since Round 1, 2015, and his worst fantasy score since Round 21, 2013. I'd be very wary.
Gold Coast vs Port Adelaide
BEST PICK: Tom Rockliff ($8,300 MID)
This big question is: does last week's 127 officially declare that the GOAT is back, or was it just another twist in what has been a jolting roller coaster so far in 2018? Well firstly, registering the 3rd-most CBA's for Port last week with 19 was a huge step in right direction – a big part of his fantasy failings this year has been his high F50 numbers.
Secondly, he played his highest TOG for the year with 77% ( after averaging just 67% over the first 4 games). This supports the media reporting that he was underdone early in the year, and gives us hope that he's turning his match fitness around.
But the biggest positive was his tackling, where he threw together a season-high 9 tackles against Adelaide… Over his entire career, Rockliff averages 137 MB when racking 9+ tackles, and has never scored below 90 if he's reached that tackle mark. If he's back to his man-hugging ways, Rockliff is an absolute bargain.
BEST STAT: Last year, the China game was an absolute points-fest.
Last year's Shanghai game produced a total of 3503 fantasy points scored, way above the season-average of 3237 – which equates to an extra 6 points per player. There was 11 tons reached across both sides, including 4 scores in cash-money territory at 125-plus. Based on last year (and it's a very small sample size), the China game is great opportunity to target the seagulls, as all of Hall (134), Kolodjashnij (125), Polec (127) and Ebert (103) racked up in a free-flowing game.
Jared Polec ($8,700 MID) is a sneaky pick here in my opinion. He's already produced scores of 132 and 156 already this year, so you're really chasing that epic ceiling with this pick, great for GPP's. One underrated thing about Polec – he can rack up numbers in many different categories. He collected 12 marks in the 132 game, while laying 12 tackles in the 156 game.
BEST RETHINK: Jarrod Witts ($8,100 RU)
Port are a completely different ruck proposition with Ryder, articulated simply through their Defense Versus Position (DVP) numbers over the past two years. Over Rounds 1-6 this year without Ryder, Port conceded the most ruck points of any team over that stretch.
But that's completely reversed with Ryder around, as Port were the hardest team to score ruck points against in 2017, and in Round 7-8 this year, guess what? They're back at the top of the DVP-difficulty list again with Naitanui's 73 and Jacobs' 53. Witts certainly has ceiling, but I'd be avoiding with much surer options on the slate.
Essendon vs Geelong
BEST PICK: Devon Smith ($8,100 FWD)
Did you know that Devon Smith is averaging the 2nd-most tackles this year at 8.1 per game? Not bad for a guy whose previous best was 4.9 per game, as he floundered out of position at GWS. Essendon have given him the geographical freedom to tackle this year, notching 15 tackles last week in his 117. That was against the Blues, who give up the most tackles per game this season – and now he faces Geelong, who give up the 3rd-most tackles per game…. Cha-ching!
BEST STAT: Tom Stewart ($6,400 DEF)
Essendon gives up the 2nd-most fantasy points to small and medium defenders this year, so I immediately thought of Zach Tuohy ($7,300 DEF) – but I couldn't go past Stewart at that price!
He's gone massively under the radar this year, pumping out 103 and 110 over the past fortnight, thanks chiefly to reeling in 12 and 9 marks in those games respectively. In fact, Stewart averages 7 "intercepts" this year – the most for Geelong – which shows how structurally important he is to the Cats in his second season. He'll be very unique due to a lack of name-brand recognition, so strongly consider going against the tide here with Tom.
BEST VALUE: Dylan Clarke ($3,500 MID)
It's about time Clarke got his debut after dominating in the VFL so far this year, churning out scores of 115, 153, 126, 101, and 134 at the lower level! His averages of 33 touches, 4 marks and 9 tackles in the Reserves gives me a lot of confidence that he can go a long way towards replicating those kinds of numbers at the top level. Lock and load.
BEST RETHINK: Brendon Goddard ($8,800 MID)
The world's angriest man was tagged out of it hard by Lamb last week, crawling to 36 MB from 16 touches as the nagging Blue clamped down on his bonus stats. Incredibly, Goddard hasn't laid a single tackle over the past 2 weeks and faces the prospect of even more attention across half back this week with Essendon's prime defender in Hurley missing with a hamstring complaint.
Sydney vs Fremantle
BEST PICK: Callum Sinclair ($7,800 RU)
We usually religiously avoid rucks against Fremantle, who are the 5th-hardest team to score ruck points this year, which could be in some way due to having the AFL-equivalent of Mr Larson running around as your main ruckman. On the flip side, Sinclair is smashing out career-best numbers as a solo ruck and is showing no signs of stopping, averaging 106 over his in last 3 starts with just the single score under 87 all year.
What I love about Sinclair is that he isn't reliant on hitouts to score, building just 35% of his average from hitouts. For reference, Sandi's fantasy production is 51% built on hitouts, while all of Gawn, Goldy, Jacobs, and NicNat operate above 40%.
BEST STAT: Connor Blakely ($8,600 MID)
When Fremantle are competitive and are able to get their switch game on – which usually goes hand-in-hand – Blakely is a fantasy beast that needs to be considered. Blakely's averages of 5 marks and 74 MB skyrocket drastically when Fremantle win, up to gaudy figures of 11 marks and 111 MB per game. Given that Sydney are 1-3 at Home this year, can we realistically project that Fremantle might be competitive on Saturday evening? Last week, Sydney allowed defenders in Burgoyne (114) and Sicily (104) to ton-up in a tight win so I'd be happy to have shares in Blakely after his 131- point effort against the Saints.
BEST VALUE: Ben Ronke ($3,500 FWD)
Ronke still finds himself at basement price despite his break-out effort last week, which keeps him in the selection frame when I'd normally fade a player like this after an outlier score. Let's be clear; he's not going to kick 7 again – especially with Buddy back – so that 121 was a once-off… but the 10 tackles wasn't completely a fluke. The rookie Swan has always been a strong tackler, averaging 8.5 in NEAFL this year, and forward pressure is his primary role in the team. Very pickable at this price, as long as you keep your expectations in check.
BEST RETHINK: Nat Fyfe ($9,700 MID)
Sydney have sent out 3 tags over the past five weeks: Hunter 48, Gibbs 65 and Mitchell 58.
Fyfe has to be a red-hot chance to get a Hewett/Cunningham shadow, and we've seen a mixed bag when tagged this year – 67 (Ebert) and 101 (Yeo). Of course; recent media speculation of knee soreness doesn't exactly fill me with confidence either.
Fyfe is obviously good enough to break whatever tag he gets on his day, but it will definitely hurt his new-found ceiling – Fyfe has notched 4 scores over 120 this year, something he's never achieved in his 8 seasons previous, and it's only Round 9. But I wouldn't be banking on him adding to that this weekend.
St Kilda vs Collingwood
BEST PICK: Jack Steven ($8,700 MID)
Collingwood concedes the most points to midfielders of any team this year, which immediately throws all of Steven, Ross and Dunstan into the selection frame at modest prices. However, given that Collingwood also haven't tagged once this year, I'm all over Steven specifically because that's the only thing that can stop him. He's managed just 65 and 90 in his shadowed games so far in 2018, his two lowest totals for the year.
On the other hand, when he's allowed to run free, Steven averages 29 touches and 107 MB, including a strong basement of 95. This is your classic high upside, low risk selection, so get on board at that price!
BEST STAT: Brodie Grundy ($10,300 RU)
Grundy is the only player in the competition to have scored 100+ in every game over the past 7 weeks… and he's smashing it in, with a lowest score of 110 since Round 2! Adding to those juicy numbers is that he faces St Kilda, who are the 3rd-easiest team to score ruck points against this year. Oh, and did I mention that Grundy loves playing Saints, averaging 104 against them over his career – the most of any opponent?
BEST VALUE: Ed Phillips ($3,500 MID)
Translated his VFL form (137 and 139 MB in his last two VFL games) over to the top level with a healthy 86 on debut. Now he comes up against the Pies who, as mentioned above, concede the most points to MID's this year. Easiest pick you'll make all weekend.
Carlton vs Melbourne
BEST PICK: Clayton Oliver ($8,900 MID)
Carlton gives up the most tackles per game of any side this year, and what do you know? Oliver sits 4th on the tackle leaderboard at 7.9 per game. Sneaking a look back into their history, Oliver notched 9 tackles against Carlton in both games last year, for scores of 135 and 106. In fact, Oliver's scores when hitting at least 8 tackles this year reads 114, 125, 105 and 122. He's in a great spot here, especially without Ed Curnow to shadow him at contests.
BEST VALUE: Bayley Fritsch ($4,500 FWD)
How can you say no to the bloke who's produced 88, 91 and 89 in his last three for under $5k? Fritsch collected a career-high 26 touches last week as he's moved up to a wing, rather than playing deep as he did in Rounds 1-6, and it's no surprise his numbers have peaked as a result.
BEST RETHINK: Matthew Kreuzer ($9,300 RU)
No ruckman has reached 90 against Gawn this year, making Melbourne easily the #1 hardest team for rucks to score points against. Max Gawn ($9,900 RUC) for only $600 extra is the play here – Kreuzer allowed both Bellchambers (92, 55 hitouts) & McKernan (102, 8 hitouts) to get off the chain last week.
Brisbane vs Hawthorn
BEST PICK: James Sicily ($7,200 DEF)
Brisbane concedes the 2nd-most marks of any team this year, and we all know that's a crucial ingredient in Sicily's fantasy recipe. The cheeky Hawk has pumped out 111, 135 and 104 in his last three outings (helps not being suspended) and he reeled in 11, 14 and 9 marks in those games respectively.
BEST STAT: Tom Mitchell ($11,100 MID)
Brisbane have only tagged once this year, and that was when Nick Robertson tried following Jack Steven around in Round 1 and had 133 (34 touches, 10 marks) scored on him. They promptly gave up from that point forward. I bring this up, because we all know Titch is a different beast when tagged versus when he's allowed to oink on his own all day:
Titch tagged (4 games): 27 touches, 93 MB
Titch untagged (4 games): 41 touches, 140 MB
A look into the last time they met reveals that Titch reached 132 against Brisbane last year, where Robertson opted to tag Isaac Smith instead. It'll be very interesting to see their strategy this Sunday.
BEST RETHINK: Dayne Zorko ($8,400 MID)
Yes, Zorko's form is way up with 176 and 115 in the past fortnight, however this numbers need some context. He wasn't tagged for the 176 (for the first time this year) and ultimately needed another 4 goal performance last week to break the Honeychurch tag – who isn't a tagger and was dropped as a result of that effort.
I have huge concerns for him this week as Hawthorn have only recently jumped on the tagging bandwagon, murdering both Merrett (64) and JPK (62) over the last fortnight. Expect the Hawks to send Howe/Langford/Cousins in his direction this weekend and we all remember Zorko's other tagged scores this year: 57, 55 and 43.
West Coast vs Richmond
BEST PICK: Jack Redden ($7,100 MID)
It's finally clicked for Redden, as he's produced his 3-highest disposal tallies as an Eagle in a row over the past three weeks: 34, 32 and 29. A big part of this is that his stoppage numbers have gone through the roof with Shuey out, ranking #4 for clearances over the past fortnight with 21. You'll be hard-pressed to find better value than the guy averaging 119.7 over his last three, playing on his home deck.
BEST STAT:  Dustin Martin ($9,200 MID)
Is the media to be believed, with the Hutchings tag incoming? Or will he be subjected to Yeo's presence, who's much more suited to blanketing Dusty when he goes forward, having done a similar job on Danger earlier this year? Either way, we can agree that Martin is going to cop some attention from the Eagles and that's not encouraging news. After years of boasting "untaggable" status, Dusty struggled hard with the Jacobs tag last week, managing just 48 from 16 touches and 0 sausage rolls.
He also struggles with the plane trip to WA, managing scores of just 90, 101 and 68 in his last three on the road against the Eagles. For context, his last two games against the Eagles in Victoria have been 150 and 156, so the contrast is stark. It's going to be a no from me, Dawg.
BEST VALUE: Mark Hutchings ($5,900 MID)
Crisis creates opportunity, and Hutchings knows that better than most over his career. So it should really comes as no great surprise to see Hutchings pumping out 126 and 95 since Shuey popped the pig rope. He's doing all this whilst playing run-with roles but, like Ed Curnow, gets a more than a few touches of his own to go with a swathe of tackles. Since joining the midfield brigade upon Shuey's exit, Hutchings has laid 19 tackles over two weeks. He's way too cheap to miss here.
BEST RETHINK: Toby Nankervis ($7,500 RU)
No ruck has scored above 87 against West Coast this season, and I'm not sure Nankervis is the one to break the hoodoo given his incredibly low hitout numbers. In fact, Nank continued his record last week of losing the hitout count in every game this season. He's actually in doubt to play this week after not training all week, in which case Ivan Soldo ($4,400 RU) becomes a serious option on a value basis. Keep an eye out for any movement here.
Always remember to gamble responsibly. If you're having problems with your betting, you can get help at Lifeline or talk to someone at Gambling Help Online.