2018 Bye Planner Spreadsheet
Big thanks to Shaun for this handy resource!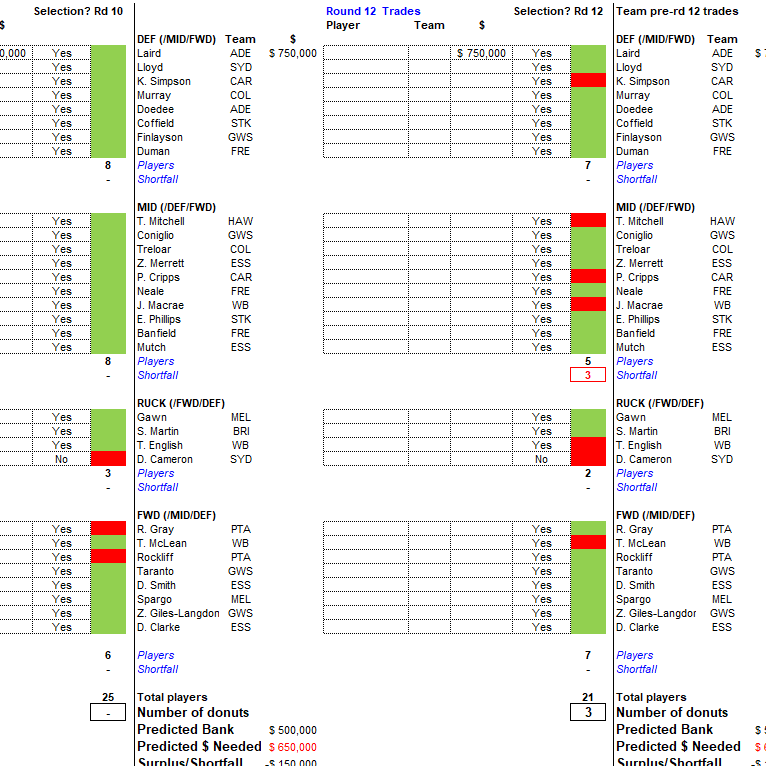 Hey there DT Talk Community. Up&About here with some Bye Planning goodness for you. My mate PhDT also chimed in on this one.
This little nugget of gold should prove valuable and underpin potential success for serious AFL Fantasy coaches and really helped me to my best ever result of 84th overall three years back.
This can also be used for RDT and Supercoach.
Full Credit to Pete and Grant for all the hard word in setting this up at the time.
I have simply tinkered a little more to add some extra value. It now includes areas to enter $$ for forecasted trading during the byes, rather than blindly trading without a plan and stunting your run for the car.
I have also added a tab for 'Rolling 22', comparing to your current side. This way you can see how many trades you need to make and how much $$ you need to get to your best 22 in time for the GF and a run at the car.
Instructions are simple and you can find this within the spreadsheet itself to refer to.
All the formulas are good, so don't worry about having to alter those. I have entered my team prior to R10 trades (columns D & E) and prospective trades to enter R10 (in yellow highlight). Make sure you are regularly checking your numbers and forecasted trades, especially at the selection table and who may be coming back from injury or losing form and potentially dropped.
As we all know, Fantasy is a fickle beast and discriminates wantonly. Now you can see how completely screwed you are and how many trades and $$ you need to get your final 22.
I have some more tabs with more data myself with team tracking and forecasting for each round, data from @Magtuto, @Fantasy Freako (rave), @The Milkmen (season guide and rolling updates), however I haven't added that waffle.
I also use Footywire for AFL Fantasy stats and AFL Live app for game/season heat maps. There is method to my madness.
I encourage you to add more data and centralise it in this spreadsheet so you can keep track of your plan. The rest of the 2018 season will help you find what works for you and what data you think you need, in order to start 2019 with an actual plan of attack to minimise donuts.
Don't forget Magtuto's advise on the Top 250 last week. He was sitting in 5th overall in the lead up to the byes and fell away. You need a plan.
Round 13 looks particularly bad for most with Gawn, Grundy, Stef, Big O all out in the rucks. Do you have three of those and D. Cameron? If so, did you still trade in Big O knowing that? Unlikely.
Any questions or comments? Hit up Warnie, Calvin and Roy and they will either respond or get me on the case.
You're welcome and I hope this helps you in some way.