Inside the Numbers – Round 8
An interesting look at the top 20 from last year and their 2018 differentials.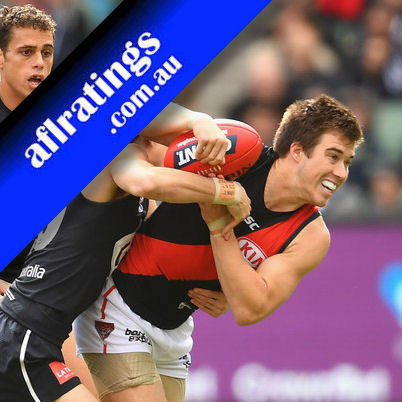 If you are feeling a little short changed this year from your premium selections then it is likely you are not alone, based on the Top 20 players from 2018 (Incl. Finals) here are the point differentials compared to the 2017 H&A season:
This is the Year of the Injury!
Top 20 Average Point Differential 2017-18 Including Finals (In order worst to best)
Zach Merrett -33.6pts
2018 Ave: 82.1pts
Concussion in Round 1 followed by a couple of tags has just about ruined the season for Merrett, hopefully he can put up some decent numbers in the 2nd half of the year.
Taylor Adams -33.5pts
2018 Ave: 81.2pts
A slow start to the year for Adams then he suffered a Hamstring injury missing 3 games, the 124pts in Round 8 might have a few coaches interest.
Dayne Zorko -28.0pts
2018 Ave: 86.3pts
Zorko had virtually been tagged out of the game averaging 66.5pts from his first 6 games, when let go he has averaged 145.5pts from his last 2 games.
Rory Sloane -25.5pts
2018 Ave: 79.8pts
Injury has destroyed the season so far for Sloane, a nagging foot injury could see him further sidelined for several weeks yet.
Dustin Martin -20.1pts
2018 Ave: 91.3pts
Dusty has spent a fair amount of time forward this year, he was subjected to a tag from Ben Jacobs in Round 8 scoring a season low 48pts.
Patrick Dangerfield -19.5pts
2018 Ave: 101.6pts
A Hamstring injury restricted the start to the season for Danger, he has not scored more than 120pts in a game this season.
Matt Crouch -18.4pts
2018 Ave: 90.0pts
Crouch suffered a Hamstring injury in Round 3 and missed 3 games, he has averaged 98.0pts since returning in Round 6.
Matthew Kreuzer -14.6pts
2018 Ave: 90.4pts
Kreuzer suffered a groin injury in the last pre-season game, he has missed 3 games this season as a result but scored a season high 129pts in Round 8.
Mitch Duncan -13.0
2018 Ave: 102.2pts
Duncan was a late withdrawal in Round 2 due to a hamstring injury, he has averaged 100.6pts since his return in Round 4.
Gary Ablett -11.0pts
2018 Ave: 107.8pts
Ablett missed 4 games due to a hamstring injury in Round 3, he has averaged 120.0pts in non-injury games this season.
Tom Mitchell -10.8pts
2018 Ave: 116.4pts
Not the end of the world averaging 116.4pts in a season, but being tagged has kept Mitchell quiet in at least 3 games in 2018.
Bryce Gibbs -7.7pts
2018 Ave: 104.4pts
Gibbs averaged 123.5pts from his first 4 games as a Crow, since the Rory Sloane injury he has averaged 85.3pts.
Josh Kelly -6.9pts
2018 Ave: 107.0pts
Kelly has missed the last 5 games through a groin injury and will miss at least 1-2 more games.
Marc Murphy -4.1pts
2018 Ave: 107.0pts
Murphy has been hampered by a Foot injury, he has not played since Round 3.
Scott Pendlebury -2.5pts
2018 Ave: 106.4pts
Pendles had averaged 112.2pts before injuring his Ankle in Round 7, he had scored 100pts or more in 6 straight games before the injury.
Steele Sidebottom -0.4pts
2018 Ave: 105.4pts
Sidey has been solid again this season, he is averaging 30.9 Disposals per game.
Adam Treloar +4.0pts
2018 Ave: 105.4pts
Treloar has averaged 12.4pts from his last 5 games
Brodie Grundy +11.6pts
2018 Ave: 117.8pts
Grundy is the best performed Top 20 player compared to the 2017 season, Cox is playing a more traditional forward role & it has allowed him to dominate in the Ruck this season.
Brad Crouch & Sam Docherty have not played in 2018.
Round 8 Highest Team Disposals
438 Western Bulldogs
432 Sydney
426 Melbourne
Bulldogs have averaged 415.3 Disposals from the last 3 games (Rank 1)
Round 8 Lowest Team Disposals
329 Carlton
329 Gold Coast
335 Brisbane
Carlton have averaged 329.2 Disposals from their last 6 games (AFL Rank 18)
Season High Ave Team Disposals
406.1 Collingwood
394.4 Adelaide
392.3 Port Adelaide
Collingwood have recorded 400 Disposals or more in 6 of 8 games this season (75.0%), last season the Magpies recorded 400 Disposals or more in 54.5% of games
Season Low Ave Team Disposals
342.3 Carlton
354.1 Gold Coast
356.1 Nth Melbourne
Nth Melbourne are yet to record 400 Disposals in a game in 2018, the Kangaroos only recorded 1 400 Disposal game last season (R23 vs Brisbane: 400 Disposals)
Round 8 High Team Fantasy Points
1807 Port Adelaide
1765 Melbourne
1749 Collingwood
Port Adelaide has averaged 1673.5pts from their last 4 games (AFL Rank 2)
Round 8 Low Team Fantasy Points
1377 Gold Coast
1468 GWS Giants
1485 Nth Melbourne
GWS have averaged 1409.0pts in their last 2 games (AFL Rank 18)
Season High Team Fantasy Points
1666.8 Collingwood
1654.4 Adelaide
1644.4 Port Adelaide
Collingwood has averaged 1666.5 in losing games this season
Season Low Team Fantasy Points
1491.8 Carlton
1504.6 Nth Melbourne
1514.3 Gold Coast
Gold Coast have averaged 1452.2pts in losing games this season
God luck for Round 9