The Friday Scramble: Round 8
Get set for round eight.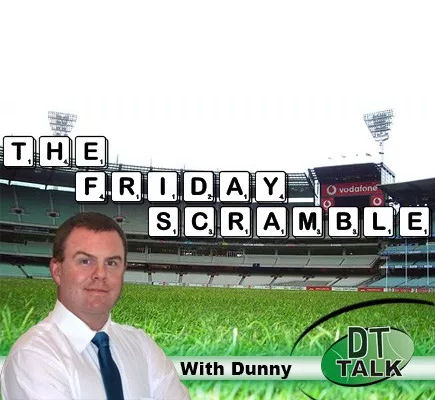 Round 7 saw some amazing individual scores from some of our players, some of them rebounded to produce a great score and then some of them decided to serve up some of the same old sh*t. And that is exactly why we love these games and why they are like playing lotto. There is a chance that they can score well, but there is a higher chance that they just give you rubbish. So let's see what this means for us as Fantasy Coaches. Let's Scramble!
Zorko the Magnificent or One Week Wonder?
We have all been waiting for Zorko to bounce back and have a good game, well he did that this week in a monster way beating his previous three weeks combined. For a change he wasn't tagged, but the worry now is that other teams will see this and think, hey we should probably tag that bloke because he is pretty good. If you own him and held him for this long then you shouldn't worry about the tag for now. No matter what happens he will rise in value this week (well as long as he doesn't get injured in the first few minutes of the game). Would I bring him in?  No not at this stage. I would like to see a bit more from him just the one game (although it was bloody good).

Click here to subscribe on iTunes.
What the hell Zach??
Just when we all thought it was safe to go back to picking Zach Merrett he goes and does this to us. I'm not sure what we did wrong but he is now starting to head up some people's never again list.  What do we do with him I hear you ask?  Well I am an owner in RealDreamteam and I will be holding him. My strategy basically means that I will be upgrading my rookies on field before I look to move him on. Whilst he is going to lose money I didn't get him in as a money maker. I can be a bit stubborn and hence I would be unlikely to trade him out as we know what he can do.  If I was going to trade him out it would have been long before now when he has lost cash.
Nic Nat Down.
Now, for every one that picked him from the start I want you to be really honest with us. Did you think he would play all 22 games?  No, he was always going to get a rest. Granted, he is suspended, but I suspect that he was likely to get a rest sometime soon too. He still isn't playing a full workload on the ground and hence this week off could be a blessing in disguise. By having this round off he is probably less likely to get a two week break around his bye time. Now the other thing is though, he hasn't scored more than 85 since round 1 and is averaging 76. So you could be forgiven if you want to trade him out. He isn't performing as well as the key ruckmen Gawn and Grundy. So if you have the cash it wouldn't be the worst idea.
Trading Plans this week
Should you double down? It has been the question on everyone's lips this week. We have a couple of guys that can be brought in and they look like they can make some cash. We have choices to make! What you need to do is look at what works best for your team and what we have coming up in the next few weeks. We have a couple of new rookies playing this week which means you can afford to do an up and down trade if you want to.
The decision will be heavily influenced by what you have in terms of Cash and who you can afford if you just do the one trade.  If you do one downgrade and only have about $450k then you are limited as to who you can bring in. You don't want to be bringing in someone that isn't going to score like a good premium otherwise you are just wasting your trade. If that is the case then I would be looking at doing a double downgrade this week. Build yourself a Warnechest ready to do some upgrading next week.
If you can do a single trade and have yourself about $700k in the bank then look at doing a downgrade and upgrade this week. As we mentioned on the SupercoachCoach podcast this week if you are going to do a down and an up then you should be downgrading someone on your bench and then upgrading a rookie on your field. This is the best value for your team and will maximise your points on field.
Gold Coast and Power players should be off your radar however given they only have this week and next week and then they have their bye. Once you get to round 11 then that is the time to bring these blokes in.
Selection Table
A few random thoughts on what happened at Selection last night…..
Worpel Out. He isn't in a huge amount of teams. He has been omitted which isn't a great sign after just 2 games.
Isaac Cumming makes his long awaited debut this week for the Giants. He is well worth a look.
Jeremy Cameron returns for the Giants which is great but still no sign of Toby Greene. Shipley was omitted which wasn't a massive surprise.
Luke Shuey is out but we expected that he would be for a few weeks with that injury.
Matt Guelfi !!! What the Hell!  Come on Bombers, the joke is over, put him back in the side already! I still say hold for now.
ROCKY IS BACK!!!  He has had good form in the SANFL so hopefully he can transfer this back into the AFL side. Joining him is Wingard and Sam Powell-Pepper. All of this is more relevant for Draft Leagues not classic at the moment.
Fogarty from Adelaide goes out again for the returning Walker and Poholke comes back in.
Blake Acres is back which is good for those that have taken the punt on his scoring continuing.
Bont is back! This is a relief but on the other side of the coin English is out, but no real surprises there.
Great to see Ahern coming in. He will be heavily traded in over the next two weeks as many people had him in their starting squads.
Things to Remember
Don't put all your faith in the rookies. They will get dropped from time to time. Make sure that you have a plan if this happens. It will stifle your trading plans from time to time.
Byes aren't far away. Keep them in mind with each trade you make.
Have a plan for your trades. If you plan ahead then you should be able to get through the bye period well.
Last week was a high scoring round for a heap of players. Don't panic if we don't get scores like that this week. Things will be up and down. That is the game. But hey, we can all dream and hope like hell that it happens again this week.  Have a great round and we will catch you all again next week.  Cheers