Moneyball's $5K Saturday Special – Rd. 7
Cal has the important Moneyball tips for today, but if you're a Carlton supporter, you better look away.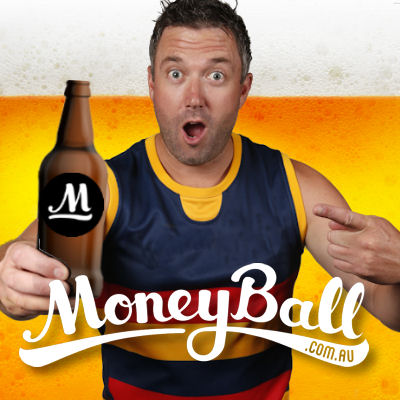 It's Saturday and that means there is some Moneyball cash to be won. It's the big $5,000 with the winner taking $650 in their pocket.
Bulldogs v Gold Coast 1:45pm AEDT
Essendon v Hawthorn
West Coast v Port Adelaide
Sydney v North Melbourne
Adelaide v Carlton 7:40pm AEDT
FREE CONTEST TO WIN AFL GRAND FINAL TICKETS
We have a new front runner… congrats PADDYMAC! Can you catch the 922 you will need for grand final tickets. It's free to try.
Exclusive to ONLY DT Talk users, be sure to enter this free contest tomorrow. If you have the highest score for the day, not only will you have $20 added to your account but if your score is the highest for the year… then the tickets are yours. Click here for the unique CODE to play.
Now for my best and sneaky best options for today…
Tom T. Lynch (FWD, $8,100)
Often over-looked because of his red hair… Lynch will have a field day here and actually has some scores behind him to warrant his selection.
Coming off 121 and 90 in his most recent games, he will be the main target this week with Tex Walker on the sidelines.
The more I think about this one, the more excited I get… he will be HUGE.
Koby Mutch (MID, $3,700)
Mutch was awesome in his first game for the Bombers and looked like a man who had played 50 games before at the senior level. He racked up possessions and ended his day against Melbourne with 71pts.
His popularity today will be high, so in some of your teams it might pay to have a couple without him, just to play the field in case he doesn't produce.
But with that said, he's in my top 6 for the day here due to his price, the way he played last week and more importantly… the way he scored. Lock and load… along with Ben Ronke (FWD, $3,500).
Splitting Ronke and Charlie Spargo in AFL Fantasy has been near impossible, but today the decision is easy as only one of them are playing.
Ronke was awesome on debut last week for his 78 and should feature highly in many teams this week just like the Koby.
Tim English (RUC, $5,400)
With not many 'stand-out' options in the rucks, at this price, it's worth giving old mate English one more go. Up against Gold Coast's Witts, he should be back to his 70+ scores here that we have become used too.
His 38 last week was terrible, and I won't blame you for turning away from the giant cue-tip. BUT… I will remind you that he did score 107, 90 and 86 before that.
If you want a bargain basement option then maybe Brayden Crossley (RUC, $3,500) is an option. He has averaged 100 in the NEAFL this year but is very much a 50/50 of what he can produce here alongside Witts.
Lachie Hunter (MID, $8,900)
This game has the potential to get ugly and when I say ugly I actually mean AWESOME.
The Suns give up the MOST points in the game at the moment and 6×100+ scores a game.
Lachie Hunter can smell blood from a mile away and if the game opens up (which it will) and he has a free pass to germ possessions and uncontested marks, then there is no one better in the game at that than this man right here.
From his five games this year he has scored 104, 48, 148, 119 and 108. Only one blemish there, but I can see this one being around what he did against the Bombers when he approached that 150 mark. Get on!
Paul Seedsman (MID, $8,200)
Although he will clog up an important midfield position, Seeds is a must-have here for many reasons.
He plays the Blues who suck and the Crows will win by 60+
He has scored 116, 99, 119 in his last three games and continues to dominate
He will be unique, as he isn't a defender here which will turn many away
This game should be massive for the Crows with 8+ of them scoring triple figures and the way he has been travelling… you can put him down to be one of them with confidence.
Rory Laird (DEF, $9,600)
This game will be nasty and guys like Rory, will walk away with some huge numbers… so YES, I am heavy on the Crows today, but I'm sure you can tell why and it's not because I'm a Crow's man.
Coming off 114 last week, Laird has been sensational this year producing Docherty like numbers at an average of 117.
Carlton are not much chop at the moment and are giving up the second most points at the moment to opposition midfielders. Although Laird isn't technically midfielder, the case could be argued that he actually plays like one and for a guy who could/will have 40 touches… well I rest my case.
Last week, Jack Macrae (145) and the Bont (122) scored with ease against the struggling Blues and with Ed Curnow potentially going to Bryce Gibbs, this has the ingredients to be something big and something special for the running defender this week.