The Friday Scramble: Round 6
Carnage at the Selection table. Injuries all over the place. Rookies underperforming. And we are a quarter of the way through the season. This just means we have more Scrambling to do!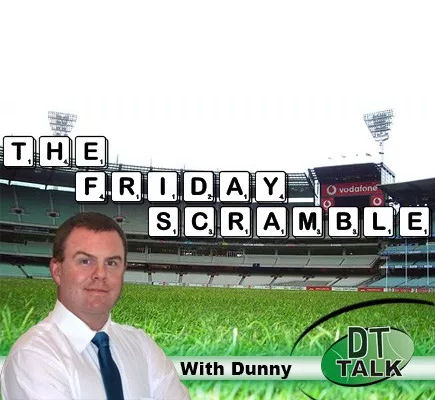 Can you believe we are already a quarter of the way through the season? It has flown past and my team still doesn't look any better which is a bit of a concern…. Anyway, we still have some injuries to deal with and some rookies that need to be traded in. And the bye rounds aren't far away from us now!  Let's have a look at all this as we Scramble!
Forward Line Fun
Robbie Gray
Robbie has been one of the main questions I have been getting over the past few weeks. He has been fantastic this season so far and many of you are looking at bringing him in. I agree that he is someone that I want in my team.  But before you push the trade in button, just hold on. Three weeks ago I would have said yes, but right now I will be holding off until round 11 to pick him up. Remember that he has the bye in round 10 and whilst this means I hold off it also means that I am keen to get him in at round 11 because we know that he will be playing through all of the bye rounds.
Jack Billings
Jack, Jack, Jack. How you have pissed me off this season! Started like a bloody steam train in round 1 but absolutely stuff all since then. Many jumped off him after a couple of rounds and it now appears as though that was the correct thing to do. Having said that, I am suggesting that people should hold him now. He has lost so much value that you can't really side swap him to a premium easily and it would probably take you a double trade to do so.
Now, we know he isn't scoring like a premium, but I would pretty much bet that you have some rookies on the ground that have nearly maxed out and are a bit up and down with their scoring. I would be looking to upgrade these guys first and then once you have done that I would be looking to upgrade Billings. I have heard a heap of stats that tell me that he was terrible at the start of last year too. So I had a look and I found that over the first 6 games he averaged 76.6 and then for the remaining 16 he averaged 101.3 and you don't want to be the one that trades him out the week before he goes bang and gets on a run like last year. FOMO.
Buddy Franklin
Where the hell do I start! The main problem that I have with him is that he is listed as 1-2 weeks. A bruised heel is the problem that I have. There is a chance he could be listed at 1-2 weeks for another 2-3 weeks. But, if you have now held him for the two weeks so far I think you are probably stuck holding him at the moment. The AFL website says that he should push for selection next week so based on that as well he is a hold for me.
Rookie Trade Outs
Over the last couple of weeks I have explained how I go about trading out my rookies and when I do it. So I won't rehash all that here, but one thing I just wanted to say about it was, once you make the decision to trade out a rookie don't stress if they get a great score the following week. Many people traded out Holman the other week but then he went big and this week he was poor again. They are going to be up and down, once you have made your decision about them reaching their peak then just go for it.
Should you trade out a rookie before they have fully maxed out yet if there is a rookie coming through? I say you should certainly consider it. This is where you need to use your crystal ball a bit and look forward and see who is coming up (and for that of course you all check out what The Milkmen have to say). If there isn't much looking like it is coming then yes I think that you should be looking at going maybe a week before your existing rookie is maxed out. As the season goes on then there will be less and less rookies coming through and the longer the season goes the more likely you have to take what is on offer.
The other consideration you have to have is where they will be in your team. If you need to play these guys on ground then you have to be even more careful as to who you bring in. If they are just going to sit on your bench then you don't need to worry about it quite so much.
Selection Table
My first reaction to the teams last night was WTF! This is always a concern with rookies, they will get dropped here and there but some need you to keep the faith. As always here are my thoughts on the highlights.
Deledio – Wow, just as he hits some form. If you traded him in then perhaps you may need to trade him out again given his age and injury history.
Barlow – Again Wow! Can't believe he has been dropped again. Based on this I just can't see him being viable for you in any form of the game, Salary Cap or Draft.
Tom J Lynch – The Gold Coast One is out injured and is likely to miss 4 weeks. Trad him out.
Guelfi is out. How much of a pain in the A*** is that! He is heavily owned in 20% of AF teams and 30% of RDT teams. Hold. I think he will be back sooner rather than later.
Mirra is also out. He also has plenty of cash to make. Sic Dawg replaces him. He will do something stupid soon enough so Mirra will be back in. I would hold him for a week or two as well.
Wingard is out injured. A Hammy with TBC as the timeframe. For me that means trouble. He hasn't really been performing lately so trading him out wouldn't be the worst thing.
Ryder returns to the Power lineup. This will have effects elsewhere. I suspect that Westhoff's scores will fall and Dixon should be kicking more goals as he will be able to be based closer to goal.
Pittard returns but at the expense of Clurey, not Bonner which is a good sign.
Darcy Fogarty returns as Walker is out. I suspect that as soon as Walker returns, Fogarty will be out.
Kreuzer returns as well, I wouldn't rush to bring him back in. I would be worried about how soon he returns to form after his last little stint off.
LDU – is out again after one week in. Consider him a significant risk for now.
Hunter Clark is a risk and on the extended bench with David Armitage. Both of these guys are a concern in relation to their scoring.
Brisbane have listed three big men! Stef, Oscar and the winner of "The Recruit" season 2, Matt Eagles.
Wow that is a lot. It was a shocking week at selection this week and unfortunately it was always going to happen.
Things To Remember
No matter how much planning you do, things will always go to sh*t whether it be at selection or injuries. Have plans, but expect them to be spoiled.
In Supercoach, set your preferred Captain on Friday and don't leave it until it is too late. Trust me. It cost me 80 points last week!!
Rookies get a week off here and there. Don't panic with them. If they have negative break evens, err on the side of holding.
The Bye rounds aren't far away. Have them in the back of your mind now when making your trades.
I don't know about you but I've had a couple of ordinary weeks and am looking for things to turn around. Hopefully you all haven't had the bad luck I have and are flying this season. Best of luck this week and I'll catch you all next Friday.