Moneyballin' – Round 7
We've got all the Moneyball tips and analysis you need for every game on the Round 7 AFL fixture, as well as your essential quick fix of fantasy info with the Match Committee Podcast from the lads. Check it out!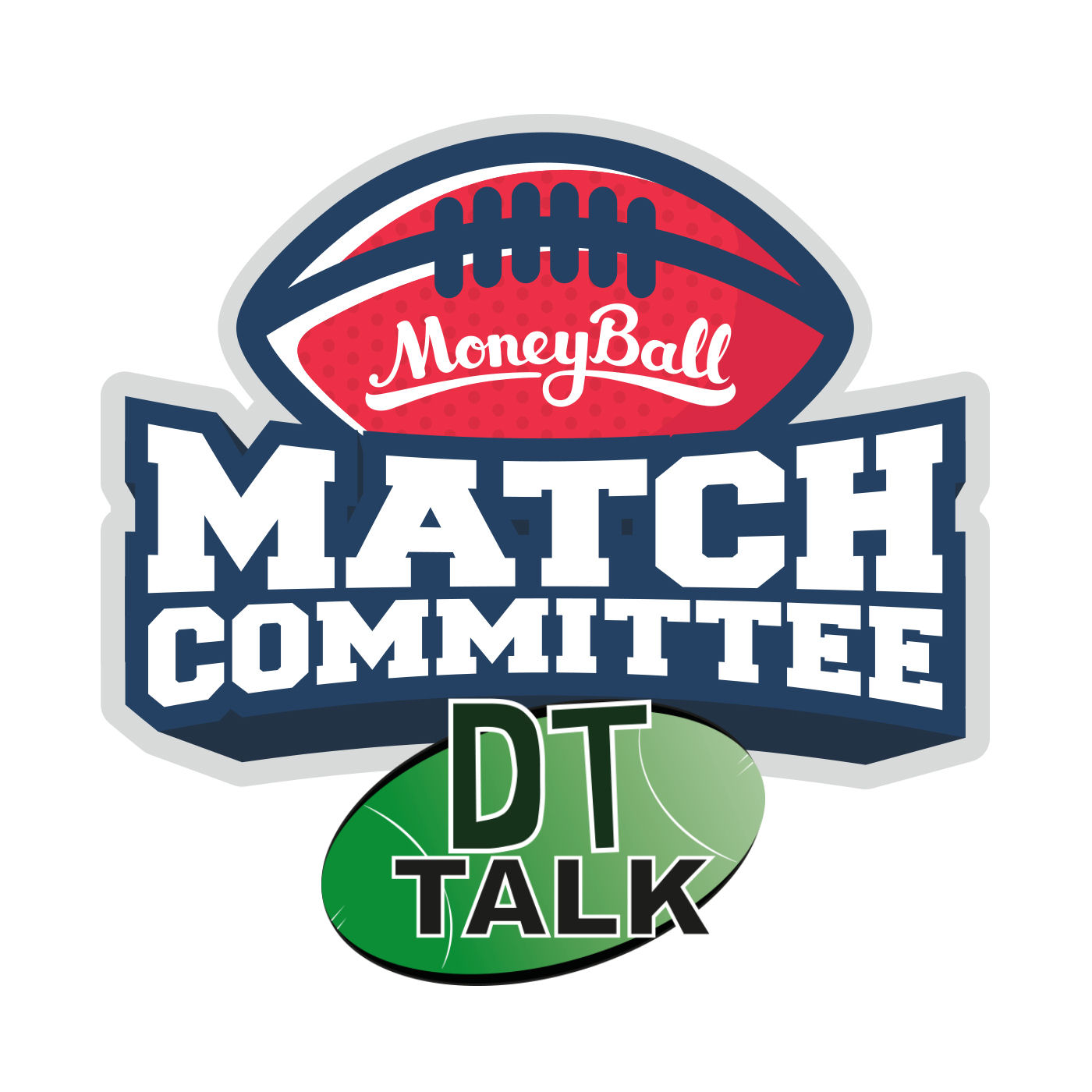 Tbetta here, and welcome to the self-proclaimed top resource for keen Aussie rules Moneyball punters! DFS (Daily Fantasy Sports) is taking off around the world and Moneyball have the perfect platform for you to turn your AFL Fantasy prowess into cold hard cash. Signing up is easy – head to moneyball.com.au and you could be ballin' within minutes.
If you're unsure how DFS works, be sure to head to the 'Help' section for all the info you need to start cashing in on your AFL Fantasy knowledge.
Click here to subscribe on iTunes.
Geelong vs GWS
BEST PICK: Callan Ward ($9,200 MID)
The Co-Captain copped a nasty knock early last week but stayed in the game, finishing with 68 which has obviously diminished his book-cover average. But, like with all stats, that scores needs to be taken in context and I consider his previous scores of 108, 115 and 114 to be a much better indicator of his current form. Ward loves playing the Cats, producing 117, 119 and 123 in his last three against them to provide a unique option for us in Moneyball this Friday night.
BEST STAT: GWS posted a grand total of 4 hitouts last week!
GWS are now ranked the 3rd-easiest to score ruck points against over the last 5 rounds, and it's not going to get any easier with Rory Lobb still out for another 1-2 weeks. Given the soft opponent in Patton, you simply have to pick Zac Smith ($8,000 RU). His average spikes to a healthy 97 MB over his last 9 games when rucking solo, compared to just 73 in a duo – so with Stanley omitted to make way for Smith, I'm expecting triple-digits minimum from the former Sun here.
BEST VALUE: Tim Taranto ($7,100 MID)
Taranto is still way too cheap for his 105-point velocity over the last few weeks and I'll keep spruiking him here until his price starts to reflect his strong form. With Kelly, Deledio and Greene all out, his centre-bounce attendances (CBAs) will be through the roof and if you've been looking closely, midfield time is the biggest KPI for Taranto this year. In fact, his only score under 90 was a result of being pushed out of the guts when the one-dimensional Hopper returned and GWS was significantly healthier as a squad. Taranto is averaging a hefty 8.3 tackles per game over the past few weeks (ranked #4 in the league over that stretch), which just puts the exclamation point on his DFS résumé this Friday.
BEST RETHINK: Patty Dangerfield ($10,400 MID)
Danger boasts a great record against GWS with 142 and 114 against them last year, but once again, context is required here to make a smart decision. Both those scores were built as a full-time midfielder where he needed 24 and 25 contested possessions in those games respectively to hit those lofty heights. It was confirmed during the week that Danger has been playing hurt and spending a lot more time forward as a result – this supports the numbers.
The Brownlow Medallist won 36% of his possessions in the forward half in his first two games for the year, but that alarmingly jumped up to 60% over the past three rounds. Based on the clear role change, I don't think you can justify spending a 5-figure salary on a guy who's averaging 18 points less in that forward-centric role while he's playing sore.
Western Bulldogs vs Gold Coast
BEST PICK: Jarryd Lyons ($9,500 MID)
With Hall and Barlow both puzzlingly left out of a side struggling for ball-winners (Gold Coast have the worst possession differential of any side this year), someone still has to win the footy for Gold Coast and that's Lyons. He's playing a lone hand for the Suns this year, to the point where he's actually been one of only 3 players to have produced at least 3 scores of 130+ this year, along with some half-decent blokes in Titch and Gawn. Lyons pumped out 131 last week from 25 touches and 13 tackles against a really tough team in Adelaide, so expect him to add to that on Saturday.
BEST STAT: Suns ranked #1 for points conceded to MIDs over last 5 rounds.
Additionally, the Gold Coast concede the most disposals (at 397 per game) to their opponents, so you really want to target ball-magnet midfielders from Bulldogs. Jack Macrae ($10,100 MID) is one of only two players to collect 30+ touches in at least 5 games this year, which demonstrates his ability to find the pill. Lachie Hunter ($8,900 MID) has pumped out 110 and 115 in his last two against the Suns, but more importantly, he has a very high ceiling thanks to his ability to gather +6's against weak opponents at will. Both will easily surpass the ton this week.
The interesting prospect is Marcus Bontempelli ($8,700 MID). Do we trust his role moving forward, given that his first game as a full-time midfielder this year netted him 122 from 30 disposals last week? Or will he be expected to provide a target up forward for the Bulldogs to kick to with confidence? I'm taking Boyd's presence in the team as a positive here – Bont's worth the risk based on previous highs.
BEST RETHINK: Tim English ($5,400 RU)
English was amazingly the only player in the entire match last week not to register a mark – after averaging 8 over his previous few outings – so it's somewhat of a surprise to see him escape a resting here. The Gold Coast (powered by Witts) is the 4th-hardest team to score ruck points against this year, and English's price is starting to ramp up fast. It's no longer a risk-free gamble, so make sure you're completely convinced before slotting him in, unlike in previous weeks where he's been an autopick.
Essendon vs Hawthorn
BEST PICK: Zach Merrett ($9,600 MID)
Hawthorn haven't tagged once all year, and we all know that a bit of opposition attention has been Merrett's Kryptonite to start season 2018. With 109 and 121 in the last two weeks without a tag (and 121 the week before that where he broke it), we should feel comfortable that Zach is back to his busy ways. $9,600 is a steal for Merrett Classic.
BEST STAT: Tom Mitchell ($11,200 MID)
How many ways can I say "Tom Mitchell is a good player"? He's the only player in the league to have posted 4 scores of 130-plus this year, and historically smashes the Bombers with 130, 128 in last two against the red stripes. But most importantly, Essendon has only tagged once this year, and that was a Sidey soft tag on ANZAC Day.
Like with Merrett, the tag is a big deal for the free-wheeling pig. Mitchell's average in his last 6 games when tagged is an alarming 99.5, compared to the his last six untagged games at 143.5. In fact, in the last 9 games where he hasn't been tagged, Titch's lowest score is 130! You're paying up for some serious oinkage this week.
BEST VALUE: Kobe Mutch ($3,700 MID)
Had a strong start to his career with 20 touches and 6 marks on debut. Mutch is as good as you can hope for at near-basement price, and I expect his tackling rate to rise up towards his VFL standard of 5 per game in the near future.
BEST RETHINK: Luke Breust ($7,300 FWD)
Talk about under the radar – Breust is currently sitting second in the Coleman! Amazingly, Breust has kicked at least 3 goals in 5 games this year, and he's now starting to translate that scoreboard influence into fantasy points with 118, 104 and 95 in his last three. Is he a legitimate option now, given that Bombers concede the 3rd-most goals so far this year?
West Coast vs Port Adelaide
BEST PICK: Brad Ebert ($8,700 MID)
Brad loves a revenge game apparently, popping off with 113, 126, 104 against his former team in West Coast last year. After 126 and 137 in the last two weeks (thanks largely to posting 14 and 11 tackles respectively in those games), the planets are aligning for a sneaky Ebert dabble this weekend.
BEST STAT: Port were the 2nd hardest team to score Ruck points against last year.
With Ryder back, Port go from being the best team to target in the RUC slot, to one of the very hardest to score ruck points against – based on last year's fully-blossomed data. That's a massive thing to keep that in mind for those who were looking at Lycett ($7,100 RU) and Naitanui ($7,100 RU) after the Port Ruck Rule had been in effect since early this year.
The other dimension to this is, how will Ryder being back affect the scoring of Justin Westhoff ($8,500 MID)? While The Hoff has posted impressive totals of 118 and 113 in last two weeks, he also notched 30 hitouts over that fortnight. Does less ruck time mean he misses out on not only the hitouts, but the follow-up clearances and tackles? Or does it allow him to go full-on attacking mode and improve his output even further? Hmmm.
BEST VALUE: Charlie Dixon ($6,700 FWD)
Dixon absolutely dominated against the Eagles last year:
Round 7: 124 from 3.1
Round 16: 89 from 5.1
Elimination Final: 128 from 3.6
With Ryder back, Dixon becomes a full-time key forward again and hopefully, that means he can get back to kicking bags – I've just learned that Dixon hasn't kicked multiple goals in a game once this year.
BEST RETHINK: Josh J Kennedy ($7,200 FWD)
It's tough to admit as he's unashamedly my man crush, but Kennedy's showing serious effects of no pre-season with just 35 and 41 in the last two weeks. That's particularly concerning given that JJK is a notorious downhill skier, and those were both wins for the Eagles. It's a big pass until he builds match fitness and his price drops enough to make the risk worth the reward.
Sydney vs North Melbourne
BEST PICK: Ben Brown ($6,900 FWD)
Big Ben is kicking absolute bags lately, jagging hauls of 6, 4, 5, 4 and 4 goals on the trot to sit atop the Coleman race. Sydney are ranked as the 6th easiest for ker forwards to score fantasy goodness against this year so far, so Brown has a red-hot chance at improving on the 85-point average he's cultivated over the last 5 rounds of action.
BEST STAT: Callum Sinclair ($7,600 RU)
Despite strong NEAFL form, Darcy Cameron remains on the emergency list which means that we get to see more Solo Sinclair, as opposed to old mate Cockblocked Callum. The days of averaging just 72 MB from 17 hitouts a game are in the rearview mirror, as he's boosted that up to 98 from 35 hitouts running around as the sole tap specialist for Sydney.
BEST VALUE: Ryan Clarke ($5,800 DEF)
The youngster is finally starting to deliver on his pre-season promise with 104 and 83 in last two, but a lot of his scoring potential seems to be affected by his role in the team. North have used Clarke at both ends, but he's found more success as a defender (83 and 104) than in a forward rotation (23, 67, 63 and 83).
BEST RETHINK: Josh P Kennedy ($8,400 MID)
Despite avoiding the ire of North for years, JPK looks to be the prime candidate for a nasty Ben Jacobs tag. There's the recent susceptibility after being bested by Douglas two weeks ago for just 66, and his record of 130, 129, 102, and 122 in his last four against the Roos means his influence will be fresh in their minds. Ultimately, Parker being pushed forward while Hannebery languishes in the medical bay spells serious trouble for Kennedy suitors this week.
Adelaide vs Carlton
BEST PICK: Paul Seedsman ($8,200 MID)
Seedsman's exploits off a back flank has been incredible this past month, pumping out 107, 119, 99 and 116 while he and Rory Laird ($9,600 DEF) continue to be given the latitude to score with ease. The Seed is ranked #1 for Metres Gained this year at 642 per game (next best is Wilson at 540) which goes to show how hard Adelaide try and get the ball into his hands for maximum effect.
BEST STAT: Carlton concede 2nd-most points to opposition MIDs this year.
It's no surprise given the players they have out, and it could be even worse with Kreuzer a chance to be a late withdrawal. Bryce Gibbs ($10,600 MID) has to be considered with just 1 score under 100 all year, but I'm all over Matt Crouch ($10,000 MID). He collected 30 touches for 91 on his return from injury, but that was in only 74% TOG – which was the lowest for the Crows outside of the injured Walker and Mackay. That figure will be cranked up this week and Crouch will be back to his busy best against a barebones Blues outfit.
BEST VALUE: Zac Fisher ($5,400 FWD)
As we claimed last week, Fisher is a full-time MID now with Murphy out, and hasn't it paid dividends! While Carlton as a whole has been in dire straits, Fisher is growing as a player, collecting 27 and 28 disposals in last two games for scores of 97 and 109. For comparison, Zac spent the first month in a tricky forward rotation and only averaged 70 MB per game. Carlton have really unearthed a future star here.
Richmond vs Fremantle
BEST PICK: Aaron Sandilands ($7,200 RU)
Richmond are once again the 2nd-easiest team to score ruck points against this year, which is an expected by-product of Nankervis having lost the hitout count in every game this year. Sandilands is the most hitout-reliant ruckman in the competition this year – 50.4% of his score comes from hitouts on average – so expect him to weigh into DFS calculations on Sunday.
BEST STAT: Connor Blakely ($8,600 MID)
Along with a ruck weakness, Richmond concedes the 2nd-most points to small and medium defenders this year… Are we sure they're top of the ladder? Anyway, Blakely has been awesome lately, producing 107 and 116 in his last two as he finally kicks into gear in "The Role" for Freo – he's totalled 20 marks over that fortnight. Similar switch-and-deliver types like Simpson (129), Laird (141) and even Howe (131) have all come against Tigers this year, so I'm expecting Blakely to hit value here.
BEST RETHINK: Dustin Martin ($9,500 MID)
Who does Banfield tag? Freo opted to shadow Cotchin (53) in their latest meeting but with the skipper sore and a Brownlow Medal draped around Dusty's neck, you have to be wary. Ultimately, Martin is only averaging 88 MB over the past month anyway, playing significant minutes up near the big sticks.
St Kilda vs Melbourne
BEST PICK: Max Gawn ($9,600 RU)
After dismantling some poor victims in the last few weeks, Gawn has reclaimed his mantle at the peak of the ruck mountain with scores of 127, 143 and 135. How can you not pick him in this form? Especially when he's only has Hickey to dispatch with, the same guy who let McEvoy gallop his way to 107 in just 68% TOG last week. Gawn will be huge again and honestly, anything under $11k is irresistible value for someone with Gawn's ceiling and physical advantage.
BEST STAT: Jack Steele ($7,900 MID)
Melbourne concedes the most tackles of any team this year, and Steele is easily St Kilda's best tackler. He hasn't really registered on the fantasy seismograph this season but he did produce a season-high 99 last week from a similarly season-best 11 tackles. Worth considering at that price – provided he survives the Sunday Cull.
BEST VALUE: Charlie Spargo ($3,500 MID)
Produced 2 goals and 18 touches on debut for a healthy 75, and I'll take that every day of the week at basement price. He needs to survive the Sunday Cull but with injuries to Viney, Salem and the strong possibility of a Petracca late withdrawal, I'm confident of a start and possibly a few sneaky midfield minutes.
BEST RETHINK: Michael Hibberd ($7,100 DEF)
The veteran has seemingly lost rebound duties this year to Salem (who's easily the better kick of the pair), but with his heir out due to a thumb injury, does Hibberd shift to a more attacking role this week? Hibberd produced his first score over 70 for the entire season last week so, without any confidence at all, I'm throwing him into the player pool for GPP's in the hope that he can build on last week's 107 (from 24 touches and 8 marks, all season-highs).
Brisbane vs Collingwood
BEST PICK: Adam Treloar ($10,000 MID)
Given that Treloar leads the league for average disposals since Round 3 at a hefty 37.3 per game, it's no surprise he's put together a tidy little patch for the  fantasy scrapbook with 135, 122 and 147 in his last three. Combine with his history of 115, 120, 131 and 109 in his most recent outings against Brisbane and we have what we like to call a "no-brainer".
BEST STAT: Scott Pendlebury ($10,000 MID)
Old Dependlebury now holds the title of "highest basement" in the competition for 2018, outlasting his competitors to stand as the only player to have scored 104+ in every single game this year. While he lacks the scoring punch to make much of a difference in GPP's, he's the perfect anchor for your double-up and H2H line-ups.
Always remember to gamble responsibly. If you're having problems with your betting, you can get help at Lifeline or talk to someone at Gambling Help Online.