Roy's Trade Talk: Rd 7
Roy's trade tips have dropped! Use the comments section to discuss your trade ideas (and the best 22) with the community.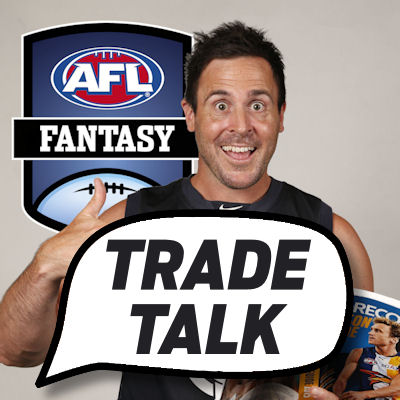 We got a swift reminder that the cash cows are kids and kids are inconsistent this week, so don't get too attached to these blokes. On the flipside, Moron mountain graduates Zach Merrett, Adam Treloar and Lachie Neale and all remain prime upgrade targets this week following successful retreats.
Cash Cows: Price, BE, Score
Koby Mutch (MID, $196,000) -3 BE, 72. Despite a consistent run of form in the VFL, job security was the main concern for Mutch, but his 20 touches and 6 marks did his Job security no harm. Not only did he not look out of place at the top level, but he played really well. Assuming he holds his spot, he is a great downgrade target.
Ben Ronke (FWD, $200,000) -7 78. Despite debuting at the Cattery, Ronke was outstanding and like Mutch, made it very hard to take him out of the lineup despite the big name Swans that are missing. He has 15 touches and two goals and a super impressive seven tackles his 78. Having said that, it can be hard to trust Longmire, but he was great.
Order restored
Adam Treloar (MID, $769,000) 81, 147. After an indifferent start to the season where Treloar wasn't quite himself, he has bounced back in career best form. If you are after a unique, he is owned by just 8% of the competition despite his three game average of 135 on the back of his 42 possession effort.
Zach Merrett (MID, $650,000) 69 121 rose in price by $25K this week, but he is still down $175K on his starting price and if you don't have him, he needs to be a priority. The quiet games following his concussion are a thing of the past and he is now back to his best and clearly a top eight midfielder.
Lachie Neale (MID, $694,000) 90 138 hasn't been converting the triple figure scores that we have come to expect over the first few games however after watching him first hand on the weekend, it if fair to say he is back. Every facet of his game was 'on' as he scored 138 which gives him a three game average of 109. He is only in 13% of teams as well which is quite unique and he is somewhat of a bargain given his form and price which is $12K less than his original price.
Unique
Jared Polec (MID, $688,000) 68, 156 Pumped out a nasty 156 which gives him a three game average of 112. If you love a POD, he is owned by just .75% of the competition and is certainly getting it done. Personally I wouldn't be going there, especially with the Port Bye fast approaching, but he certainly deserved a mention.
High Risk, High Reward 
Brett Deledio (FWD, $591,000) 42, 116 is enjoying his first injury free run in a long time and his scores are reflecting that with a three game average of 113. He has pushed his season average up to 90 and is embracing the opportunities that have opened in the absence of Toby Greene and Josh Kelly. The risks are obvious with age and injury re-occurrence against him, as well as management of his body but I you just play the BE game with him at the moment, it's a good one. He is owned by just 3% of the competition and provides an interesting option for an upgrade for coaches that don't have a Warne Chest.
Best 22
At our Live shows in Adelaide and Perth, I was asked to whip up a best 22 we would want in the GF. This is what I have at this stage, some big names missing but it's a tough gig!
Defenders:
Rory Laird
Elliot Yeo
Michael Hurley
Paul Seedsman
Kade Simpson
Lachie Whitfield
Midfielders:
Tom Mitchell
Stephen Coniglio
Patrick Dangerfield
Bryce Gibbs
Scott Pendlebury
Jack Macrae
Adam Treloar
Zach Merrett
Ruck:
Max Gawn
Brodie Grundy
Forward:
Robbie Gray
Sam Menegola
Lance Franklin
Isaac Heeney
Toby Mclean
Justin Westhoff
 I have got a lot of questions from angry Danger owners, I hear the pain but for what it's worth, I am holding him with the assumption he plays this week despite whatever niggle he is carrying and will ride it out.
My trades at this stage:
Holman to Mutch
English to Deledio
 Cheers,
@RoyDT