Inside the Numbers – Round 6
Pete goes inside the numbers from round six.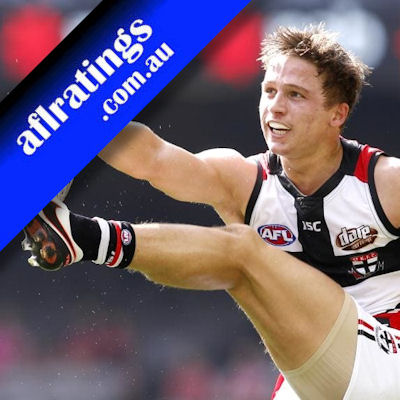 St Kilda has been a frustrating team to deal with from a fantasy perspective in 2018 & particularly one player named Jack Billings, the Saints are struggling with a 1-1-4 record and are averaging 64.7pts per game (Rank 17) & 56.2pts from their last 5 games (Rank 18).
Languishing mostly around the half forward flank the output for Billings has been hampered by the poor form by the Saints, coming off a year in which he scored 100pts or more in 50.0% of his games Billings has exceed 100pts in only 1 game this season.
Last year Billings averaged 101.2pts from winning games, he scored 123pts in the Saints only win this year & 87pts in a draw against GWS in Round 5. Billings averaged 88.0pts from losing games last season, he has averaged 68.5pts from losing games in 2018.
Based what many predicted for the Saints this season Billings was a decent pick prior to Round 1, but after losing 8 games last year by 30pts or more we may have been blinded somewhat by opinion.
The amount of people trading out Billings this week will significantly increase coming off another sub-par score, before you trade him out here are the last scores from his next 3 opponents:
Round 7: 135 Melbourne
Round 8: 102 Fremantle
Round 9: 119 Collingwood
If the Saints can turn their season around quickly then Billings will likely benefit, he does have a decent ceiling that can't be underestimated. One final note, Billings averaged 90.7pts between Rounds 1-11 last season and averaged 97.8pts between Rounds 12-23.
Round 6 Highest Disposals
457 Adelaide
432 Collingwood
424 GWS Giants
Collingwood 5 straight games of 400+ Disposals
Round 6 Lowest Disposals
319 Geelong
339 Carlton
345 Nth Melbourne
Carlton has averaged 328.5 Disposals in their last 4 games (Rank 18)
Season Highest Ave Team Disposals
409.7 Collingwood
405.5 Adelaide
400.3 GWS Giants
Season Lowest Ave Team Disposals
346.2 Carlton
354.3 Gold Coast
354.5 Nth Melbourne
Round 6 Highest Team Scores
1868 Adelaide
1751 Collingwood
1708 Hawthorn
Adelaide average 1736.0pts at the Adelaide Oval in 2018
Round 6 Lowest Team Scores
1367 Nth Melbourne
1401 Geelong
1438 Richmond
Geelong points differential -66.8pts compared to 2017 H&A season
Season Highest Ave Team Points
1681.0 Adelaide
1662.2 GWS Giants
1657.5 Collingwood
Season Lowest Ave Team Points
1463.5 Carlton
1474.2 Richmond
1492.8 Brisbane
Jack Macrae (R6: 145) has averaged 124.5pts from his last 8 games
Patrick Cripps has averaged 33.0 Disposals in the last 2 weeks, he has a career average of 119.8pts when recording 30 or more Disposals
Patrick Dangerfield (R6: 70) has never scored fewer than 100pts in 2 consecutive games at Geelong
Jake Lloyd (R6: 120) has averaged 28.5 Disposals in the last 2 weeks
Todd Goldstein (R6: 95) has not scored 100pts or more in 4 consecutive games, he has scored 100pts or more in 2 of his last 17 games
Jared Polec (R6: 156) recorded a career high score in Round 6
Brett Deledio (R6: 116) has averaged 113.3pts from his last 3 games
Dayne Zorko (R6: 43) has averaged 58.3pts from his last 4 games
Harry Morrison (R6: 106) scored a career high in Round 6, he is averaging 18.4 Disposals from his first 5 career games
Jack Steven (R6: 100) has scored 100pts or more in 4 of 6 games this season
Paul Seedsman (R6: 116) has averaged 106.6pts from his last 5 games
Jarryd Lyons (R5: 131) has scored 120pts or more in 3 of 6 games this season
Zach Merrett (R6: 121) has averaged 117.0pts from his last 3 games
Max Gawn (R6: 135) has averaged 129.8pts from his last 4 games
Adam Treloar (R6: 147) has averaged 134.7pts from his last 3 games
Toby Nankervis (R6: 131) scored 100pts or more for the first time since R23, 2017 (8 games)
Ed Langdon (R6: 120) has averaged 104.0pts from his last 3 games
Andrew Gaff (R6: 120) has averaged 114.3pts from in his last 3 games against Fremantle
Good Luck for Round 7