Cash Cow Culling – Ep. 194
PODCAST: Tim English let the boys down on the weekend.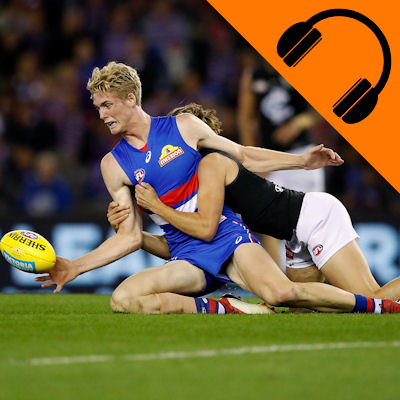 Although there were a few premiums that let AFL Fantasy Classic coaches down on the weekend – Roy is filthy with Patrick Dangerfield, Calvin isn't happy with Kade Simpson and Warnie is ready to rage trade Luke Parker – it is the bargain basement players who dictated a lot of the scores over the weekend.
Many coaches moved heaven and earth to get Tim English (RUC/FWD, $427,000) onto their field last week by 'throwing' away a bench ruck spot. His dual position status meant he could slot into the Fantasy 22 up forward. Why were coaches keen on doing this? His three previous scores of 86, 90 and 107 were far better than what was being dished up by other rookies.
English scored just 38 last Friday night to start the weekend on a sour note.
The Bulldogs' second year ruckman has increased $240K and his breakeven (the score needed to maintain his price) is now 43. As a result, some coaches are looking to use his value to upgrade him to a premium in the forward line.
He's not the only cash cow whose time is up.
Nick Holman (MID, $355,000) saw his first price drop this week after posting 30 against the Crows. His season earnings sit at $185,000 and with a breakeven of 68, this may start dwindling considering his average over his last five games is 56.
The Sun is currently the most traded out player ahead of round seven.
Playing Nicholas Coffield (DEF/MID, $354,000) for his 21 points in Tassie caused a few headaches when he was unique in a head-to-head match ups. As the Saints' breakeven is now 52, getting close to his average of 60.5, his price growth might be limited.
Roy, Calvin and Warnie discuss which players you should consider the traditional upgrade/downgrade moves with this week on the Official AFL Fantasy Podcast. When is the right time to buy? When is the right time to sell? Listen in for expert advice from The Traders.
Also in this week's podcast:
News from around the grounds, including Magoos News
Trade tips for round seven
Your questions answered
Click here to subscribe on iTunes. (Please leave a rating and review to help us move up the charts).