Moneyball's $5K Saturday Special – Rd. 6
There $5K up for grabs today and Calvin has all the tips you'll need.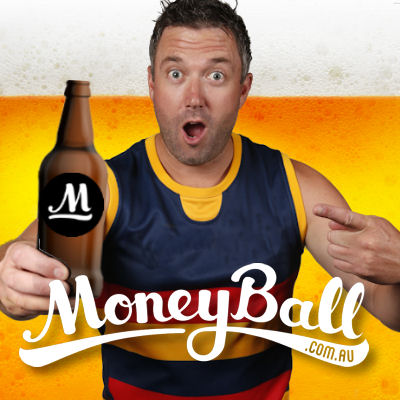 It's Saturday and that means there is some Moneyball cash to be won. It's the big $5,000 with the winner taking $650 in their kitty to spend on a ripper Saturday night
Geelong v Sydney 1:45pm AEDT
Kangaroos v Port Adelaide
GWS v Brisbane
Hawthorn v St Kilda
Adelaide v Gold Coast 7:40pm AEDT
FREE CONTEST TO WIN AFL GRAND FINAL TICKETS
Exclusive to ONLY DT Talk users, be sure to enter this free contest tomorrow. If you have the highest score for the day, not only will you have $20 added to your account but if your score is the highest for the year… then the tickets are yours. JOIN HERE
Now for my best and sneaky best options for today…
Stef Martin (RUC, $9,300)
Although Oscar McInerney (RUC, $3,500) is cheap and also playing along side Stef, our intel suggests that Stef will ruck solo today and should rack up.
GWS' Dawson Simpson has been dropped and in this one he will be going up against Jonathon Patton… who is also a top option (read on).
The last four times Stef has played the Giants, he has always been up against Mumford and every time though he has scored 100+.
This just shapes up well for the big man today and although the Lions will be flogged… Stef is locked in for 100+ with ease.
Nick Shipley (MID, $3,500)
This kid comes with big wraps… and he debuts only to play the Lions.
Shipley is named on a wing and scored 126 in his first and only game in the NEAFL this year. He tackles and can find the pill and at his bargain basement price, you can't really go wrong.
Click here to subscribe on iTunes.
Alex Witherden (DEF, $6,300)
He's a Moneyball favourite of mine and the kid really hasn't put a foot wrong all year.
He scored 72 in his first game and since then he has been steadily building his numbers, with scores of 77, 80, 97 and then a massive 123 last week.
Tom Doedee ($4,800) is another cheap defender coming off a ton and should also be in you line-up as he only plays the Suns this week at home.
Zac Langdon (FWD, $3,500)
He's back and more importantly… he's still cheap!
Up against the Lions today, Langdon should build on his tally where he scored 55 and 60 in his opening games before missing the last 3 weeks with a busted up hand.
The amazing thing with this fellow is, he hasn't yet scored a point in the first quarter.
If he is able to string four quarters together today, he mathematically should be around the 70-80 mark. Wishful thinking, but at this price we can't really go wrong.
Jonathan Patton (FWD, $7,000)
As I've previously mention, Patton today will be the Giants' ruck.
Although he'll be out of position and up against one of the best in the game, Stef Martin. But this isn't a bad thing.
The thing is… Patton has had this role on three occasions this year and when he rucks, he dominates.
He has scored 119, 97 and 123 during this time and should be locked into your team with confidence.
Patrick Dangerfield (MID, $10,800)
Find the money… pay the money.
Dangerfield can have him moments. What I mean by this is… he can dramatize the smallest issues like he did when he played at home a few weeks ago for his score of 97. A corked calf of all things ended his day early in the last term and wrecked his score.
He's against the depleted Swans today, a team he has dominated in the past.
He scored 140 and 139 against them in his last two games and the thing I like about this one is… he's back at home.
At home last year, Danger was a beast averaging 132 there in 2018 from 6 games.
The small issue… if we think there is one, is that Gibbs was tagged last week by Hewett to just 65. Will he try this again? I highly doubt it … Danger can't be tagged.
Danger did sit forward last week a great deal though, but with Tom Hawkins back into the team, this will change. He scored 109 last week (28 touches) when he did sit forward but scored all his points with stints in the midfield.
Dangerfield can be huge today is he turns up and plays the way he should and 140+ isn't out of the question!