The Friday Scramble: Round 6
Thank god we have a regular 3 day round again, that 6 day round we had last week was a nightmare! On top of that we have some big things to deal with like Buddy being injured and a big Ruckman who is cheap and scoring well. Sounds like some scrambling needs to be done to me.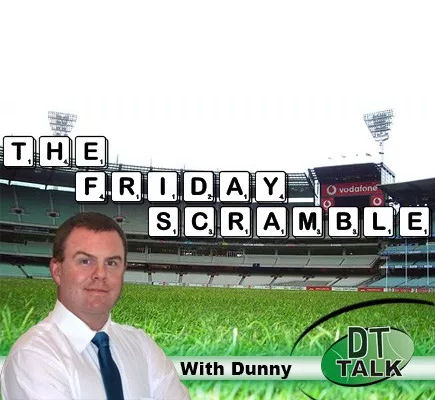 I for one am bloody glad that horrific round is over. It took forever to finish and when you had some early failures that meant it was doubly annoying. But hey, that is Fantasy Footy isn't it? If everything went to plan and it was easy it simply wouldn't be as much fun. What isn't fun is the very tight turnaround this week. Not much time for us to mull over our trade options or pour over the stats from the previous round. But I am sure that you have all done that yesterday and will continue today. But whilst we don't have much time we also have a whole batch of new DPP's in AFL Fantasy this week to consider. Have they helped you? All I know is that with so little time there is nothing to do but Scramble!
New DPP Players
On Wednesday night we had a heap of new DPP players added to the game. If you haven't seen them all then check out the Round 6 Podcast from the boys and the associated page on DTTalk which has the full table.  I just want to highlight a few of these guys and give my thoughts on them.
Lachie Murphy gains Forward status, he hasn't been playing lately but this certainly provides us with some flexibility in our trading around him.
Will Hoskin-Elliot regains the Forward status he had last year. Not sure that he is a good pick up in Classic though.
Brendon Goddard is now available as a Defender making him very relevant.
Lachie Fogarty gets himself some Forward eligibility. Always good when a rookie can be in multiple positions.
Rory Lobb finally gets that Ruck eligibility that we all knew he should have had from the start.
Jack Ziebell is an interesting one getting himself forward status. He has been scoring pretty consistently and could be one to watch.
Tom Rockliff gains forward status which could make him very relevant again if he can bounce back into form (He did have over 100 points in the SANFL on Anzac Day).
Robbie Gray added himself to the midfield ranks. But he is certainly more valuable as a forward.
There is obviously more on the list but these are the ones that I think are probably the most relevant for us. You will all have different points of view of course.
The ones that don't really help us as much is where a forward or a defender gains mid status. We aren't likely to play them there but it can come in handy for trading purposes.
Rookie Rollercoaster
I think we have mentioned a few times this year how great the early rounds have been for rookie scoring, but then in round 4 we saw a few drop their output. We shouldn't worry about this. It will happen and there is nothing we can do about it. We also see rookies getting a rest too which will also keep happening (its been happening for years). Like I said a few weeks ago, as much as you can try and play the break even game with rookies.
One of the questions I got today was who should we be looking to downgrade this week as we have a few good rookies on the bubble (in the limited trades forms of the game) and a few new players in AF making their debut.
Firstly if you have any rookies that have injuries, especially the two West Coast boys that have long term injuries then they should go first. Next look at the guys that have been dropped because a regular best 22 has returned from either injury or suspension. Then look at break evens. The guys that I would be looking to trade out would be Hunter Clark because not only has he been omitted he also has a BE that is getting higher (36 in AF and 26 in RDT) but if you are purely playing the BE game he would stay for me. Fritsch has been named this week and based on that (if he makes the final cut tonight) I would be keeping him his BE in AF is 35 and in RDT is 17. He should beat both of those scores fairly comfortably and hence make you some more cash. Brayshaw (Andrew) had a good score last week but he isn't far away at all from having to be traded out so if he went a week early I wouldn't worry about it.
To be honest in the limited trade forms it is a bad week for all these guys to be on the bubble as we would like them to hold off another week at least. The guys we have currently are doing ok (most of them) and have more cash to make.
Another question I got was which Defender rookies to downgrade this week. My initial thought was none as they are all going ok and scoring well enough to keep. But if push came to shove and I had to do one of them then I would say Naughton would be the man to go for me. BE's of 33 and 19 in AF and RDT respectively tell me he has more money to make but he has the least to make out of those guys.
I hope you are getting my drift here, I know I wrote about this the other week but I got a heap of questions about this today particularly given the number of rookie options we have coming through this week.
Buddy.
Apparently Buddy has been carrying an injury or soreness since round 1. He has been hiding it reasonably well when you look at his scores. Up until round 5's debacle of a 55 he hadn't been below 91 and had the other three scores over 100.  The AFL site has him listed with a bruised heel (and they hurt, been there done that) and lists him as TBC which is always a massive concern! The text to the article does say that both he and Hannebery could miss multiple matches but we have been fooled by stuff like that before.  If you have him and aren't sure what to do I would recommend holding him at least for this week. His value won't change since he is not playing and you can get some more info on his return timeframe in the meantime. If anything changes and we get better information later today then we can act on that.
Rucks and the Queen's English
The other popular question I got today was what to do with English, how do we get him on the ground. I know I know, you all want to be like your hero Calvin! To me it appears a bit risky and could be a trap, but on the other hand it does make sense. If I was to bring him onto the ground I would be trying to do this in the forward line and use him as some insurance for my ruckmen. So if you were trading out one of your forward rookies you swap him down to the forward line and then bring in a bargain basement DPP RUCKMAN. Yes I did shout that, it is of the utmost importance otherwise you have locked English into your forward line with no way to get him back to the rucks if you need to. Who to bring in? Well that is up to you but I would be getting the absolute cheapest bloke possible that has DPP.
Should you put English in at R2? Well you can but to me that seems ultra risky. If you do that and he starts to struggle then you will need some cash to upgrade him to one of the premium rucks. I am skeptical as to whether his scoring can remain at this level for the whole season and I hate using trades in the rucks. It is a valid strategy, but for me it is risky.
Things To Remember
Tom Mitchell isn't Calvin's number one captain this week. Make sure you read Calvin's Captains this week.
Check the ins and outs there has been a lot of changes, particularly to  Essendon, Richmond, Melbourne and Collingwood.
Check the final Sunday squads for that very reason that many players are big chances to be rested.
As most of you may know, I was really happy to see the end of round 5 that took forever. I had a shocker but that's all in the past now it is time to look forward and hopefully this week is much better.
I hope all of you in Perth enjoyed last night' show with the boys, if it was half as good as last week here it would have been an awesome night.
Catch you all next week.
Cheers @pkd73