Moneyballin' – Round 6
You want tips? We got tips! There's the usual stats and analysis for all 9 games inside, but make sure you don't miss this week's Match Committee Podcast – featuring three very dusty dudes chatting all things Moneyball from their hotel room!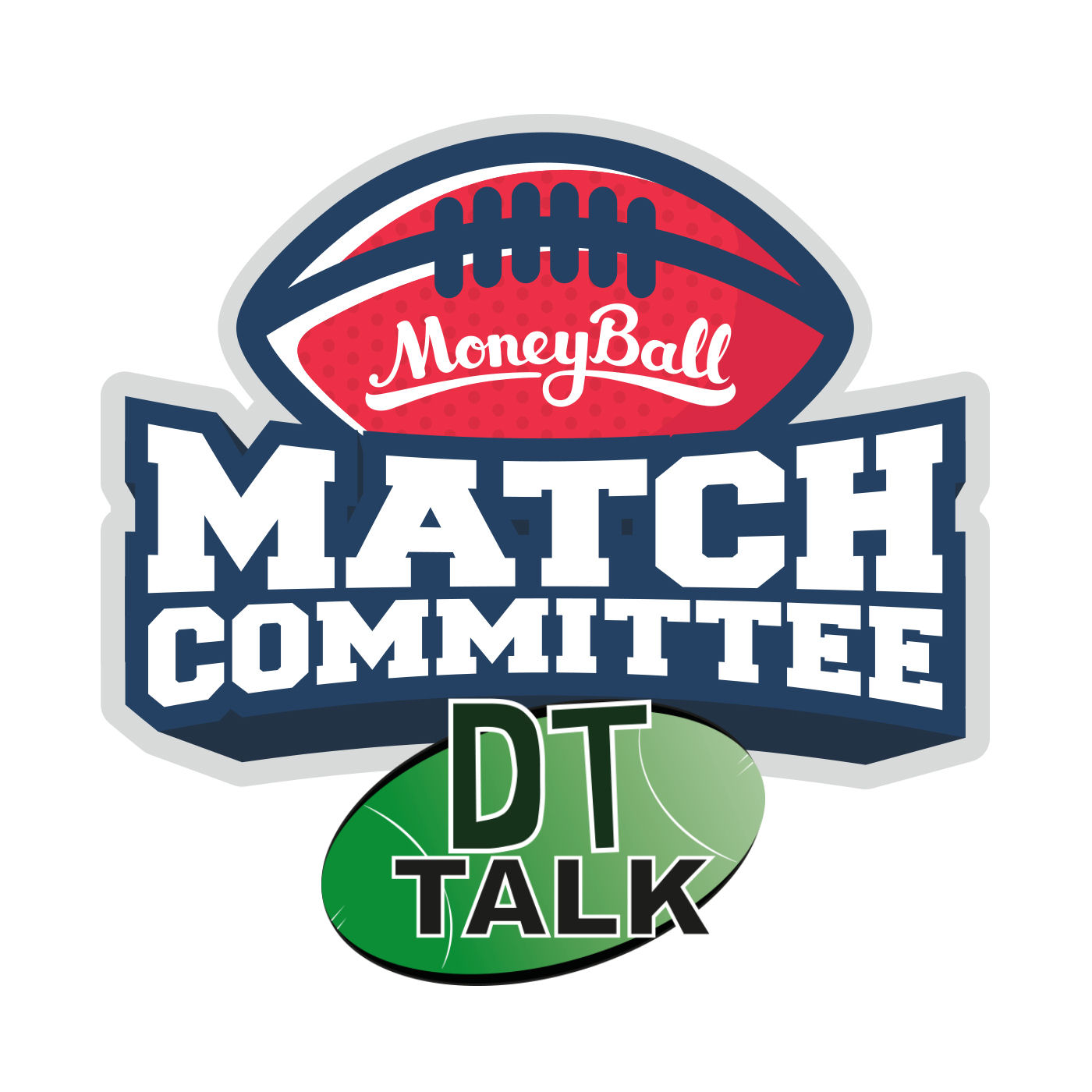 Tbetta here, and welcome to the self-proclaimed top resource for keen Aussie rules Moneyball punters! DFS (Daily Fantasy Sports) is taking off around the world and Moneyball have the perfect platform for you to turn your AFL Fantasy prowess into cold hard cash. Signing up is easy – head to moneyball.com.au and you could be ballin' within minutes.
If you're unsure how DFS works, be sure to head to the 'Help' section for all the info you need to start cashing in on your AFL Fantasy knowledge.
Click here to subscribe on iTunes.
Western Bulldogs vs Carlton
BEST PICK: Jack Macrae ($9,900 MID)
Macrae has never failed to score a ton against the Blues with scores of 113, 109, 101 and 123 in his short career to date, and with Carlton in this sort of form, are you brave enough to suggest he won't add another gem to that list? The smooth-moving Pup was shadowed last week by the best tagger in the competition (Banfield) and still ticked over to 99. I'll be expecting something around the 119 points he's been cruising at over his past 4 games.
BEST STAT: Patrick Cripps ($9,100 MID)
The poor bloke is playing a lone hand in Carlton's engine room and unfortunately opposition teams like to sink the boot in at times, tagging him to scores of  98, 89 and 76 this year. On the flip side of that though, is the monster 130 and 138-point scores he's posted when allowed to run free. The good news is that the Bulldogs haven't tagged once this year, so I'm all over Cripps on Friday night.
BEST VALUE: Tim English ($5,100 RU)
English is something of an enigma, pumping out recent scores of 86, 90 and 107 whilst averaging just 19 hitouts from those games. It just highlights his ground-level work, that a ruckman can score so healthily without relying on the bread and butter stat of their position. With only Phillips to deal with this week, do we dare to expect 25 hitouts minimum from the kid? If he can score 107 with crumbs in the air, his ceiling with a few easy taps is scary-high for a 7-game player.
BEST VALUE: Zac Fisher ($5,000 FWD)
Fisher stepped into a midfield role last week with Murphy out and immediately returned dividends, scoring 97 from his 27 touches. He's flown under the radar in fantasy this year but with only 1 score under 72 all season, Fisher is smashing the 15X value threshold we expect from our cheaper picks in DFS. This kid is seriously good.
BEST RETHINK: Ed Curnow ($9,400 MID)
Bulldogs give up the least tackles of all teams at just 51 per game, which is a worry given that Curnow's value is tied so closely to his tackling rate. In the two games this year where he's hit double-digit tackles, Curnow's pumped out monsters of 160 and 132 MB points. But in the three without those high tackle numbers, he's managed just 88, 103 and 115. Still solid, but maybe don't expect another world-beating score from Ed this week.
Geelong vs Sydney
BEST STAT: Sam Menegola ($9,200 MID)
We've been talking about it for the last 14 months, and it's getting really hard to ignore the "Big Dog" effect at this point. Once again, Menegola soaked up the extra midfield time and added a 103 to go with his Ablett-less scores of 120 and 118. This comes after scoring 69 and 50 in the first two rounds as he struggled to earn on-field time, let alone midfield time. It's smooth sailing again this week for Sam, at least until Ablett returns.
BEST VALUE: Brandon Parfitt ($6,100 FWD)
Forwards are thin this week with Buddy out, so settling for the value option could be the right play here. Parfitt's produced just 1 score under 79 all year, coming off 138 and 89 in his last two. The eye test says he's playing significantly more midfield time than last year, where he understandably served his AFL apprenticeship as a small forward. He's graduated.
BEST RETHINK: Luke Parker ($9,000 MID)
Parker's 17 disposals last week was his equal-lowest in a Home & Away game since Round 12, 2016, and is symptomatic of Sydney's struggling midfield. Hopefully this is just an echo of last season where all the Swans battled early, so I'm certainly not ruling Parker out as an option all year, it's just that the cookie isn't crumbling for him this week. Not only does he boast just the single ton in last 4 against Geelong (including 57 in last year's finals), but he's slated to spend more time up forward in Buddy's absence this week. Pass.
North Melbourne vs Port Adelaide
BEST PICK: Todd Goldstein ($7,800 RU)
The Power are ranked #1 for fantasy points conceded to ruckmen, and it's clear that the trend will continue until Ryder is ready to return. Goldy hasn't set the world on fire lately, producing scores of just 60, 65 and 79 in his last three – but those were against Gawn, Kreuzer and McEvoy. Goldy's always stomped the easybeats, and unsurprisingly his only ton this year came again Longer (117) where he stomped the poor kid in the hitouts 38-16. He'll bounce back big time here.
BEST STAT: Ben Jacobs Tag
Jacobs simply hasn't been beaten all year, and he's played on some seriously nifty players – Lyons (84), Ross (91), Oliver (88), Cripps (76) and our favourite Pig in Titch (83). What do all these guys have in common? They're all inside bulls, highly contested types of players. As Port's most damaging inside midfielder, the smart money is on Robbie Gray ($8,000 FWD) to cop some serious heat this weekend.
BEST VALUE: Tom Jonas ($6,400 DEF)
Jonas has slowly become the linchpin in Port's switches and it's paying off big time in DFS, averaging 90 MB from 10.5 marks over the past month. He posted a massive 15 marks last week against Geelong which was strictly against trend – who's to say he can't do the same here against a North side that doesn't usually let key defenders flourish?
BEST RETHINK: Chad Wingard ($7,500 MID)
In 2017, Wingard averaged a whopping 31 MB less Away (77) than at Home (108). That trend has crept its way into this season, with Wingard scoring just 53 and 54 in Away games so far. We're in Victoria for this game, which means Wingard simply can't be considered.
GWS vs Brisbane
BEST PICK: Stephen Coniglio ($9,600 MID)
Why wouldn't you want to snap up the highest scoring player so far this year (122 average) for a four-figure price-tag? Coniglio is now the only player to score 110+ in every game this year, and is one of only 2 players to score 100+ in every game this year along with the uber-consistent Pendlebury. Lock and load until he gives us a reason not to.
BEST STAT: BRISBANE BACKLINE RULE
Over the last two years, Brisbane are ranked clear #1 for points conceded to forwards. Jeremy Cameron ($8,000 FWD) has been a big beneficiary of their leaky backline, puffing his chest out with most-recent scores of 115 and 132. It's a shame Toby Greene is injured for this game, because his record is equally awesome against the Lions.
BEST VALUE: Jonathon Patton ($7,000 FWD)
In the selection shock of the week, Patton will be running out as the #1 Ruck this week, as Dawson Simpson's lack of mobility has seen him dropped! The General's record as a mobile ruckman is strong; in the 3 games where Patton has collected notches at least 7 hitouts, he's produced totals of 119, 97 and 123 in Moneyball. Imagine what he'll rack up with 20+ hitouts to go with his around-the-ground work?
BEST RETHINK: Brett Deledio ($7,700 FWD)
Is he back from the fantasy dead? As it always is with Deledio, it comes down to his body and how much footy it allows him to play. In fact, his first 10 games in GWS colours were all limited TOG-wise, averaging 65 MB whilst never once reaching even a modest 80% exposure.
In his last two games however, he's played 83% TOG for an 88-point total, then produced a monster 138 MB in 86% TOG last week against the Saints. Deledio has been milking his new-found midfield time over the last fortnight and he needs to be seriously considered in all forms of the game while he's healthy.
Hawthorn vs St Kilda
BEST PICK: Jack Steven ($8,800 MID)
Given that the Hawks concede the most tons of any team this year, you have to look closely at St Kilda's best midfielder with the naughty ceiling. Steven has a strong record against Hawks, boasting multiple 133-point scores against them over their past 3 meetings. His modest price is just a bonus.
BEST STAT: Jack Gunston ($7,600 FWD)
Gunston played as a defender in Round 3 with Sicily out suspended, so it'll be interesting to see if Hawthorn goes with that tact again. Conor Glass' omission definitely adds fuel to the backline fire in this case, and we all remember how busy Gunston was as a defender back in 2017, don't we? I'm talking 98.7 points per game, compared to just 78.5 as a forward. Could be worth a gamble here.
BEST VALUE: Nicholas Coffield ($4,000 MID)
With scores of 73, 69 and 79 to kick off his career, I'm giving Coffield the "safe as houses" badge. The rookie notched a team-high 11 marks last week to boost his structural credentials, and I'm further buoyed by the fact that the Hawks concede the 5th-most points to defenders so far this year.
BEST RETHINK: Tom Mitchell ($11,500 MID)
Over the last two years, Titch's tagged numbers (3 marks, 99.5 avg) are a massive drop-off from his free-range figures (5.6 marks, 133.7 avg), as it seems like the rest of the competition have finally realised he's really bloody good and needs to be stopped. Unfortunately, it's working, with Mitchell managing just dual 83's over the past fortnight. St Kilda isn't a "tag every week" kind of team and take every game on it's merits – and on it's merits, you have to expect one of Weller/Dunstan/Ross to do the job on him.
Adelaide vs Gold Coast
BEST PICK: Bryce Gibbs ($11,000 MID)
Gold Coast are ranked #2 for points conceded to opposition MIDs, especially those Captain-level type numbers. That's something Gibbs knows only too well, having busted out a mammoth 194 against the Suns last year!
While I love Gibbs here in a vacuum, Sloane's absence hurts him. He copped his first tag of the year last week, resulting in his first score under 113 for the year with a painful 65. Will Touk Miller go to him this week, after murdering Zorko's output ever further last week?
BEST STAT: Jarryd Lyons ($9,700 MID)
Last week was first time a midfielder hasn't gotten off the chain against the Crows, having conceded scores of 145 (Heppell), 127 (Dusty), 132 (Ross) and 137 (Sidey) over the first 4 rounds. They're all contested footy guys, and Lyons fits the bill perfectly at the Gold Coast. Lyons scored 100 in his only other game against his former club and I'm tipping that he'll pile on healthy numbers in the Mark and Tackle categories to bring home a Captain-level score this weekend.
BEST VALUE: Lachie Weller ($6,600 DEF)
Weller's finally starting to live up to his #2 Draft Pick status (that landed him at the Suns through a trade with Fremantle) with back-to-back 23-disposal games. Can Weller add to his recent scores of 90 and 87 in a tough match-up against the Crows at home?
BEST RETHINK: Michael Barlow ($9,100 MID)
The big worry is that he plays more as a forward, like he's done under Rocket at various times in the past. On top of that, Barlow's scores after not playing the previous week last season were just 84, 88 and 60, so I'm officially calling this one way too risky in anything bar the most extreme of Gold Coast stacks.
Essendon vs Melbourne
BEST PICK: Max Gawn ($9,100 RU)
The big bearded bully is averaging the most of all players over the past 3 weeks at 128 per game, thanks in no small part to having recorded the most ever hitouts over the first 5 rounds of a season (53.4 avg). Gawn is irresistable here, showing a huge ceiling already this year with scores of 138, 127, 143 and only has to deal with Leuenberger without a run-up. Last year's dip due to injury has made him extremely affordable in 2018.
BEST STAT: Zach Merrett ($9,400 MID)
After struggling in the first few weeks with opposition attention, Merrett has now scored 109 and 121 in spite of tags from Ebert, Rockliff and Brown. Melbourne are without a full-time tagger but can still enlist the services of Vince (playing in defence currently) or Jones (better off offensively-minded), or they might choose to go head-to-head against Essendon's midfield. If that's the case – and I suspect it might – Merrett has a strong record against the Demons with 108 and 136 in last two.
BEST VALUE: Matt Guelfi ($3,500 FWD)
What I liked most about Guelfi last week is how much time he spent up the ground, rather than suffering from the goal-reliance that most small forwards have to deal with in fantasy. He ticked all the boxes and finished with 72 last week – and you take that every day of the week at basement price.
BEST RETHINK: Matthew Leuenberger ($7,000 RU)
Melbourne are the hardest team to score ruck points against this year, which isn't surprising given the might of Maxy. The figures won't look any better this week, as Leuenberger has managed just 55 and 57 in his last last two efforts against Gawn.
Collingwood vs Richmond
BEST PICK: Brodie Grundy ($10,200 RU)
Richmond have proven to be the 3rd-easiest team to score ruck points against so far, which is no surprise given that Nankervis has lost the hitout count in every game this year. Jacobs (120), Stefan (101) and Gawn (143) are what the Premiums have managed against the reigning premiers so far, and given that Grundy has a lowest score of 110 over the last month, I reckon we'll have another belter to add to the list.
BEST STAT: Dustin Martin ($9,600 MID)
Collingwood easily ranked #1 for points conceded to oppositions MID's which highlights their preference to go mano-a-mano in the engine room. As a result, Dusty has historically benefitted from that, notching tons in 5 of his last 6 encounters with the Pies. The bookies have given Dusty a 107.5-point line and I'd put the house on overs here.
BEST RETHINK: Reece Conca ($6,600 DEF)
Is Reece good again? He drifted back into the fantasy wilderness a couple of years ago as he was forced to reinvent himself as a backman, yet he's pumped out 100 and 93 in his last two, playing the midfield role he was drafted for. I'm watching how this unfolds closely.
Fremantle vs West Coast
BEST STAT: Bailey Banfield Tag
Bailey is a bad bad man – just ask his victims thus far: Merrett (78), Hall (14), Whitfield (66) all drowned, whilst Macrae kept his head just above water with 99 last week. I'm mostly interested in what these guys have in common – they're all outside, ball-using types. Andrew Gaff ($9,700 MID) is in big trouble, and I don't even think it's up for debate.
BEST VALUE: Chris Masten ($7,500 MID)
He's been the West Coast whipping boy for years now, but Masten has worked his way up the totem pole with a strong fortnight of footy, pumping out 138, 97 in his last two outings. That's the direct result of playing more midfield time rather than being anchored to a forward flank, and the more he shows, the more he'll receive. Hutchings has been dropped, Redden has been relegated to a tagging role and the coaching staff opted to bring in a forward (Petruccelle) rather than a midfield type – all good signs for his onball clock.
BEST RETHINK: Michael Walters ($8,800 MID)
Walters was tagged by Hutchings last year – even though Fyfe was playing – which shows how much West Coast respects his ability to hurt them with his creativity. In fact, he's been such a focus for the Eagles that Walter's last four scores against them reads 49, 51, 37 and the aforementioned 70. Hutchings isn't in the team this week, but don't be surprised to see Redden or Cole tasked with shutting him down.
Always remember to gamble responsibly. If you're having problems with your betting, you can get help at Lifeline or talk to someone at Gambling Help Online.