The Friday Scramble: Round 5
We all love footy and a 5 day round sounds great, but as a Fantasy coach it is a bit of a nightmare! But lucky for us we all love to Scramble!!!!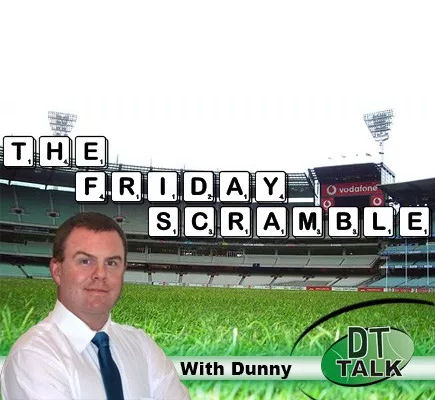 Welcome to what could possibly be the longest week of football ever!  Our first game is tonight as per usual, but then our last game is next Wednesday and then two days after that it all starts again for the following round. What a schedule. Great for watching midweek footy, terrible for Fantasy coaches. More on that later. But first it was bloody fantastic to meet so many legends last night at the DTTalk In Adelaide show at the Arkaba. And just quietly, how good was Rocky, not only a great fantasy pig but a bloody top bloke too. It was fantastic to meet all of you and we had a heap of fun, Apologies for those we didn't get a chance to chat to, there were so many there it was awesome. So for those of you in Perth, i get along and have a great night with heaps of people that are all Fantasy footy nuts just like yourself.
Round 5 Lockouts!
Since we have a game on Tuesday and another one on Wednesday we won't know these teams by the time the first game tonight starts. This is a problem for us particularly where rookies are concerned. The ones that I am worried about are Bayley Fritsch and a possible in of Jack Higgins. I am a bit less worried about Sam Murray but no top of that who knows what premium might get dropped (I am looking at you Michael Hibberd).
So my thoughts on this round are that you should be making sure that you have bench cover across each line. And if you can I would be trying to make sure that your bench cover is someone that is playing in the first weekend of the round. So that means someone that plays on Friday night or Saturday so that you are a lot more secure in the knowledge that they are actually playing.
The Teams were announced last night and will be trimmed tonight as per usual for the games from Friday through Sunday. For Tuesday and Wednesday games the final 22's for those two games will be finalised on Monday night at 6:20pm EST.
Now, each of the formats always have different rules on lockouts and this week is no exception. The formats are doing the following:
AFL Fantasy – Full Lockout when tonight's game starts! So you won't know anything about the teams for next week.
Real Dreamteam – For this week only it will be a Full Rolling Lockout. There was a poll on twitter and the players spoke and this is where it ended up. So you will be able to change players up until the start of the game they play in.
Supercoach – As usual it will be a full rolling lockout.
For Real Dreamteam players just remember. Trades are sticky once that first game starts tonight, the reverse trade button will not work. So if you are trading after the first lockout you better be happy with it!
A Return to Regular Transmission, I mean scoring
Round 4 saw us have a lower score than we had in the first three weeks. One of the key reasons for this was the poor scoring by some of the rookies that we have been backing in and are used to scoring 80+ scores. Now those of us that have been playing this game for a number of years were surprised at how high the scores were and sort of expected a round like this to occur at some stage.
One of the things that I would say about all of this is that you shouldn't panic. If we look back at post round one trades and see all the coaches that traded out Nat Fyfe, I am sure some of them would be regretting this now. The same goes for rookies. We should never expect them to be consistent nor should we expect them to play every single week. The player I am thinking of here is Nick Holman. He was particularly poor this week but he does still have a low BE of 38 in Fantasy, 28 in RDT and 25 in Supercoach. All of those scores are indeed achievable for him despite having a down week (let's hope he holds his spot, if he doesn't I would still consider holding him).
Obviously if there has been a couple of weeks of poor scoring (2-3 weeks) then you should be looking to move them on. Personally I concern myself mostly with the Break Evens of the player. If the rookie hasn't reached a BE that is close to what he is scoring then he stays in my team. Clearly there are exceptions to this and that is where there is an LTI as in the case of Ryan and Venables from the Eagles.
What I am trying to say here is that don't panic just because we had some lower scores this week. It will happen from time to time, just ride this one out and look forward to these guys making cash and us being able to upgrade them to premiums.
Selection Table
Brief thoughts again guys, sorry but been a big night with the boys!
Nic Newman – What the hell? Who knows what this bloke has done wrong!
Sloane – This week off is what he needs. Should bounce back better once he returns, but I won't be surprised if he is out for two as they have GC at home next week.
Gallucci and Poholke. Just don't think they have good Job Security, you could put them in this week but don't plan a long relationship with them.
Kreuzer – I think we all saw this coming. Might be time to part ways as this could stick around for a while.
Rocky has finally succumbed to that calf injury. Hopefully a week off (maybe two as they are at Etihad next week) will do him the world of good.
Burton back for the Hawks but that is just a squad until tonight, so don't get excited yet.
Barlow is back but on extended bench. We think he will come back in but who knows. It doesn't look good for Holman though with some big names on that extended bench.
That is about it for Selections as we don't know the other teams just yet. It is a bit of a guessing game so just play the ones that we know are probably safest and go from there.
Things To Remember
Make sure your emergencies play Sat or Sun so you know they are actually playing.
I would pick a captain from the weekend games just to be safe.
AFL Fantasy position changes kick in next week, listen to the Traders from Wednesday night for all the details.
Next week we have an incredibly short turn around between the end of the round and the start of the next one.
Sorry for the shorter Scramble this week guys, been a big night at the Ark and hopefully there is enough here to help you all out. As much as I love footy being on most days, as a Fantasy Coach it is more difficult and it means we are flying blind a little bit. However, importantly we are all in the same boat and no one has an advantage so let's just play the round and see how we all go.
Until next week, have a great round and I will see you all again next Friday.
Cheers, @pkd73