Moneyballin' – Round 5
Round 5 is a unique challenge for fantasy coaches with 9 games stretched out over 6 days, but in DFS circles we're just thankful for the extra opportunities to win cash with our fantasy knowledge! Jump in and check out all the tips for the Friday, Saturday and Sunday slates.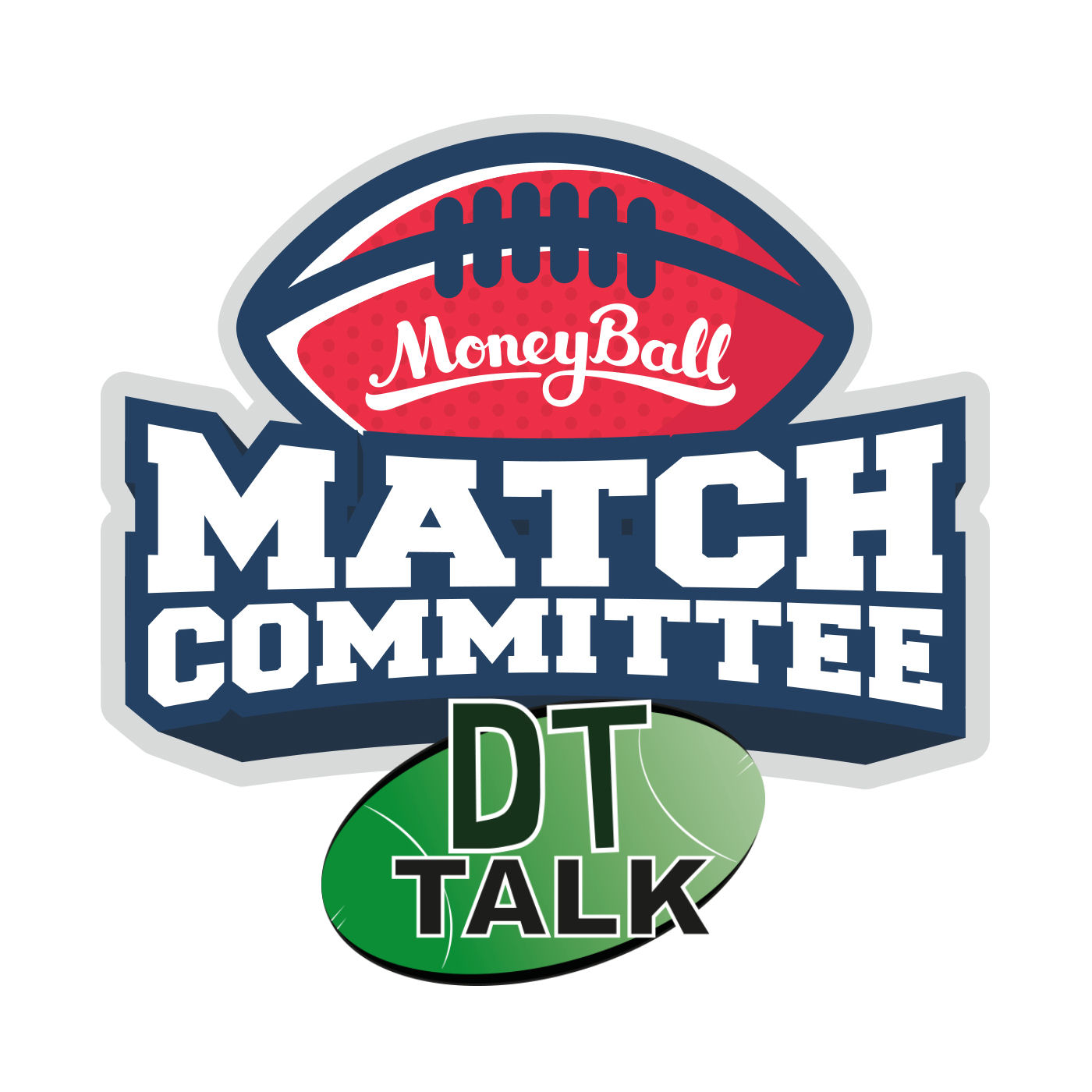 Tbetta here, and welcome to the self-proclaimed top resource for keen Aussie rules Moneyball punters! DFS (Daily Fantasy Sports) is taking off around the world and Moneyball have the perfect platform for you to turn your AFL Fantasy prowess into cold hard cash. Signing up is easy – head to moneyball.com.au and you could be ballin' within minutes.
If you're unsure how DFS works, be sure to head to the 'Help' section for all the info you need to start cashing in on your AFL Fantasy knowledge.
Click here to subscribe on iTunes.
Sydney vs Adelaide
BEST PICK: Bryce Gibbs ($11,400 MID)
Matt Crouch has a hammy, Brad Crouch has a groin and Rory Sloane has a foot, and none of them are working particularly well at the moment. In the absence of three first-choice midfielders, Gibbs simply has to get the job done if Adelaide has any chance of toppling the Swans on their home deck. He's doing his job so far, ranked 3rd in the league for Centre Clearances this year (after Titch and Fyfe) and is one of only two players to score 113 or better in all four games alongside teammate Rory Laird. He'll be leaned on heavily this week.
BEST STAT: Paul Seedsman ($7,600 MID)
Speaking of league-toppers, I was pleasantly surprised to learn that Seedsman was the #1 ranked player for Metres Gained so far in 2018, and by the length of Dean Cox's nose too. Lez is benefiting from a clearly-defined role for Adelaide this year and I've noted that he's responded very encouragingly from the extra midfield responsibilities loaded upon him lately, improving his scores each week (86, 92, 107 and 119) as other Crows MIDs have dropped like flies around him. He's the real deal.
BEST VALUE: Jordan Gallucci ($4,300 MID) & Myles Poholke ($3,700 MID)
These two blokes have been rotting on the emergency list for Adelaide for 13 months, so it's nice to finally see Poholke get his opportunity while Gallucci is back for his second bite at the apple. Both will see significant midfield time here given the holes above them in the depth chart, and both have proven to be excellent ball-winners at SANFL level. The opportunity for them to score is there and I can see a world where you take both to spend up around them, as value options in this game are sorely lacking.
BEST RETHINK: Callum Sinclair ($7,200 RU)
There's no doubt that Sinkers is enjoying a career-best year cruising along at 100.3 MB as the solo ruckman for Sydney, but I wouldn't be doing my job if I didn't highlight a small case of 'buyer beware'. The quality of his opposition has definitely boosted his output to date, facing easy-beats in Port (no ruckman), GWS (no ruckman) and the Bulldogs (English) in his last three. Unsurprisingly, his hitout totals in those three games (44, 45 and 36) are his three career-highs.
For reference, the last time Sinclair played an actual AFL-quality ruck division was in Round 1 against the oppressive Naitanui/Lycett combo where he only managed to record 16 hitouts, even running around in that same sole ruck capacity. I'm projecting that he'll struggle against the experienced Jacobs.
BEST RETHINK: Rory Laird ($9,600 DEF)
Teams only let defenders dominate for so long and with Laird tearing the competition apart, I'm worried. Remember the tale of Heath Shaw a couple of years ago? The man was in another stratosphere with his output compared to other defenders, averaging a hefty 112 MB over the first 13 games of the season. Then other teams clued on, realising that they could stopper the bulk of GWS' defensive drive with a simple forward tag, and Shaw limped along at just 61 MB per game over the next three weeks.
I'm seriously concerned that Laird could be targeted by someone like Hewett (who tagged Whitfield a fortnight ago to 65) or Cunningham (who kept Hunter to just 48 last week). The lack of Sloane's presence in the team makes this exponentially more likely, as he was a monty to cop any negating role given his susceptibility in the past. Stay alert out there folks.
St Kilda vs GWS
BEST PICK: Stephen Coniglio ($9,500 MID)
Not only is Coniglio dominating the 2018 season to start, but he loves playing St Kilda with 132, 123 and 115 in last three against the Saints! That even includes last year's 115 being his first game back from injury in a tagging role, so you just know he's going to be massive again this week. Cogs is one of only 3 players to score 110+ in every game this year (with the aforementioned Laird and Gibbs) and that streak won't be ending this week.
BEST STAT: Luke Dunstan ($7,000 MID)
After two games, Dunstan is now ranked 2nd in the league for Points Per Minute (PPM) behind future Pig Matt Crouch thanks to scores of 102 and 129 in his two games this year. Given his status as a fringe player at St Kilda, it's easy to forget that he scored 6 straight tons to finish 2017, averaging a whopping 109 over those games. The kid has a very friendly fantasy game, clearing the hallowed 5-mark in both the Mark and Tackle categories so far. Excellent value.
BEST VALUE: Tim Taranto ($6,400 MID)
The wunderkind has only dished up the one blemish this year, sandwiching a 52-point score in amongst 112, 91, and 120. That dip was due to reduced midfield time with the one-dimensional Hopper coming in, but that onball time was regained that in Round 4 with Josh Kelly's absence due to a groin issue. He racked up team-highs in contested possessions (13) and tackles (11) in response and with GWS going in with an unchanged line-up this week, he'll be back in the guts again.
BEST RETHINK: Lachie Whitfield ($8,700 MID)
Whitfield is now experiencing the growing pains of being an elite ball-user, tagged over the past fortnight to scores of just 65 and 66. As we've spoken about in this article before, once a player shows they can bleed, they'll be targeted again and again until they prove they can beat the tag.
It's worth mentioning that those lukewarm scores were saved by some serious junk time too, as Whitfield was stranded on 18 MB and 1 MB in those games at the half, respectively. You simply can't touch him here.
Carlton vs West Coast
BEST PICK: Andrew Gaff ($9,600 MID)
The Blues are struggling right across the ground, and their midfield has taken another hit with Murphy's foot injury on top of the soreness that will prevent Kreuzer from suiting up. With Naitanui's silver service to West Coast's midfield, Gaff will have it on a platter on the outside as a flow-on effect. Gaff predictably dominates in easy match-ups for this reason, scoring 120 and 122 in wins over the past two weeks. Unlike many of his Eagles counterparts, Gaff travels well, notching tons in 7 of past 8 games at the MCG.
BEST STAT: Josh J Kennedy ($7,600 FWD)
Having conceded the most real-life 'Points Against' so far this year, it's no surprise that Carlton is leaking points to FWD's in the fantasy version of the game as well. Their rap sheet doesn't make for pretty reading:
Round 1: 4 Richmond forwards kick 3+ goals
Round 2: Tom Lynch kicks 8 (139 AF)
Round 3: 4 Collingwood forwards kick 3+ goals
Round 4: Ben Brown kicks 5 (115 AF)
After dual Coleman Medallist Josh Kennedy returned without a hitch last week kicking 5.3, the pain won't be relenting anytime soon for Carlton's backline. JJK kicked 6.3 against Carlton last year, and that's when they had Docherty to help out back there. This could get messy.
BEST VALUE: Shannon Hurn ($7,100 DEF)
Have you ever heard of a player enjoying a 13th year breakout? In his previous 12 seasons, Hurn had never even posted an average of 80 in a single season, yet he's causally ticking along at 104 this year! The big reason behind this purple patch in form is West Coast's soft draw up to this point, allowing the Eagles to control the games structurally, including those easy switches in the back half. That, in turn, has allowed Hurn to rake in a league-high 10.75 marks per game.
While that's not sustainable over a whole season, he has a red-hot chance again this week. Scott Thompson registered 15 marks against the Blues last week while Tarrant had 9 of his own, so Carlton are selling real estate right where Hurn is looking to buy.
BEST RETHINK: Patrick Cripps ($9,100 MID)
Unfortunately, opposition clubs have clued onto Cripps being the key to Carlton's midfield – an issue that certainly hasn't been helped with Murphy and Kreuzer out injured and Gibbs' defection to Adelaide in the off-season. Here's his challenges so far:
Round 1: 130. No tag. Fantasy coaches rejoice.
Round 2: 95. Holman tag.
Round 3: 89. Pendlebury soft tag.
Round 4: 76. Jacobs tag.
The bloke is doing it seriously hard this year. Of the 111 players averaging over 20 disposals this year, Cripps' contested possession ratio of 67% is the highest of the lot. He's having to win all his touches in stoppages and that's limiting his ceiling because he can't boost those numbers with easy possessions. Hutchings replaces the injured Venables this week and I'll bet my left nut that he heads straight for Cripps from the opening bounce on Saturday.
Port Adelaide vs Geelong
BEST PICK: Sam Menegola ($9,100 MID)
What a surprise. Geelong has a big dog out and Menegola shows up, pumping out 118 with Ablett watching on from the sidelines. A big score is always nice, but I always like to look at the underlying reasons for scoring jumps, and the 80% TOG this week is an excellent sign. Menegola struggled in the first two weeks, hitting just 66% time on the field (I'm ignoring his high TOG in Round 3 due to Geelong having 3 injuries) so a reversal of that trend is a clear indicator of a role change. Green lights across the board here.
BEST STAT: Rhys Stanley ($6,500 RU)
Port Adelaide are ranked #1 for points conceded to ruckmen this year, thanks to their reliance on an awkward Westhoff/Howard/Dixon combo in Ryder's (Achilles) stead:
R1: Aaron Sandilands – 52 hitouts, 111 AF
R2: Callum Sinclair – 44 hitouts, 93 AF
R3: Stefan Martin – 49 hitouts, 177 AF
R4: Tom Bellchambers – 45 hitouts, 95 AF
While I don't rate Stanley as a player at all – let alone as a ruckman – even a blind squirrel can locate a nut in a cashew factory. To his credit, he was solid last week as the sole ruck, swatting down 31 hitouts amongst his 81 MB points. It's clutching at straws a bit, but can you take solace in the fact that he's scored 101 and 96 in last two games versus Port? Probably not. Stanley will hit value here regardless, but I'm not sure he has the scoring punch to hit 110 like the legitimate rucks before him.
BEST VALUE: Brandon Parfitt ($5,600 FWD)
It's hard to ignore the guy who scored 138 last week, posting career-highs in Disposals (28), Marks (6), Goals (3), Tackles (7) in the best game of his young AFL career by far. That's not to say it was a fluke, as Parfitt posted 101 in Round 1. He's clearly a talented unit and he's definitely being helped by extra midfield time with no Ablett – based on Round 4's showing, he's certainly earned his midfield minutes again this week.
BEST RETHINK: Tom Jonas ($6,100 DEF)
A few punters out there might look at Jonas' 3-round average of 84 MB and take a nibble. Don't. Geelong are ranked as the hardest team for Key Defenders to score against this year, and that's by a country mile. On top of that, the Cats concede the 3rd-least marks to their opposition, and Jonas has needed 9 marks per game over that stretch to form the foundation of his scores. He won't have that this week, so don't make the mistake of slipping him into your DEF slot.
Fremantle vs Western Bulldogs
BEST PICK: Aaron Sandilands ($7,100 RU)
When you're 9-foot tall, it's pretty easy to out-ruck the easybeats and the numbers suggest Sandilands does exactly that. Once Ryder went down in Round 1, Sandi turned the screws and racked up 52 hitouts for 111 MB points. Last week, GWS sent Simpson at him and once again, Sandi asserted his dominance with 40 hitouts and 97 MB. He only has Tim English to deal with this week, so expect a minimum of 40 hitouts and an uncapped ceiling on what we get on top of that.
BEST VALUE: Tim English ($4,500 RU)
While he's a pushover in the air, a strong ground-level game has allowed English to reach 86 and 90 MB over the past two weeks. So while the Sandi matchup is usually a death rattle for opposition rucks, Tim's game isn't built around how many hitouts he accumulates, but rather the around-the-ground production. He's still very much an option at that price.
BEST RETHINK: Jack Macrae ($9,800 MID)
With Bont playing as a human Swiss Army Knife and Hunter suspended this week, could the dreaded Bailey Banfield Blanket head to Macrae this week? Let's look at the stats: Macrae has had a low of 30 touches this year, and his three-week average of 126 is the penultimate in the league, so he'll certainly be on Fremantle's radar on recent form alone.
Banfield's bunnies so far include Zach Merrett (78 MB), Aaron Hall (14 MB) and Lachie Whitfield (66 MB), all curiously outside types like Macrae… Pick him at your own peril.
North Melbourne vs Hawthorn
BEST PICK: Jaeger O'Meara ($6,800 MID)
If North tags Mitchell as expected, that means that O'Meara is free to do whatever he wants – and that's exactly what he did last week in a 26-touch, 9-tackle, 2-goal and 126-point effort. Encouragingly, Jaeger's TOG was 81% last week, which was the first time since Round 3 last year that he's gone over 77%. That's a massive indicator as to how fresh his body is feeling, and a great omen for his future scores.
BEST STAT: Ruckmen Cancel Each Other Out
We've seen this phenomenon before with the Stef Martin vs Max Gawn headliners resulting in some serious fizzers of late. It's just the nature of the beast – some ruckmen beast against each other, while some ruckmen just cancel each other out in an awkward clash of playing styles:
McEvoy last 5 vs North: 57, 59, 27, 66, 77.
Goldstein last 5 vs Hawthorn: 80, 88, 81, 73, 32.
BEST VALUE: Isaac Smith ($8,000 MID)
A player that I never would have considered originally, Isaac's last two scores of 146 and 124 against North has put him firmly onto my radar. Looking at how they've matched up, it was interesting to note that Smith racked up 11 marks in both those games while North opted to tag Sam Mitchell (2016) and Tom Mitchell (2017) instead. Seemingly, Tom Mitchell's plight on the inside this week will be Isaac's plus, and after scores of 97, 94, 94 and 92 this year, he's ready to bust out with a big three-digit score.
BEST RETHINK: Tom Mitchell ($11,900 MID)
***ALERT*** Ben Jacobs ***ALERT***
As most in the fantasy community would be acutely aware, Jacobs has murdered the ceilings of Lyons (84), Ross (91), Oliver (88) and Cripps (76) so far this year and Titch will be no different. Unfortunately our prime swine struggles to "pig it up" with a tag, losing access to the cheap +6 combos that turns a big score into a beast score. Over the last two years, Mitchell's splits are damning:
Untagged in 21 games: 38 touches, 5.6 marks, 134 AF
Tagged in 5 games: 30 touches, 2.8 marks, 103 AF
In my opinion, you're crazy if you're parting with almost $12k for Mitchell this week.
Brisbane vs Gold Coast
BEST PICK: Tom J Lynch ($7,500 FWD)
It's the Brisbane Backline Rule! Lynch has bags of 3, 5, 5, 5 and 3 in last five games vs Lions, so this one really is a no-brainer. Brisbane has conceded the most 120+ scores this year (at a healthy clip of 1.75 per game) so we could be on for a belter from Lynch here.
BEST STAT: Stefan Martin ($9,000 RU)
Stef absolutely dominates in Qclashes, pumping out scores of 122, 116, 138, 56, 100, 101, 112 in his last seven against the Suns. If that 56 sticks out like a sore thumb to you, that's because it was the result of being ironed out by Steven May… in the 2nd quarter. Realistically, that means Martin has an un-injured avg of 114.8 against Gold Coast in his last six, and the Suns have hardly improved in leaps and bounds since those scores were posted. Coming off 177 and 101, how can you leave Stef out in your Sunday Funday?
BEST VALUE: Alex Witherden ($5,800 DEF)
He's back! Witherden was back on Santa's Good List with a patented 97 last week from 27 touches and 8 marks. Gold Coast conceded mark totals of 11 (Yeo), 13 (McGovern) and 14 (Hurn) to defenders last week, so Withers should have plenty of access to cheap +6 combos. He's way underpriced here.
BEST RETHINK: Dayne Zorko ($9,700 MID)
Zorko couldn't handle a tag last year and now he can't even find the footy when running around on his own, producing 3 scores under 75 already this year. I have zero trust in anyone but Stef in this Brisbane team, as it doesn't seem like Zorko and Beams can solo carry that midfield ever since Rockliff departed for greener (tealer?) pastures.
Always remember to gamble responsibly. If you're having problems with your betting, you can get help at Lifeline or talk to someone at Gambling Help Online.