The Weekend Wash-Up – Round 4
It was a shocker for many, so Matt makes you feel better… let it all out!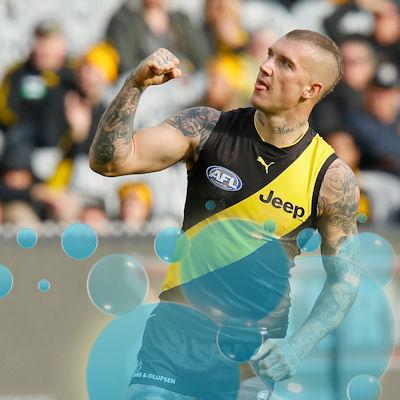 How do I describe the 2018 Fantasy season so far… Bizarre? I honestly thought I'd had a shocking week. It turns out I moved up the rankings… Coaches around the country are being let down worse than those spectators spending up to $350 on a ticket to the Commonwealth games closing ceremony. They should have known nothing good has ever been staged at Metricon. There are some repeat offenders on the chopping block this week and I'm ready to swing the axe. It's time for the weekend wash-up!
Legends
Sidebottom (137) – Sidey has always been underrated, but this season it's starting to become criminal. After posting a PB effort in Round 3, he backed up with 43 disposals against Adelaide. Steele was a monster on Friday night and we all know how he loves a big stage. It's the ANZAC game next week… Currently averaging 118 and a great target this week.
Treloar (135) – Welcome back, Adam. I was pretty firm on this one. You simply don't trade a premium slightly underperforming. For all the talk, he was averaging over 90 and has now taken that average comfortably above 100. More of that tackling next week please Trelly.
Grundy (126) – What. A. BEAST. 33 disposals and 12 clearances are unbelievable numbers for a midfielder. Grundy had 40 hitouts in the process. What an incredible player, he's currently averaging 120 and about to pass the $800k mark. Well done to those who are on board.
Seedsman (119) – I'm sure there was a few nervous sweats as Seedsman crawled to 5 at quarter time. However I can promise you there was more morons laughing at people who took the punt. Seedsman owners had the last laugh as he went supersonic to score 114 in the final three quarters. He's finally over those nagging groin problems and looks a top 6 defender contender. Adelaide play a friendly Fantasy style for their half backs and wingers and I can't see Seedsman slowing. Get him if you can.
Laird (115) – It's so painful watching how good Rory Laird has become without owning him. I really wish somebody had informed me he was going to suddenly become a piglet. He's looking unstoppable and Collingwood had no problems in letting him run free again. It's got to the point where I'm just happy he 'only' scores 110-120. Legend…
Haynes (122) – It would require some guts to pick Nick Haynes in Fantasy, but there's merit to it. He has always been highly rated at GWS and now he's getting a clean run at things injury free. He had 29 disposals and 15 marks on the weekend, and he's clearly benefitting from Whitfield being shut down over the past couple of weeks. Draft steal, and a serious option @$535k with a break even of 46. Put it this way, he's comfortably outperforming Sicily. Consider.
Coniglio (121) – Cogs you magnificent human bean*. I'm sure if I planted him he'd grow into a massive beanstalk. There's some magic in him. This has gone very astray, but I don't really need to tell you how good he is do I? LEGEND!
Taranto (120) – Fair enough. That's how you respond to a poor week, I wish some of my 'premiums' could take a leaf from Taranto's book. Was it Kelly's omission? Was it Greene's inclusion? I'm not sure yet and long term his owners would want to know ASAP, but as long as he's in the guts he's a great scorer!
Macrae (128) – Update: Macrae is still owned by less than 3% of the competition. We all know he's a great scorer. He's averaging 122. What the hell are we doing? I'd be surprised not to see some heavy tags come his way, starting with Banfield next week. Macca has gone to a new level this season. Bloody under-appreciated legend.
Dunkley (117) – I must admit I didn't see this coming, and I'm a very lucky draft owner to say the least. Sure it would have been nice for him to not kick 4 behinds or drop that chest mark running into the goal square that possibly cost the Bulldogs the game…… A few minor blues aside he was brilliant. I wouldn't bring him in now but fair play to those who took the gamble!
Yeo (138) – The yo was back up and as an Eagles fan, I'd be very surprised if he drops back down in the near future. When we lose a defender Yeo often gets sacrificed and plays a lock down role, but given his vital contribution in the last quarter against Geelong followed by this performance, I can't see Simpson making that mistake again. When in the midfield and off half-back he's a jet. A great option in the next couple of weeks before his price shoots back up.
Hurn (98) –  OK I have to mention Shannon Hurn this week given how many people want to know if this is the real deal. I was at the game smugly thinking how many fools had jumped on Hurn, what followed was one of the all time great junk performances. After being on 23 at HT, Bunga had 4 x +6's in a 60 second period once the game was over as a contest. Admittedly that was really the second quarter but you know what I mean.
More importantly, there is logic to his improved scores. Subiaco was such a narrow ground that the Eagles built their game around field position and forcing the opposition into turnovers with pressure, kicking into 'the web'. They would then try and get the ball up the other end as quickly as possible. That game plan often fell short at the MCG. Optus Stadium is significantly wider and it's clear that the Eagles have learnt to switch the play and control the ball more often. Up steps Hurn. We will always get him the ball at every opportunity. The biggest problem? He went at 95% disposal efficiency and had 19 of his 22 disposals uncontetsed. Teams can't afford to let him run free and he's quite easy to shut out of the game. He may have a PB season, but a top 6 defender? The jury is still out on that one. Some poor scores could be on the horizon, but that's not to say he won't have more great games as well. That's my take on Hurn! A pass for me.
Hurley (131) – When you consider how safe and consistent Michael Hurley was last season, then consider how poor some defender premiums have been this year, why is he owned by less than 10% of coaches?! 24 kicks and 15 marks is perfect Dream teaming. Looking a safe pick as a top 6 defender and a great differential.
Heppell (123) – Look out, Heppell hasn't slipped up yet! Could this finally be the season we see the very best of him? One thing we do know is that Hep D has the ceiling to match it with most premiums, a great pick so far.
Merrett (121) – Zach is back baby! He was always going to bounce back eventually. It doesn't make his 70 point average taste any less bitter for his owners, however he simply wasn't worth trading for such low value last week. He's in my team this week, boom! Even if he's not a 120 average player he is currently priced at under 90, which is a joke. All aboard.
Gray (117) – Robbie Gray is back into the midfield and undoubtedly a Fantasy bargain. If only Ken Hinkley could have just told us that would be the case! He's still underpriced at $636k and a great pick up this week. Just remember his bye will hurt in Round 10.
O'Meara (126) – JagerBOMB! Brilliant. JOM was the only positive in a week of pain for myself. With Titch sadly given a hard tag, O'Meara stepped up when he was needed most. He kicked the ball more than he handballed, he laid 9 tackles and even kicked a couple of snags. He's now averaging 95 and priced at *approximately* 77. There's still money to be made. His break even is 37 and his price is only going one way, now we just need him to stay fit! It's great to see him back.
Gawn (127) – 66 hitouts. Wow. I understand that Gawn was a no brainer priced at an average of 85, but apparently 50% of the competition didn't believe so. Now he's in career best form and a serious chance to beat his 2016 average of 106.5. Legend!
Parfitt (138) – Real or fake? I have no idea. However I'm taking him off the restricted free agents list in my draft without hesitation. I took note when Chris Scott talked up his midfield time due to a few injuries on 360 last week, particularly Nakia Cockatoo. Apparently he was first backup but faces a couple more weeks out with a thumb injury. Who knows how long his form will last, but he's definitely cheap! A short term punt at best.
Dunstan (129) – It's fantastic when a pre-season pick comes good. It's not so great when they don't get selected until Round 3… Cheers Richo. Things are going brilliantly down at the Saints.
Menegola (118) – What a second half turnaround! 31 in the first half. 87 in the second half. Menegola looks a fantastic pick, just don't expect the journey to be comfortable. He should get you there with an average of 100.
Losers
That was rather informative, time to fire some shots.
Crisp (55) – I pump the man up and look how he repays me. I take it all back. He won't just be outside the top 6 defenders, he won't even be close. Shocker.
Fogarty (28) – While he might be a player of the future, I doubt we'll be seeing Darcy Fogarty in the near future after what he and Adelaide served up on Friday night. Bye champ.
Sloane (46) – To play a game of AFL football you tend to have to break out of a jog. Sloane hardly got out of a walk. Has to be rested this week, otherwise you're telling me he's soft. It could be both.
Blakely (62) – Yuck. Keep him on the watchlist, if he gets defender status then he may become a fallen premium. While he's in the midfield he's not even close.
Whitfield (66) – I hate owning taggable players. I said it last week, those uncontested players are prone to some shockers. I think Whitfield's ceiling is around 100 thanks to the tags, but he'll still be great. Soft and bloody annoying, but he'll get the job done. Just. I'm not rushing him in.
Houli (67) – Houli's season has slid under the radar. Not on my watch. He's averaging 73 and owned by over 3000 coaches. Richmond are by far and away the worst team for Fantasy points, they've genuinely got one relevant player. No surprises that his name isn't Bachar. Utterly useless.
Caddy (58) – Another Tiger which I stupidly pumped up. Still an OK draft pick, but he'll be average again this year.
Zorko (63) – This really does infuriate me. You don't have to be averaging 110, but Dayne Zorko is bringing a new meaning to the term "mature age rookie". If he can't score 180 against the Gold Coast then I see no hope for him. Disgraceful, shameful, deplorable, despicable… I could go all day.
Johannisen (63) – Everybody has had a crazy thought pop into their head at some point during their life and wondered if they were actually a murderer deep down. Right? No? Just asking for a friend.
Hunter (48) – As if Hunter's score wasn't sh*t enough, he went and got himself a week off for his efforts as well. He can also earn himself a one way ticket to the trash pile. Has to go this week, I think $705k is a good price to cash in. Uncontested players will have shockers and there's definitely better options at the same price or lower.
Lloyd (67) – Speaking of uncontested players, I don't think I have seen a softer footballer in my lifetime than Jake Lloyd. And I hope he somehow reads this article. Honestly, I watched Rory Laird on Friday and he puts his head over everything, he tackles hard, wins contested footy. Everything Lloyd is too scared to do. He genuinely just sits one metre off the pack and spectates. Honestly disgusting. He'll be lucky to average 90 this season, I can safely say I got this pick wrong. Very wrong. I haven't regretted anything this much since I tried rubbing one out to tentacle porn. That 5 seconds after you realise what you've done is… Never mind. But Jake Lloyd gives me that feeling.
Hannebery (68) – Remember when Hannebery was great at Fantasy? Me neither. Must have been a weird dream.
J.P.Kennedy (43) – Do you ever consider a silly trade during the week and praise your lucky stars when you realise how badly things could have turned out? I honestly considered bringing in JPK last week. I needed a mid under $700k and I thought he'd be safe for 100-105. I wouldn't be sitting here writing this article if I had. FOURTY-THREE. I'd be angry at a rookie for that tripe. Our premiums are taking things to new lows in 2018.
Clarke (63) – Ryan Clarke. There's a name you heard pre-season and will NEVER hear of again. Until he's amongst the delistings in a couple of years time, and I for one will be celebrating him being out of a job.
Goldstein (65) – Two weeks is a long time in Fantasy. Goldy has gone from a great pick to a season ender. With three ruckmen looking to average 110+ this season, anyone without them are losing out big time. Goldstein's spot should have been saved by North's great win. His career might go on the line against the Hawks. Brad Scott put the gauntlet down to him, it's time to answer.
Curnow (53) – Charlie Curnow is a great draft pick and was a fantastic cash grab in Fantasy. It's now time to cash him in. Sure he'll be good to average 80-85, but Menegola and Gray are under $100k away and it's a worthy upgrade if you can make it.
Kreuzer (60) – I've been full of praise for Kruze but he's definitely fourth in the pecking order at the moment. I'd fix him up while you can. Even an average of 100 might not be good enough.
Simpson (66) – That's the Kade Simpson I know and love. DO NOT dare trade him out. You have brought him in for the season, now stick with it. His scores will balance out. Carlton's inability to touch the football is a concern though.
Cripps (76) – There was a few fired up coaches after Cripps' round 1 dominance. Thank god that perfromance didn't come at the end of pre-season… He gets the tags and just doesn't have the support, especially with Murphy out. Can he push his average much past 100? In this Carlton team, probably not.
Redden (47) – Jack Redden. Has there ever been a worse 150 game footballer. Honestly stealing a living at the moment. Still not sure what he offers? Great banter? Feel free to let me know.
Holman (29) – I got to witness this disgrace live on Saturday and I wish I could erase all memory of it. Barlow is banging the door down, it's lucky that half the Gold Coast team needs the chop. Holman surely gets another go after his great start to the season, but his time in our teams may be up after next week.
McGrath (52) – Mills V2.0. Worryingly, Mills still hasn't come good. Trying to compare McGrath to Oliver was apples v oranges. I don't want to be too harsh on the kid because he will be a gun and I'll sing his praises one season. But these efforts truly are f**king awful.
Hartlett (65) – At the end of the day, it's still Hamish Hartlett. He'll be up when Port are flying, so his owners had better seriously hope for a top 4 Power finish. Downhill skier.
Rockliff (43) – If Rocky was a downhill skier then he would be Michael Schumacher… Dark but true. Good luck to him rocking up for DTTALK in Adelaide on Thursday, let's just hope security in the crowd are on their game.
Wingard (52) – The Robbie Gray v Chad Wingard battle is fascinating. It seems one gets to run through the midfield and the other becomes a complete and utter spud. Why not play both in the guts? Imagine how good they could be… That might make too much sense. More forward time is no excuse for Wingard's 52 point effort, the bloke is averaging 68. He has no shame.
Hibberd (66) – What more can I say about this tool? I gave him one chance, then two, then three. Now it's time to draw a line in the sand. Upgrade him to a rookie, I'm in favour of improving your team long term and no Michael Hibberd is an instant winner.
Petracca (73) – Fun fact: Petracca has scored 2 tons in his whole career so far with a highest DT score of 106. That was back in 2016. This was my initial concern and while he has been solid, I think he goes for me as soon as I get the chance. Allen Christensen might catch his price at this rate. On notice this week.
Guthrie (24) – Note to self: NEVER chase a player (especially a rookie) you didn't watch live yourself. I saw Guthrie's first score and jumped on. After watching him live against the Eagles I was shocked he even kept his spot. Zach goes this week before he starts losing money…
Billings (81) – The biggest loser is saved for last. I can't bring myself to watch St Kilda play and it's not just because how bad they are. It's not fair on a guy like Savage that Jack Billings has to be so bloody pathetic. He's carrying a 3 round average of 70 and he's also carrying a one week notice in my team. I will do everything in my power to make sure he never sets foot in a Fantasy team again if he doesn't crack 90 next week. He plays GWS so my hopes aren't high. Needs a response.
It's nominations time! When Parfitt is the weeks highest scorer you know there's not a lot on offer…
Yeo – Usually I'd give him the week off on the back of a 46, but seeing as he was the Round's equal top scorer I'll let it slide. 33 disposals including 25 kicks and 11 marks. The guy can play Fantasy footy and his owners opinions must have been flipped 180 degrees.
Grundy – 33 disposals, 40 hitouts and 126 points. Brodie Grundy can do no wrong and his owners must be laughing.
Macrae – It's not just Jack Macrae's fantasy scores that are impressing, he's a seriously good footballer. He had another 7 clearances with his 34 disposals and 7 marks. He's flying this season.
Coniglio – If anybody deserves a stubby for their first month of the season it's Coniglio. Starting at $663k he has averaged 124.5 and is the competitions third highest scorer. Beyond our wildest expectations. This week he got it done with 27 disposals, 7 marks, 7 tackles and of course a goal.
Sidebottom – Lastly I have to give Sidey a chance for some recognition. Does he have enough owners out there to win it?! 43 disposals, 26 contested with 12 clearances AND 7 tackles is just naughty. It would be well deserved.
Who gets your vote?
Loading ...
This Game Sh*ts Me
Who would have thought more trades would be a bad thing? I have been a basket case ever since we moved to the current Fantasy format of 47 trades. It's happening again this year. I've got my 'Real Dream Team' that I play with a straight bat. Fix your rookies first 2 weeks. Hold your premiums. Don't make any stupid picks. Think long term. I scored 2,158 ranked 30 for the week placing me 60th overall. The game is so simple!
There are some key differences that really separate the men from the boys. There's no two week grace in Fantasy, prices are on the move from day 1. Those with Merrett have lost $200k and it's already time to bring him in. We've got one chance to bring in Cunico, and it would be gutsy to say the least. Not to mention the rookie prices were tougher from the start. Don't get me wrong I love the challenge and I prefer the Fantasy format. But F**k me if you have a couple of things go against you the game can get away from you very quickly.
As far as this game goes, I think I just sh*t myself off to be honest. Suddenly I haven't got to worry about limited trades, and now I think I can be a complete lunatic… At the end of the day I've got one team that's only being improved, and another where I'm still fixing mistakes. Straight bat, it's the way to go. But it's not nearly as fun is it? Now if you'll excuse me I have to go and trade Johannisen. This game sh*ts me.
The Other Bits and Pieces
1950. Straight back down to Earth. There was no Titch to rescue my team this week, it's amazing how the par score dropped by 100 after that tag. If you think I'm going to call him a loser then you are the biggest loser out there. Sadly thanks to guys like Lloyd and Billings his score couldn't be covered all that well. Thank god for O'Meara.
The merit of mid-pricers has to be questioned this year. The forward and midfield rookies haven't set the world on fire, Kelly aside. So there was potential for a smokey pick or two there. However down back we've got three blokes well deserving of a spot on your field. They're so good in fact that I'm looking at James Sicily and wondering why the hell I paid an extra $300,000 for him. If you overpaid then downgrading a mid-priced defender to a rookie is a smart move and exactly what I'm doing this week. In fact considering it's JJ, I'm really upgrading. In comes Merrett for Dom Barry, thank you war chest.
All things considered my team is doing OK, ranked 6k with a current value of 14.75m. I've got $100k ITB to make another big upgrade next week, don't be afraid to do the same. There's underpriced premiums on the way! Please learn from last week and hold onto your under performers, you picked them for a reason. They'll come good. Good luck for the extended ANZAC weekend, let's make it high scoring!
*Yes I know it's not human bean