Inside the Numbers – Round 4
Pete goes inside the numbers from round four.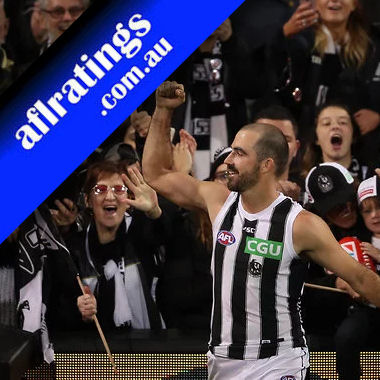 In the last 3 weeks Collingwood has averaged 418.7 Disposals (Rank 1), they are the only team that has recorded 400+ Disposals in 3 of 4 games this season. The Magpies have averaged 1697.7pts since Round 2 (Rank 2), they outscored their opponents by an average of +197.0pts over the same period.
Several players at Collingwood are averaging more than 10.0pts above their 2017 average, here are just a few that might be of interest to fantasy coaches.
Brodie Grundy: 2018 Ave 119.5 (+13.3pts)
Mason Cox has played more in a key forward spot therefore allowing Grundy to take control in the Ruck, he has averaged 131.3pts from his last 3 games. In Round 1 Grundy recorded 60.9% of Collingwood Hit Outs, that number has jumped to 83.7% in Rounds 3&4.
Steele Sidebottom: 2018 Ave 117.3 (11.5)
Sidey has scored 100pts or more in 3 of 4 games with 2 of those games exceeding 120pts, he has a season high of 137pts against Adelaide last week. If the High Disposal numbers for Collingwood remain constant then Sidebottom should continue on his good form.
Tom Phillips: 2017 Ave 97.8pts (+14.5)
The numbers for Phillips are a reflection of the last 3 weeks for the Magpies, after opening with 67pts in Round 1 against the Hawks Phillips has averaged 108.0pts from his last 3 games.
Josh Thomas: 2018 Ave 83.3 (+19.1)Thomas has been able to hit the scoreboard in every game this year, he followed up from his 5 Goals last week to kick 2 Goals against Adelaide on Friday night. Could be available in Draft Leagues.
James Aish: 2018 Ave 80.3 (+18.4)
Aish has quietly averaged 89.0pts from his last 3 games and is available as a DEF/MID, worth keeping an eye on especially if higher priced Defenders keep failing.
High Team Disposals FOR Round 4
432 Collingwood
425 GWS Giants
404 West Coast
High Team Disposals FOR Season
404.8 Collingwood
401.3 Adelaide
401.0 GWS Giants
Low Team Disposals FOR Round 4
298 Carlton
332 Gold Coast
344 Sydney
Low Team Disposals FOR Season
349.3 Carlton
352.3 Nth Melbourne
352.3 Gold Coast
High Team Fantasy Points FOR Round 4
1789 West Coast
1763 GWS Giants
1681 Western Bulldogs
High Team Fantasy Points FOR Season
1686.0 GWS Giants
1659.5 Adelaide
1649.0 Collingwood
Low Team Fantasy Points FOR Round 4
1298 Carlton
1331 Gold Coast
1371 Sydney
Low Team Fantasy Points FOR Season
1444.3 Carlton
1465.5 Brisbane
1468.8 Richmond
Notable Players
Paul Seedsman (R4: 119) has averaged 113.0pts from his last 2 games
Steele Sidebottom (R4: 137) recorded a career high 43 Disposals
Nick Haynes (R4: 122) has averaged 109.5pts from his last 2 games
Lachie Neale (R4: 102) has scored 100pts or more in 3 of 4 games this year
Dustin Martin (R4: 111) kicked a career high 6 Goals against Brisbane
Stefan Martin (R4: 101) recorded a game high 20 Hit Outs against Richmond, only 18 Goals scored for the game
Jack Macrae (R4: 128) is averaging 31.5 Disposals from 4 games this season
Lance Franklin (R4: 100) has scored 100pts or more in 3 of 4 games this year
Ben Brown (R4: 115) has kicked 15 Goals from his last 3 games
Ed Curnow (R4: 115) has averaged 126.0pts from his last 3 games
Elliot Yeo (R4: 138) recorded a career high 33 Disposals against Gold Coast
David Swallow (R4: 109) has scored 100pts or more in 3 of 4 games this year
Michael Hurley (R4: 131) recorded a career high 15 Marks against Port Adelaide
Robbie Gray (R: 117) is averaging 108.3pts from 3 games this season
Liam Shiels (R4: 137) recorded 14 Tackles against Melbourne
Max Gawn (R4: 127) has recorded 120pts or more in 2 of 4 games this season
Brandan Parfitt (R4: 138) has scored 100pts or more in 2 of 4 games this season
Luke Dunstan (R4: 129) has extended his 100pt streak to 8 games