Versus – Round 4
Tom puts a couple of forwards and a couple of midfielders up against each other.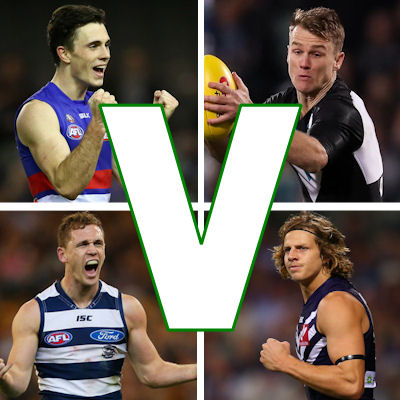 Toby McLean ($611,000, MID/FWD)

VS 

Robbie Gray ($608,000, FWD)

Positives: Role: Undoubtedly the biggest draw-card to selecting Toby McLean is his new fantasy relevant role in the centre. Luke Beveridge hinted at the small, in-and-under 22 year old spending more time through the midfield after a strong off-season. In years gone by, McLean proved he can find plenty of the ball, apply pressure and hit the scoreboard. However  due to the unfortunate ACL injury suffered by full-time on-baller Tom Libertatore, McLean loomed as a lock to assume his role in the midfield, slotting in alongside the likes of Bontempelli, Macrae and Hunter. After spending rounds one and two in the middle, McLean has recorded Fantasy scores of 110 and 103 – clearly proving his role had had a positive impact on his production. Last weekend, in the Bulldogs first win of the year, McLean recorded 25 disposals at 80% efficiency, with just 4 of them being contested, and took seven marks, all uncontested. These figures, combined with his heat-map suggest McLean is still an outside-leaning player, but is undoubtedly receiving more midfield time and owners are benefiting as a result.

Low Ownership And Likely Breakout: There were a select group of DTTalk posters floating around with McLean pencilled into their forward lines prior to round one. I was one of them myself, having been convinced McLean would flourish in his new role off the back of a supposedly outstanding pre-season. I must admit to being slightly concerned after he managed just 68 in his first outing, however I'm certainly glad to have him locked into F3 at the moment. This really should be a breakout year for McLean, where he thrives in the position and really elevates himself into one of the games best small mid/forwards, if he hasn't already.

Positive Fixtures: The Bulldogs lock horns with Sydney this week at Etihad Stadium, in what could be a difficult game for Toby, considering the highly-documented star power of the Swans midfield. However from rounds five through to eleven, the Doggies play Fremantle, Carlton, Gold Coast, Brisbane, Adelaide, Collingwood and Melbourne. With the Crows in Adelaide the only real worrying fixture, coaches will be hoping Toby can crack the ton on at-least a few occasions over the next few months.

Negatives: Other Options: Really, there aren't many downsides to selecting Toby McLean and I may be clutching at straws here. His role is good, his ownership percentage is handy and so far, his performances have been very encouraging. All signs suggest he can push towards a 95+ average. But are there better options out there? Swans forwards Buddy and Heeney will be top six midfielders, Menegola will score well if further opportunities arise in the Cats engine room, Walters has started the year well, as has the 'hoff' Justin Westhoff and Robbie Gray. Curnow and Acres are to breakout candidates and have opened their 2018 accounts strongly, chuck in Devon Smith and there are a number of guys all eyeing off a top six mid spot. I'm confident McLean will make the cut, but it will be close.
Positives: Runs On The Board: I feel as if Robbie Gray has been forgotten about by many coaches, having endured a relatively disappointing 2016 campaign and being rubbed out by the MRP for the Power's opening weekend clash with Fremantle. Prior to 2016, where he averaged 81 points playing all 22 games, Gray put up season averages of 95, 96 and 96, proving himself as one of the must-have premium forwards. At his best, Robbie Gray finds the ball at will and almost always hits the scoreboard. Having watched him unfortunately tear it up in numerous showdowns, he is without question a brilliant player, and one who's goal sense, production and skills make him one of the games most damaging mid/fwd's. If he can average 90+ again, he will get close to getting back to where he belongs, as a top six forward come the end of the season.
Role: Some would disagree, but I would put Gray's role down as a positive. By now everyone is well-aware of his uncanny forward prowess, but having seen his heat-map from the weekends play, Robbie Gray seems to have slotted into the midfield nicely. The likes of Ebert, Powell-Pepper and Wines form a formidable on-ball trio and when complimented on the outside by Motlop and Polec, it is certainly a difficult group to break into. Tom Rockliff's output has dropped an astonishing amount, due to his new role in the forward line. Robbie Gray will be deployed up-forward for stages and perhaps entire games where he has the potential to kick a bag and almost single-handedly win a game off his own boot. However for now it appears as if Rocky and him have swapped roles.
Negatives: Consistency: Looking back to 2015, Gray's best season in terms of fantasy scores, he recorded just two scores of under 80. So far in this young season, Robbie has registered 119 and 89 from his two games. Consistency from forwards has been particularly difficult to achieve in 2018, so it would certainly be refreshing to trade a guy in who you can back in to get you a ton, or at-least a score of 90+ most weekends. Now all this is great, however last year, in what was a down season, Gray did not record a consecutive ton. I would be confident Gray's 2018 campaign will be greatly improved from last season, however it's not all good – there is a risk attached, albeit minimal.
Verdict: Despite Gray having the runs on the board in the battle of the smalls, I prefer Toby McLean here. Whilst both are currently playing fantasy-beneficial roles, the Bulldog looks to have really slotted into the on-ball rotation well. His MID DPP is also handy, particularly during the bye rounds when shuffling around your side can prove vital.
Loading ...
 
Joel Selwood ($705,000, MID)

 VS

Nat Fyfe ($697,000, MID)

Positives: Runs On The Board: Love him or hate him, you can't dispute just how much Joel Selwood has done for the game, and in-particular the Geelong footy club. He provides the Cats with such a presence on and off the field. Although his is consistently slammed for his ducking, the skipper is the current player that first comes to my mind when I think of the word courage. His attack on the ball is relentless and unrivalled by most. In his twelve brilliant years at Kardinia Park, Selwood has always been fantasy relevant, even in his his first season where he managed to average 85 points in a star-studded, grand final- winning midfield. He has managed to average at-least 100 points on seven occasions and, if the first few weeks are anything to go by, is showing us no signs as to why this cannot happen once again.

Low Ownership And High Ceiling: For such a high-profile player, Selwood has snuck under the radar a little, eclipsing the minds of many fantasy coaches. At the time of writing, just 5.4% of coaches are currently rolling with 'Jelwood' in their midfields and just quietly I would say a chunk of that number would be die-hard Geelong supporters. In the nine games in which Selwood 'toned up' in last year, eight of those scores were of 115 or over. In round five against the Saints, Joel went absolutely bananas, tallying 43 disposals, 8 marks, 9 tackles, 1 goal and a casual 175 fantasy points and in doing so, proving to all coaches just how big he is capable of going.

Negatives: Top Eight Midfielder And Tag Threat?: As good of a pick he may be at this point, is Joel Selwood really going to finish the season as a top eight midfielder? I would argue no. Last years top eight midfielders Zach Merrett and Dayne Zorko look more and more unlikely to repeat the feat in 2018, however the likes of Gibbs, Coniglio and even Nat Fyfe are firming as potential additions, alongside Titch and co. At this point in time, you want to be bringing in guys who should be, or at least get close to being top eight midfielders. Highly doubt Selwood will be one of them. Then there is the tag threat. He copped serious attention in three games last year and was restricted to scores of 60, 48 and 59 – worrying numbers. But do you tag him over Dangerfield and Gary Ablett Jnr?

Tendency To Miss Games: There's no need to say it, Selwood plays the game on the very edge. And because of this, he is prone to impact injuries and the odd suspension. He has missed a game or two in all of the past three seasons. Whilst you can't really be sure he will miss games, the odds suggest this may be the case. Although one game may not be a massive issue, it is annoying.
Positives: Ceiling: Look no further than the previous two rounds to find the height of Nat Fyfe's ceiling. Since round one he has scored 123 (from 29 disposals, 7 marks, 5 tackles and a goal) and 144 (from 38 touches, 5 marks, 8 tackles and a major). Given his strength both on the ground and in the air and marking prowess, Nat Fyfe is often given stints up forward by Ross Lyon. And he rarely goes a game without hitting the scoreboard. Fyfe, after a pair of seasons with under 100 point averages, is considered by some as more of a Supercoach player and one who isn't as fantasy relevant as his ability suggests. So far, he is putting that belief to bed.
Value For Money And Not Concern With Tag: In terms of value for money, Nat Fyfe would have to be up there as one of the most undervalued players, at this point in time at least. Whilst his price will likely increase in the next few weeks, his production has so far been exceptional for a guy priced at sub-700k. Naturally, some teams will send taggers to Nat Fyfe. However this hasn't stopped him from scoring well in previous years. In fact, he put up scores of 116 and 114 when Port's Sam Powell-Pepper and former Kangaroo Sam Gibson were sent to him. Although there may be the odd reduced score due to additional opposition attention, as was the case in round one when Ebert was at-times assigned the role, the tag hasn't been much of an issue in the past for the champion.
Negatives: Upcoming Fixtures: Given Fyfe's struggles against the Power in round one, scoring just 67 points in the 50 point away loss, his upcoming set of fixtures may be cause for concern. The Dockers face the Giants at StarTrack Oval this weekend in what has obviously become one of the more difficult grounds to play at in the competition. In the first three rounds, GWS has conceded the seventh least points against. They then travel back to Optus Stadium to face the Dogs in what should be an easier contest.  West Coast and Richmond follow in rounds six and seven and although theses teams have been relatively average in terms of scores conceded, they will be difficult games for the 2-1 Dockers.
Consistency: Last season wasn't Nat Fyfe's greatest, averaging 97 fantasy points from 21 games. And his was relatively consistent, dropping under 80 just twice, the former Brownlow Medallist managed 8 hundreds in these games and scored 90+ on five occasions. From a premium midfielder, those types of numbers aren't exactly off the charts and not the types of figures you should be looking for.
Verdict: There is no question both of these guys should be considered as near straight-swaps from the under-performing Zorko or Merrett. Each are slightly underpriced and can go big on their day. Although he may miss a few games, at this stage I prefer him over Fyfe, largely because of his consistency.
Loading ...

Click here to subscribe on iTunes. (Please leave a rating and review to help us move up the charts).