The Weekend Wash-Up – Round 3
Matt had a good week, but does that mean the wash up is any less entertaining? No!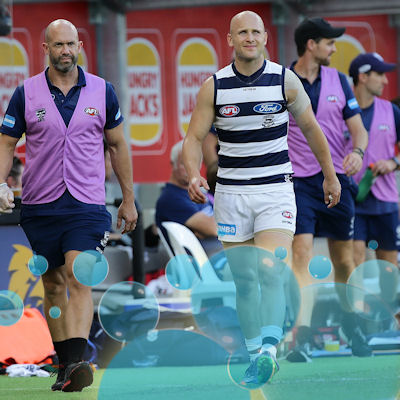 What a beautiful weekend of carnage… Again. However there's a change of tone in the Wash-Up this week, because form is temporary but class is permanent and I'm up and about! Of course that's not to say there aren't multiple players deserving of a huge spray. Many coaches suffered a worse weekend than the Goal Review System and that took some doing, both may be dead in the water. Whether it's on a Monday morning, Tuesday morning or somewhere in between, we all need to vent a little and that time has come. It's time for the weekend wash-up.

Click here to subscribe on iTunes. (Please leave a rating and review to help us move up the charts).
Legends
Murphy (139) – Having taken a cheap shot at Murph after Round 1, full credit to how he has responded! Justifying those who drafted him early.
Grundy (141) – Damn you Mason Cox. I can imagine that is the only reason we're avoiding the top scoring ruckman in the game. He backed up last weeks 127 with a 141, and could easily go 110-115 this season. Huge.
Kreuzer (120) – It was a ruck paradise last weekend. Kruze was welcomed back with a bang, if there wasn't so many great alternatives he'd be far more popular. Again great for draft owners.
Crisp (115) – Jack Crisp is another player I wrote off after Round 1 who has bounced back! Priced at $601k on the back of 32 disposals, he has to be considered a reasonable option. Defender DPP's may push him out of the top 6 though, so I'm happy to pass.
Polec (132) – Ok, I'm starting to realise why there was so much Fantasy pain this weekend. Polec has been a popular draft slider and is on fire this season. But picking him in Fantasy? You just can't.
S.Martin (177) – 399 teams have been deleted this week. What more can I say? Hold onto your guns! I put a rocket up Stef last week and I have been well and truly silenced. What a performance. 30 disposals in the ruck is just rude, add that to 49 hitouts and 7 tackels… Nuts. Piggish.
Christensen (91) – Allen Christensen is flying under the radar, but his performances have impressed me no end. I've had my finger on the trigger due to the amount of forward rookies coming through, but Bundy defies me every week. He's going to fly past $500k at this rate.
Robinson (110) – I'm sure this score will please Robbo owners… I suppose some may have held him?! He increased $22,000 this week, is averaging 100 and has a BE of 63. Definite left field option!
Hogan (104) – Jesse Hogan is a running machine at the minute. He managed 26 disposals to crack the ton again on Saturday, with just one goal to his name. He's looking seriously impressive and is still within reach at just $568k. Awesome pick if you took that gamble!
Gawn (114) – Of course big Maxy was awesome again. The sole ruckmen are going to dominate teams without a recognised ruck, and there's a lot of them. Expect more big scores!
Lyons (151) – Underrated. And that's understated. If it wasn't for Gold Coast's bye I would have seriously considered Lyons last week. Unfortunately he'll be closer to $800k by the time their bye rolls around. Absolute gun. 110+.
Fyfe (144) – Many coaches were after a premium midfielder last week with underperforming and injured premos alike needing to be traded. Nat Fyfe was the answer. Sure he struggled in a big loss Round 1 but he looks to be back to that Brownlow form, potentially even better. He's still under $700k and I think this will be the last chance to grab him at that price, if he stays fit he will push 110+. How do you stop a guy getting 24 contested disposals?! Not to mention 8 tackles. Beast.
Sinclair (123) – Credit to Cal Sinclair, he's carrying the Sydney ruck load and thriving. He added 45 hitouts to his 3 goals, but unfortunately he's listed as a ruck only. There's better options out there but a great late draft selection for sure.
Gibbs (129) – Bryce Gibbs actually had a quiet game, but a whopping 10 tackles got him to a massive score yet again. I'll be kicking myself all season for not drafting him during the first round, he has been unstoppable. Worth every cent.
Laird (120) – There I was during Q1 thinking Laird might actually have a quiet game. Foolish. For the third week in a row I have forced trades and again I can't bring him in. He'll be over $800k in a week or two. He has spoken about expecting closer attention from opposition players, but I'm yet to see it. If they don't do it he'll match Docherty. Elite player. Legend.
Savage (114) – When I've got Shane Savage scoring me 114 you know it's one of those weeks. Savage is thriving at half back and looks set to average at least over 90. A big win for those who backed him in, the 94% of coaches who don't have him could do a lot worse for a $600k defender.
Mitchell (148) – The GPOAT? Titch was at it again, only gathering the 42 disposals this week. In a scary revelation, apparently Mitchell wasn't as fit as he could have been last season. He's the new Brownlow favourite and it's not hard to understand why, what a bloody legend. What a pig.
Hunter (148) – I drafted Lachie Hunter late and I have to admit it was purely the fact that there was no better alternatives. Where has this return to form come from?! His 13 marks and 35 disposals lead him to this monster score, however I'm not convinced he can keep this up. I think the boat has sailed at over $700k, we saw the same with Gaff last season. Wingers will have off games. Even so, what a bargain for anyone who got on early!!! Massive ceiling.
Macrae (116) – Safe. Reliable. Puts in 100% every week. There's a few other premium midfielders who could take note. I've always been a Macrae fan and he looks set to post a PB season. The fact that he's owned by 1.35% is criminal. Legend!
Menegola (120) – Oh dear. There are so many coaches out there lamenting the fact that they jumped the gun on Menegola. As poor as he was in Rounds 1-2, one game and an Ablett hamstring can change the outlook completely. He could be a bargain at $630k this week, certainly consider if you're in the market for a premium forward or even a mid. For what it's worth I was at the game and hardly noticed him bar that monster goal, he certainly has the scoring power.
Waterman (96) – Lastly, big ups to Jake Waterman. I thought he was simply a palceholder for JJK, and until this week that's probably what he was. However he looked a 100 game player on Sunday, dominating up the ground and clunking everything. I can't see him getting dropped after showing form like that, however Lycett, Naitanui, Darling, JJK and Waterman may be one big man too many. For now his BE of -19 speaks volumes! Puts the $ in ca$h cow.
Losers
Treloar (84) – ……. How do I explain this. Is there any logical explanation? Is he injured? Why is he a full forward? I wish I had the answers. Simply bizarre. I'd honestly hold Treloar, he hasn't been a complete disaster and will start pumping out big scores soon. Ok, fine, he has been a complete and utter disaster. But hold strong.
Adams (81) – This is EVEN WORSE than Treloar. The only reason it has been given less attention is that less coaches started with Taylor Adams. Even less own him now, he's down to $700k and only going down further. So far Adams has played half back during pre-season, up forward in Round 1 and just about everywhere in between since then. I think he's just as confused as us. He's averaging 78. The same player who averaged 115 in 2017? This game sucks.
Wingard (73) – Ken Hinkley loves to keep us guessing, and it looks as though Wingard has lost the raffle to be played forward this season. For all we know Robbie Gray will be sent forward and Chad will be at the majority of centre bounces next week. To play it safe I'd just avoid both. At the end of the day, it's bloody Port. You're asking for Fantasy suffering.
Zorko (72) – Yuck. Taggers are great at smelling blood, and Dayne Zorko is leaving a trail of blood where ever he goes at the moment. Over 5% of coaches spent over $800k for him to average under 80. Genuine disgrace. I wouldn't even want him at $700k at the moment. There are seemingly many bargains on the way, but do we even want these guys? Just awful.
Goldstein (60) – Remember what I said last week about regretting missing Goldy? Scratch that. It saved me 117 points. Goldy will still be good, but Gawn gave him an absolute bath on the weekend. We know how Stef bounced back, unfortunately Goldy plays Kruezer this week. A week is a long time in Fantasy.
Hibberd (68) – It's getting ridiculous now. Hibbo was All-Australian last year. He collected disposals for fun. How does a player fall away so badly? He has been about as useless as a celibate hooker this season.
Witts (64) – If you don't love me at my 64, then you don't deserve me at my 140.
Lynch (53) – Jumped the gun again. I wasn't a year early on Lynch. I've just been listening to too much Jonathan Brown. Obviously a gun player, but not the second coming of Jesus. Alex Pearce had a field day.
Hanley (24) – You'll be shocked to hear Hanley hurt his shoulder again. Some things in this game you just can't predict.
Hall (14) – This is not a typo. Poor old Aaron Hall wasn't injured either, playing 78% TOG. Nope, he was tagged to 5 disposals and no marks by a third gamer. It's a no brainer for teams to tag Hall given how damaging he can be if allowed to run free. More to the point, you can literally play against 21 if you'd like. Softest player in the AFL.
Young (51) – Aaron Young everybody.
Brayshaw (43) – He's going to be a gun and will no doubt have some good games this season. However picking Andy Brayshaw over an experienced player such as Jacobs was a critical error. He's averaging 64% TOG and that's costing him. I'm going to hold, I think he'll have a breakthrough game sooner rather than later. Having said that, he sits safely at M8 for now.
Parker (71) – I've seen this episode before. New year, same Parker. The worry with Sydney's midfielders is real. It used to be a three man band, now they're actually rotating them forward. Parks can look so dominant for periods, then disappear of the face of planet earth. Not exactly traits you're after when spending $700k. I think he'll be around the 100 mark again this season, solid but not spectacular. Not to mention extremely bloody frustrating. Good luck.
Whitfield (65) – It's a bit harsh considering he's still averaging 100, but tell that to anybody who traded Whitfield in this week. The tags are going to be a massive concern. He relies on uncontested possessions and if a forward looks to shut him down then it's going to be trouble. He'll still be a top 6 defender so don't panic too much… Just a little.
Taranto (52) – Taranto owners can definitely hit the panic button. Hopper came into the side for Langdon and it was Taranto who suffered, shifting forward to fill that gap. Greene's return to the side may help, but given that Hopper took all of Taranto's CBA's (15 to 5) it's hard to see Taranto matching those early scores. Real tough gig, his BE is already up to 70. Let's hope he can bounce back!
Billings (58) – Speaking of bounce back, Jack Billings had better have something bloody spectacular up his sleeve next week because what I saw on Saturday night was nothing short of disgraceful. He had 2 disposals in the entire second half. TWO. Pull your head out of your ass Jack. That feels better. F%#k me.
Burton (39) – Ryan Burton is aiming for a bigger fall from grace than Tiger Woods at this rate. He's averaging 35.3, it's genuinely laughable. He'll be at rookie price soon and I don't even think I'd want him then. He sits on my draft bench out of hope more than anything, he has been AWFUL. Ugh.
D.Martin (67) – Why? What did we do wrong? If I had the chance I would have been all over Dusty this week. He looked in unstoppable form and Richmond had another great victory. So what's the explanation for this score? What's the meaning of life? All questions Fantasy has me asking at the moment. Inexplicable. 160 owed next week.
Johannisen (67) – C**t. Absolute c**t. The Bulldogs had 152 marks on Sunday. 152! Essendon didn't even try. And neither did JJ. This is honestly surpassing my Heritier Lumumba pick. It's now borderline hatred. Last time I ever mention his name. Ever.
Yeo (46) – If Johannisen is a c bomb then Yeo has an STI as well. What a prick. The best part is that it's not even his fault, Simmo just loves to sacrifice him when a power midfielder goes forward. He moved into the midfield at the end of the game and turned the contest around with his attack on the ball. I still think he'll have a great season, but scores like these just suck. So bad. At least it wasn't 20?
Ablett (71) – A week in draft is a long time. My first two picks were Ablett and Rockliff. I knew it was a risk. I just didn't want to let the golden days go. Well, they're over. With one swift ping. We all want to see bald jesus out there playing great footy, so let's hope it's as minor as possible. I'll be fielding Ben Cunnington for a month, brilliant……
Essendon – DOES IT GET ANY WORSE. What a bunch of good for nothing, soft, weak dog pretenders. I actually think Devon Smith's score of 72 is a win, it was that bad. Andy McGrath saved face but he continues to disappoint. Darcy Parish is below average. Stringer is laughable. Of course the one player really staring down the barrel is Zach Merrett. I'm convinced Jackson Merrett has killed Zach and used his face as a mask. It just doesn't make any sense. None of it does. This game can go to hell. Yet I love it so damn much… Why?

Yes, I noticed the lack of a poll last week. Well there's no reason to worry about one this Round! Stefan Martin you ripper. The only player I reasonably expect to score above 150 is Tom Mitchell. 177?! MASSIVE. It was a Round where you either had Martin, or you didn't. Stubbies out for Stef.
This Game Sh*ts Me
There's an element of luck in this game and we just have to accept that. Everybody's team will suffer from injuries, we can accept that. Reluctantly. An inexperienced rookie might have an off game, we can also accept that. However I cannot accept the disgusting displays from our supposedly reliable 'premiums'. Adam Treloar. Are you injured, or are you soft? Michael Hibberd has transformed from an All Australian rebounding defender to a half back left right out. Taylor Adams averaged 125 in his final 5 games in 2017. He'll be lucky to score that much before the byes at this rate. Not even Chad Wingard knows if he's meant to be a midfielder or a forward. Jack Billings had 2 disposals in the second half, you have to run away from the ball to be that bad. Dayne Zorko can't handle a tag, I guess we knew that. Still, he's 35 points down on last years average. Elliot Yeo is a victim of being too good, but is still a massive c*nt. Tom Rockliff, no comment. I haven't even mentioned Zach Merrett, who has apparently forgotten how to football completely. The snout has been knocked out of him in pre-season. The problem is it's not a one off poor score, these guys have consistently hindered our teams all season. Any Fantasy coach making these selections are in no way at fault, some could even hit 3 or 4 of these mine-shells. There would be some great teams ranked in the bottom 50% of the competition.
Amongst all this, I haven't even mentioned this week's failures. Dusty didn't rock up. Parker manages to disappear for full quarters of football. Whitfield can be forgiven after his sensational start, but try telling that to someone who traded him in this week. This game is hard enough, is a decent performance from our gun premiums too much to ask? This game sh*ts me.
The Other Bits and Pieces
2175. Boom. It really should have been a lot higher if not for a late choke, but then again everyone could say that about their scores somewhere along the line. I moved up the rankings by over 17000 spots… The next 7000 should be a piece of cake? Things can change quickly. Sic Dawg will be welcomed back with serious pressure on his spot coming from the defensive bench, meanwhile Johannisen survives again. Unbelievable. For the third week in a row I have a forced trade through injury, so Liam Ryan goes down to Crowden while O'Conner goes to Coffield. My team value continues to build, but it would be nice to get a chance sometime in the next month to have 2 luxury trades and use my war chest.
Those who had a shocker, stay strong. I mentioned last week that I thought my team still looked solid enough, a few things just didn't fall my way. Karma has a funny way of coming around. Crouch -> Fyfe was a nice start. The premiums currently struggling WILL hit back in a big way soon. Patience, a punching bag and a lot of stress balls should get you through. The cream always rises to the top… Good luck rage trading, let's make next week a high scoring one!