Inside the Numbers – Round 3
Pete goes inside the Fantasy numbers for this week.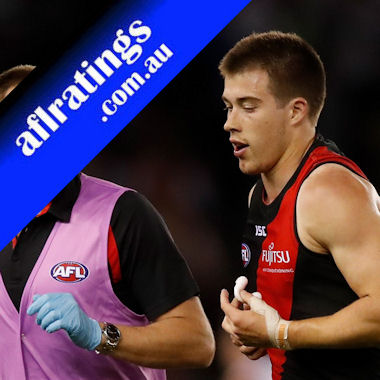 The story that has unfolded at Essendon over the last 2 weeks has negatively impacted fantasy coaches especially for those that own Zach Merrett, the Bombers have averaged 341.0 Disposals from their last 2 games which includes 323 Disposals against the Bulldogs in Round 3.
In the 2017 H&A season Essendon averaged 398.0 Disposals per game (Rank 3), from 3 games this year the Bombers are averaging 357.7 Disposals per game (Rank 14). Last year (Incl. Finals) there were 5 players that averaged 25.0 Disposals or more (Z.Merrett, Goddard, Heppell, Zaharakis & Hurley), only 2 players are averaging 25.0 Disposals or more in 2018 (Zaharakis & Heppell).
Now to the pressing issue facing over 15% of coaches this week, while 85% of coaches consider whether to target Zach Merrett in the coming weeks.
Merrett has averaged 17.0 Disposals from 2 non-injury games this year (Ave: 69.0pts), more importantly for fantasy coaches to be aware of is that Essendon lost both of the games. In 2017 (Incl. Finals) Merrett averaged 125.8pts from winning games & 103.6pts from losing games, even though averaging over 100pts is pretty decent the difference in points is significant especially from a premium MID.
The quality midfield support may not be available at the Bombers this year therefore players such as Merrett are likely to underperform in certain situations, however we still don't have a large sample size to make a definitive call on Merrett & the concussion from Round 1 does blur the picture somewhat.
It will be a brave call to hold Merrett this week as another poor game will be costly for those chasing overall ranking, it will also make it more difficult if trading him out to face a decision of possibility trading him back in later in the year if his numbers return to a premium level.
More courageous will be those that stare down those Merrett numbers and trade him in this week or next, it's not crazy to think this is a scenario many are contemplating. Merrett has averaged 132.3pts from his last 3 games against Port Adelaide, however a tag could be coming his way this week again.
Correctly anticipating when & what John Worsfold will implement to get his best player back in the mix needs to be taken into consideration, it is highly likely after 2 poor losses that things will change.
High Team Disposals FOR Round 3
417 Collingwood
417 Western Bulldogs
399 Melbourne
High Team Disposals FOR Season
411.0 Adelaide
396.7 Port Adelaide
395.7 Collingwood
Low Team Disposals FOR Round 3
314 Nth Melbourne
323 Essendon
324 Gold Coast
Low Team Disposals FOR Season
341.3 Nth Melbourne
346.7 Richmond
347.0 West Coast
High Team Fantasy Points FOR Round 3
1799 Western Bulldogs
1793 Adelaide
1772 Collingwood
High Team Fantasy Points FOR Season
1706.0 Adelaide
1666.3 Port Adelaide
1660.3 GWS Giants
Low Team Fantasy Points FOR Round 3
1326 Essendon
1331 Nth Melbourne
1403 Carlton
Low Team Fantasy Points FOR Season
1439.7 Nth Melbourne
1447.7 Richmond
1481.0 Brisbane
Click here for Fantasy points against stats thanks to Morts from @DFSAustralia
CLUB
PTS
FOR
>100
FOR
>120
FOR
PTS
AG
>100
AG
>120
AG
ADE
1705.7
4.7
2.7
1487.3
2.7
1
BL
1481
2
0.3
1636
4
2.3
CAR
1490.3
3
1.7
1628
3.3
1.3
COLL
1646.7
4.3
1.3
1524.7
2.3
1.7
ESS
1488.3
2.3
0.3
1674
4.7
2
FRE
1592.3
4
1
1583
3
0.7
GC
1595
2.3
1.3
1515.3
2.3
0.7
GEE
1597.7
4.3
1
1484.3
2.3
1
GWS
1660.3
4.3
1.3
1542.7
3.3
1
HAW
1532.7
1.7
1
1554
3.7
0.3
MELB
1569.3
3
1
1469.7
2
0.3
NM
1439.7
1.3
0.3
1630.3
2.3
0.3
PA
1669
3.3
1
1486.3
1.7
0.3
RICH
1447.7
1.7
0.3
1621
3.3
2
STK
1589.3
3.3
1.7
1637.3
4
1
SYD
1567.3
2.3
1
1552
3.3
0.7
WB
1559
3.3
0.7
1611
3.3
0.3
WC
1565
3
0.3
1559.7
2.7
1.3
Notable Players
Steele Sidebottom (R3: 130) has averaged 100.7pts from his last 152 games
Marc Murphy (R3: 139) has scored 100pts or more in 6 of his last 7 games (Ave: 109.0)
Jared Polec (R3: 132) scored a career high against Brisbane
Stefan Martin (R3: 177) scored a career high against Port Adelaide
Max Gawn (R3: 114) is averaging 48.3 Hit Outs in 2018 (AFL Rank 1)
Ben Cunnington (R3: 96) kicked 2 Goals vs Melbourne, he has a career average of 105.3pts when kicking 2 Goals or more in a game
Jarryd Lyons (R3: 151) has averaged 142.5pts from his last 2 games
Nat Fyfe (R3: 144) has averaged 133.5 from 2 games at Optus Stadium this year
Callum Sinclair (R3: 123) has averaged 44.5 Hit Outs from his last 2 games
Jonathon Patton (R3: 123) has scored 100pts or more in 2 of his last 12 games (16.7%)
Seb Ross (R3: 132) has scored 120pts or more in 2 of 3 games this year
Bryce Gibbs (R3: 129) is averaging 127.0pts from his first 3 games as an Adelaide player
Trent Cotchin (R3: 103) has scored 100pts or more in 2 of his last 11 games (18.2%)
Tom Mitchell (R3: 148) has scored 140pts or more in 7 of 25 games at Hawthorn (28.0%)
Lachie Hunter (R3: 148) has averaged 105.3pts from his last 9 games
David Zaharakis (R3: 91) 100pt game streak snapped at 6
Andrew Gaff (R3: 120) has averaged 106.2pts from his last 6 games
Sam Menegola (R3: 120) has scored 120pts or more in 5 of his last 10 games (50.0%)
Good Luck for Round 4