Moneyball's $5,000 Saturday Special
Cal's got his tips for today's Moneyball contests.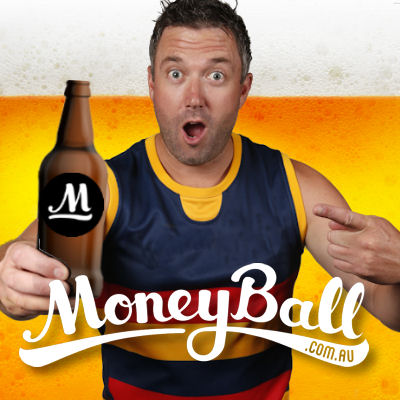 I have been quietly cleaning up with the old Moneyball in the first two rounds and if you have been following my tips here, you would be too. Today it's the big $5,000 with the winner taking $650 and it pays $34.18 right down to 89th
Port Adelaide v Brisbane 1:45pm AEDT
Melbourne v North Melbourne
Gold Coast v Fremantle
St Kilda v Adelaide
Sydney v GWS 7:25pm AEDT
FREE CONTEST TO WIN AFL GRAND FINAL TICKETS
Exclusive to ONLY DT Talk users, be sure to enter this free contest tomorrow. If you have the highest score for the day, not only will you have $20 added to your account but if your score is the highest for the year… then the tickets are yours. JOIN HERE
Click here for more info and the round three contest code.
Now for my best and sneaky best options for today…
Rory Sloane (MID, $9.800)
This is the perfect platform to select Rory Sloane and today he could be something special.
Why? Well, the Saints have swung the axe on half their team and this means that Koby Stevens won't be playing today. In his last five games against the Saints he has scored … 62, 140, 130, 131 and 117. I bet you can guess which one he was tagged by Stevens in? Yep – that dirty 62.
NO tag coming his way to so expect another monster score under the Etihad roof.
Rowan Marshall (FWD, $3,500)
With Billy Longer on the sidelines, the Saints have turned to Marshall to fly the flag solo.
In his last two years in the VFL he has been solid averaging 74 and 86.
Now at this price, we can't expect much, but what it allows us to do with the extra cash should reward us in the long run.
Darcy MacPherson (FWD, $4,600)
After scores of 98 and 97 in his opening games, Darcy has flown under the radar in many Fantasy circles except in old Calvin's Moneyball articles.
This kid has really stepped up off the back of some injuries at the Suns and after having pig-like numbers in the NEAFL, he has started to claim himself as a best-22 player in their team.
That doesn't matter to us one bit though, another 90+ today is all we need.
Justin Westhoff (MID, $8,200)
This could be a huge sneaky option today. Although people have noticed his form of 103 and 132 in his first two games, not many Moneyball coaches would be comfortable about picking him up as a MID.
Make no mistake about it, he will give the Lions a bath today on his home ground and hasn't gone under 87 against them in his last four games.
The Obvious Ones ($3,500/$3,800)
Obvious… but sometimes people get fancy.
Brayden Fritsch (FWD, $3,500) has scored 60 and 74 in his first games and comes as an easy selection here. Nick Holman (MID, $3,500) is another that should be in everyone's midfield today.
Finlayson (DEF, $3,800) and Doedee (DEF, $3,800) are also the obvious ones in the back line. Finlayson had a huge 91 last week and Doedee hasn't put a foot wrong scoring 78 and 80. Of the two, Finlayson would be my pick against the Swans who gave up heaps of marks in defence last week. By loading up with these guys you will allow you to be something special with the rest of your team.
Stef Martin (RUC, $8,500)
Get ready for Stef to have a big one … and here is why.
Firstly, Port don't have a ruckman and last week they used Westhoff and Dixon in tandem against Cal Sinclair. Sinclair had one of his best games in his career scoring 93 from a career high 44 hit outs. 13 better than his previous best.
Last year when Stef rucked against the easiest guys in the game he went bananas.
WCE:  50 hitouts, 113 AF
STK:   44 hitouts, 126 AF
WBD:  49 hitouts, 121 AF
WBD:  43 hitouts,   90 AF
SYD:   40 hitouts, 104 AF
If Sinclair can get 44 hit outs, then Stef will go 50+ and bury anything what Port throw at him. His form has been average but he will be my #1 ruckman across many of my teams for today.