The Weekend Wash-Up – Round 2
Did you have a sub-2000 score? So did Matt.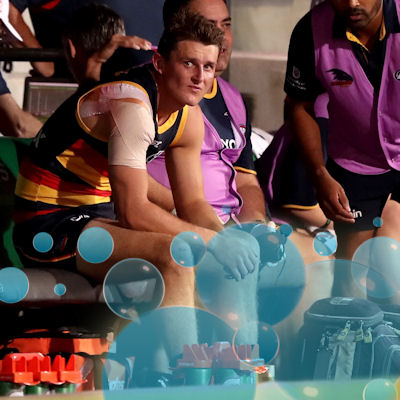 Brilliant. I thought last week was a kick in the guts, but Round 2 had even more pain and misery to offer. It has been a week of total mediocrity. My list of losers actually isn't too long, but if I had a list of disappointments we could be here until next lockout. Not to mention the legends column, almost entirely compiled with rogue names. The template team took a big hit this week, but perhaps that's for the best. Get ready for a barrage of awful footy cliches, it's time for the weekend wash-up.
Legends
Laird (141) – Oops!… I did it again. That is just so typically me. Just like Docherty before him, Rory Laird has taken his game to a level not even the most optimistic coaches could have hoped for. Consecutive 40+ disposal games?! Oink. What a bloody legend. He's suddenly $750k and I'm completely stuffed alongside the other 35% of coaches. Also known as morons.
S.Jacobs (120) – All you can ask is for your premiums to make a statement the week after a poor score. Jacobs did that emphatically. He plays St Kilda next week who Goldy monstered, look out.
D.Martin (127) – It's fair to say that Dusty is on another planet at the moment. Hard to imagine where Richmond would be without him. 5 snags as a midfielder is just plain rude. I regret not grabbing him last week, I think he's going to at least match Danger's 120+.
Goldstein (117) – I hate my guts, or more specifically lack of them. I backed Goldy all pre-season but whimped out and paid up for Stef. He's not quite back at Goldstyne levels, but could be heading that way…
B.Jacobs (107) – I had to check the scores, then re-check them when I saw Ben Jacobs had tonned up. Fair play to those that took this punt, you'll be laughing all the way to the bank on the back of this massive score. No, I don't think he's worth chasing.
E.Curnow (160) – Interesting… Anyway, let's move on swiftly.
Lynch (139) – I owned Tom Lynch last season, and I get a sick feeling that I may have been one year too early to the party. Sure it was just Carlton but he dominated. It will be fascinating to see how this rejuvenated Gold Coast side goes against some real opposition, unfortunately they play Freo at home this week. 3-0 is not out of the question and Lynch should have another field day. As long as it's not played in the middle of a monsoon of course.
Lyons (134) – I've always been a Jarryd Lyons fan, and WOW did he play a game of football on the weekend. 27 kicks, 26 contested disposals, 14 clearances and 10 inside 50s. Thankfully that translated to a huge Fantasy score as well. Damn that Round 10 bye.
Grundy (127) – No Mason Cox, no problem. The common sense solution here is to just play Grundy as a solo ruck. However Nathan Buckley is coach. So who knows…?
Whitfield (123) – He's currently owned by under 7% of coaches, so 93% will have to make a plan to squeeze him in after Round 6. 24 of his 26 disposals were uncontested including 13 marks, it's beautiful to watch. He's found his home at half-back, all aboard.
Coniglio (120) – Not many players have the rapid scoring capability that Coniglio does. Many would have been concerned at Quarter time, only to blink and see him at the top of the scorers. Absolute bargain and I'm starting to think my predicted average of 108 pre-season was too low. LEGEND!
J.Kelly (118) – Given this score is around his price tag I usually wouldn't concern myself with it, but I'd like to use this as an example for all players on HOW TO BREAK A TAG. From a Fantasy perspective of course.  Josh Kelly had a shocking day, but he didn't mope around and feel sorry for himself, he laid 15 tackles and lifted when it counted. Bloody legend.
Finlayson (90) – I couldn't believe what I was seeing in that final quarter, Finlayson looked like he has been playing at AFL level for 10 years?! He's a lethal weapon and it's obvious why GWS want to give him the ball as much as possible. His left boot is a laser. A lock on our grounds from now on, this rookie crop has blossomed early.
Hogan (133) – Will Jesse Hogan become the new Jarryd Roughead in draft? I'm not sure he can ever be Fantasy relevant, but if you faced him in draft this week then good luck. He monstered Brisbane, who admittedly have a creche open during the week for their key position babies.
Oliver (125) – Oliver has started the season on fire again, can he go 110+ this season? Absolutely. It's hard to believe he's only 20… Still criminally underrated in Fantasy circles. Great pick.
Fyfe (123) – I'm torn on Fyfe. If played 80/20 as a midfielder then he will be massive this season. However he often struggles when shifted up forward, especially if Freo aren't on top in the game. Of course they were on Saturday night and he dominated, but still only managed one goal. The potential is there for him to average 110, but those poor scores worry me. So he's into my team this week. $668k is just too cheap.
Walters (120) – Damn my lack of guts. In hindsight I made so many ridiculous picks, but the one I didn't go through with was Walters because I thought that was 'crossing the line'. He looked amazing on Saturday night, I think he averages 95+ with ease. Top 6 forward contender for sure and still very cheap. Consider.
Smith (115) – Devon Smith is carrying my squad at the moment, how has it come to this? He may not have won as much of the ball this week, but when you're in the midfield around the ball you have more chances to tackle. And boy did he tackle! 13 hugs earns my +3 this week. Feels a bit dirty to say, but, Devon you legend…
Macrae (134) – Let's just admit it. The Bulldogs are a complete disgrace. The bad news is that I own 8 of them in Draft. The good news is that Macrae is still a bloody gun. He doesn't deserve to put up with their trash, his 31 disposals were at 90% efficiency. Unreal.
McLean (110) – I said last week that the winner out of Liberatore's fall would be Toby McLean. He was a permanent midfielder on the weekend, holding his head high with 31 disposals and 5 tackles. I hope you held! He'll be up against it most weeks but a 95 average is definitely on the cards.
Wines (125) – What a freakin beast. I say that in the nicest way possible. Wines inspired Port on Sunday arvo, gathering 35 disposals (19 contested) and 12 clearances. It's time he took his game to the next level and 2018 could be the year. He remains affordable, consider.
Gray (119) – Robbie Gray returned in fine form, running through the midfield for his 26 disposals and 10 tackles. Will that be a consiustent role? The honest answer is that I have no idea, and if anybody tells you otherwise they're lying. He's still an absolute bargain up forward, I just don't have the guts to pick him after watching his horror pre-season. Tough call.
Westhoff (104) – With Ryder out of the side, Westhoff and Dixon took up the ruck duties. Mark my words, THE HOFF is back this season. I can't put into words how much I respect the 3% of coaches who own him, you crazy people you.
Ablett (138) – Gary Ablett can play football, we know this. Can he stay fit? I hope so, because I want to appreciate at least one more season watching the GOAT play. Bald jesus is back baby, and I'm one happy draft owner. For now…
T.Kelly (115) – M.Barlow v2.0. Kelly was just warming up during pre-season, this is the level of football he can produce. There were some worries that he might struggle with Geelong's 'big 3' in midfield? N.O.P.E. Duncan might limit his scoring slightly, but he's going to continue to dominate. I just want to know why West Coast had TWO PICKS before Kelly was taken and passed. For **** sake we're playing Redden who is a borderline disgrace. Simpson and co. may have a lot to answer for. Brander and Allen would want to be bloody amazing. No pressure guys.
Mitchell (137) – Of course I round out the legends with the biggest legend of them all. It's hilarious, Mitchell can be on target for 35 disposals and he's considered to be having a "quiet" game. He turned it up a notch in the second half to finish with another 40 possessions (23 contested), 13 clearances and 137 Fantasy points. He has feasted on the AFL possession record, the 'Holy Trinity' (Sorry), plenty of bacon, what next? There's every chance he could average 40 disposals this season, honestly disgusting. OINK.
Losers
Crouch (33) – I don't feel at ease talking about this so let's just save the tears for later shall we. This game can suck. You can't do anything about it, thankfully Crouch is still $721k and an easy trade to make this week.
S.Martin (68) – My blood is starting to boil. I tried to buy into the Gawn and Stef cancelling each other out excuse, but I'm not having that. Stef didn't take a mark, and I saw him grass at least two absolute sitters. He also had just 9 disposals at 33%. On the back of that performance Archie may not be as far away as we first thought. He plays a ruckless Port Adelaide next week and I'm expecting something massive. Nothing less. 110+ or he's gone.
Ellis (50) – There's a pile of dog sh*t. Then there's The Holy Trinity. Then there's taking it one week at a time. Then there's the Bulldogs. Then there's road cyclists. Then there's North Melbourne and St Kilda on Good Friday. THEN there's Brandon Ellis. It's that bad.
Clarke (23) – Ryan Clarke, what a pick that was. Absolutely useless, and that's being kind. Straight to my draft reserves and he's staying there for the foreseeable future. Disgraceful.
Billings (71) – The problem with that 'half forward role', is that it relies on the ball actually going forward of halfway. The Saints were a huge concern on Friday, but I'm confident Billings will bounce back. Patience friends… No panic here.
O'Shea (45) – At the start of Q2 I was mapping out how to get Cam O'Shea into my squad ASAP. He then scored 7 points in the final 90 minutes of the game. Impressive stuff if you think about it. He could easily come out and kill it next week and suddenly he's too expensive. Tough call, let's see if he did enough to keep his spot first.
Weller (36) – Weekly reminder that Gold Coast gave up pick 2 for Weller. Andrew Brayshaw. I guess that's why they put erasers on pencils.
Young (42) – Welcome back Aaron Young, we've missed you. Normal service has been resumed.
Treloar (90) – Adam Treloar may have finished on 90, but that was pathetic. I've seen this episode before, nearly every week I owned him last season. He just doesn't have the consistency, nor the guts to be a true 'uber premium'. He's just as likely to score 30 in a half as he is 70. Extreme confidence player.
Beams (73) – Those who picked Beams really can't be too upset. He genuinely didn't have a pre-season at all… He'll hit form at some stage this season and I'll be there ready and waiting. For now, if you have the luxury you should probably trade. Bargain incoming.
Rayner (24) – The only place you'll find a bigger rip off than this is at the movies. Cam Rayner is owned by 47% of coaches. Amazing.
Salem (41) – Look, at least Salem has been consistent. After leading the Demons for centre bounce attendances in pre-season, Christian Salem is now falling from grace faster than David Warner. Draft killer.
Hibberd (69) – Have Melbourne decided to just not pass it to their defenders full stop? Hibberd is cooked, and to rub salt in the wounds Lewis and Vince have taken over kick-in duties. Cya. Trade.
McGrath (45) – NOW I remember why I avoided Andy McGrath. He just doesn't have the DT game yet to average anywhere near 90. Even 80. I think low 70's is a fair estimate again this season. His day will come… But it is not this day.
Merrett (78) – T.A.G.S. Most teams won't allow Zach to free roam and oink his way to 30+ disposals at will, and he's very susceptible to a tag. If a second gamer can shut him down then most will. He'll still be great in the long run, and we should certainly be planning on trading him in. Which is great for us non-owners. His owners however? Tough sh*t, I think by now you just have to stick with him and hope for the best. -$118k in 2 weeks is enough to keep you up at night, and he'll continue to plummet next week. Cruel game.
Bontempelli (73) – Anybody playing up forward for the Bulldogs is going to struggle. Seriously, it's hard to explain to anyone who didn't see that game how bad they were. Bont has had a shocking start to the season, but class always shines through. He's another that will come good, but perhaps not before he drops under $600k. Trade.
Dahlhaus (58) – Again, sh*thaus. McLean in. Dahl isn't worth wasting my breath.
English (35) – I don't think I've seen an AFL footballer get bullied like English was in the first half. Even more concerningly, it was by Scott Lycett. Now that's a new low. I'm happy to sit him on my ruck bench until he gets dropped, but the midfield domination was so great that the Doggies may not be able to persist much longer.
Redden (67) – Shaking my damn head. The Eagles had a brilliant win and dominated in midfield, yet I'm still left absolutely perplexed by what Jack Redden actually offers us. He had 4 contested possessions, but still only went at 62% efficiency. Quite frankly he's useless. Absolutely pathetic. The same could also be said for Chris Masten and Jackson Nelson, but let's keep this as relevant as possible.
Shuey (68) – What overcame Luke Shuey at the start of 2017? Since then he has relapsed. Another potential draft killer.
Lloyd (75) – Early in the second quarter I was praising Jake Lloyd for being the ultimate seagull. There's just one problem with that. When a game actually gets heated and there's some good footy played, the seagulls often take a back seat to the action. Lloyd's second half of 25 summarised that pretty well. McVeigh effect? Maybe. Not buying that just yet.
Wingard (54) – I was watching The Chad during Round 1 thinking just how awsome he was looking. Robbie Gray is suddenly back in the team and Wingard decides to play the forward impact role of hardly touching the ball and putting on some occasional pressure. It seems as though neither can enjoy success while the other lives plays. Who knows which one will fire next week…
Rockliff (33) – Cringe. Rocky upped his effort from last week and only had 2 effective disposals. There's underdone bad and then there's Nathan Brown bad. I reckon an uber eats order in Alice Springs would be offering more than what Rocky is currently serving up. Disgusting.
Sicily (69) – This score may seem OK, but when you consider that Doedee and Finlayson are both outscoring it and averaging the same, you really have to wonder whether the extra $300,000 is worth it. Hint: It's probably not. Sic dawg won't have it any easier against Richmond next week either. Concerning. EDIT: The f**king idiot has gotten himself suspended. He's extremely lucky I've got JJ because otherwise he would be G.A.W.N.
O'Meara (67) – More mediocrity. Dead average. Fun fact, O'Meara was my lowest scoring midfielder this week. Matt Crouch obviously doesn't count, don't remind me. Again, is he worth the extra $200,000? So far, no way. You just have to back him in.
Menegola (50) – That was shameful. He was honestly lucky to hit 50. Starting with Menegola must be the worst call since the Trojan's decided they would take a wooden horse as their victory trophy.
Back to the positives! Briefly. Here are your Round 2 Stubby nominees…
Laird – He's playing at half back and averaging 41 disposals. It's disgustingly good. Surely a walk up winner this week?!
Curnow – Draft hero anyone? Ed Curnow went supersonic with 38 disposals, 7 marks and 10 tackles. Freak incident.
Whitfield – Lachie Whitfield scored 58 points in a 17 minute period in the Final Term to go big for the second week running. Junk time king, but it wasn't all cheap. Gun.
Walters – His owners would have endured many sleepless nights during pre-season, and they've been justified. He scored 28 points in 2 minutes during Q2, and finished with an impressive 8 tackles. His 120 only included one goal!
T.Kelly – If anyone can challenge Laird it's Tim Kelly. He had another 27 disposals, 20 of them kicks! Superstar.
Who gets your vote?
This Game Sh*ts Me
You couldn't script the pain I went through on Thursday night. There were plenty of trade ideas that came to mind after losing Liberatore in Round 1, and there was one common theme. I wanted to fix up the mistake of missing Matt Crouch. Durable. Consistent. Reliable. Exactly what my team needed. So, I made a downgrade to a defensive rookie to free up funds, and traded Libba to Matty Crouch before Thursday's lockout. Yep.
There's one sentence a Fantasy Coach doesn't want to hear when listening to a game on radio or watching on TV, and we've all felt this moment of anxiety before. While going about my business at work, I hear "AND THERE'S BIG NEWS DOWN HERE ON THE BENCH". There's only one colourful word going through a coaches head for the next few seconds and it's repeated a lot, often out loud. "Rory Sloane is struggling, he has a problem with his ankle and it doesn't look good." Now this is admittedly the part where the karma bus hits me square in the face. Just like I did with Merrett last week, I gave a little fist pump. Almost as an afterthought I hear "Matt Crouch is also down in the rooms." Of course he is. I check twitter, nothing. There I was thinking he must just be taking an emergency toilet break, and 5 minutes later I'm hit with the news that he's icing his hammy and out for the game.
As you'll find out in a second my team has enough problems to deal with at the moment. Over the first 2 Rounds that one midfield spot has cost me $80,000 and averaged 21. This game really does sh*t me.
The Other Bits and Pieces
1929. No typo. Sure I had Crouch, so did many others. However Lloyd, Sicily, O'Meara, Martin and Billings were all outscored by rookies on my bench. Speaking of rookies on my bench… During a week like this leaving 66 extra points on the pine isn't exactly desirable. However that is the one positive, I have absolutely nailed my rookies. Sure I may be ranked 25,000 and light years away from the top 100, but my cash generation is coming along nicely. It's only Round 2, far too early to be judging certain premiums and midpricers as 'failures'.
I actually think my team looks very good, which seems crazy given my rank. Now that Johannisen is finally gone I'm fairly settled with how I'm lining up in Round 3. Let's just hope for my mental health's sake that things come together in Round 3. Now if you don't mind I'm going to go and craddle in a dark corner until Friday night comes along. MAYBE, just maybe I'll get through a Round without any injury disaster. Good luck rage trading…
*Yes, it got 'that' bad*