Moneyball's $5K Sunday Funday
Who needs an Easter miracle when you are running with Roy's tips for Moneyball's $5K Sunday Funday.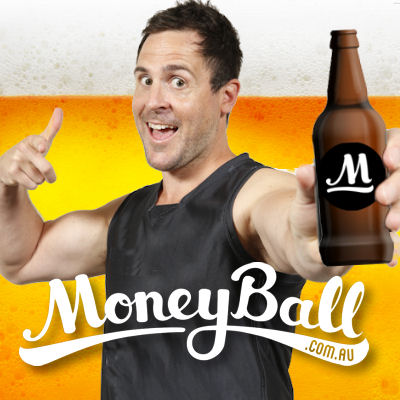 It's Sunday Funday and that means we have a $5000 special with the winner taking $650 and paying down to $34.18 in 89th
Dogs v Eagles (3.20pm)
Swans v Power
Alright, you need to check this out… They say nothing in life is free, but this is! And it could result in you going to the Grand Final.
Click here to subscribe on iTunes.
Our friends at Moneyball have a massive promotion for this season. You can win an AFL Grand Final Experience. Two tickets and accommodation to this year's big dance and if you live a plane ride away from Melbourne, you will get a couple of return flights too!
This promotion is available to existing and new Moneyball members. Click here to register.
JOIN UP and be involved with a chance to win tickets to the AFL Grand Final by following the links on DT Talk, they will take you to a FREE CONTEST.
If you have the highest score for the week in this game = $20 Free Bet.
But if you have the highest score for the season… then pack your bags cause you are off to the AFL GRAND FINAL.
After all – it's a FREE BET what do you have to lose.
Ok, Sunday Funday, if we do this right, we won't need an Easter miracle. 
Andrew Gaff (MID, $9,600) certainly feels like a boring and over priced selection, but it is worth considering as a unique. Last week he did his predictable 96, but it is a combination of the Giants domination last week vs the Dogs and the fact Gaff scored 130 and 146 against them last year that grabs my attention.
Nic Naitanui (RUC, $7,200) had a blinder in his return last week, scoring 93 in just 54% TOG. That can be taken a couple of ways, yes it's awesome he scored at a rate better than Tom Mitchell last week but we cant expect him to score that well in half a game every week can we? The risk may be worth it this week as he has no competition in the ruck department.
Tim English (RUC, $3,900) is the way I will be rolling to save some cash after the big unit looked awesome last week in just his third game at the top level. In a game where he would have been excused for sucking like most of his teammates, he stood tall (wow… sorry) for 13 possessions and six marks for 78 points.
Jake Lloyd (DEF, $8,600) played mostly on the wing in an unaccountable role that saw him cruise around for 24 uncontested possessions from his 29, it was a beautiful sight. Traditionally he has struggled to score with McVeigh in the side but that looks to be a thing of the past after his 115 which included his trademark +6's late in the game.
Riley Bonner (DEF, $5,400) backed up a nice pre season with a sensational start to the year which included a career high 31 touches and 102 last week. It is worth noting that the Dockers struggled in Adelaide, so we can't necessarily expect the same output but that ceiling, for that price deserves consideration.
Dom Barry (MID, $3,500) is an easy pick at his basement price. It's obvious, I know but people may forget to scroll down that low. He fit in seamlessly during his Power debut last week with 22 touches and five marks for 72. Once again, it is a much harder match up against the Swans but he is so far under priced he is in the 'must have' category.
Good luck! Cha Ching,
Roy